There's no better place to start your day in the morning than in a full of natural light space in the house that is tranquil, comfortable, and cozy.
That is why it is important to have a window bay breakfast nook with an airy and light atmosphere to give you a perfect place to enjoy your morning coffee, some light bites, and a chat with family.
Small or big, incorporating this comfortable breakfast nook will be a great way to optimize some extra space in your kitchen.
Designing a breakfast nook next to a bay window is a perfect way to start your day with a lot of sunshine. A combination of built-in benches, dining table, chairs, cushions, and throw pillows will create a cozy and comfortable ambiance.
If you have a built-in breakfast nook, consider having it function as a homework station too. So, pull-out drawers on the bench are somehow needed for extra storage.
Still not sure what to do? See if these 15 different cozy bay window breakfast nook ideas can make you start reconsidering your house layout:
1. Small Traditional Breakfast Nook in a Bay Window with a Woven Shade Treatment
You don't need a large space to create a cozy breakfast nook in the corner of a bay window like this.
According to the designer, this nook is also used as a dining room placed on one side of the open kitchen.
It has a similar wood floor to the kitchen that delivers a traditional vibe, complete with white walls, a white ceiling, a white bay window, and a built-in white bench.
A crisp white like this can brighten up the room, especially in a nook of the bay window, where a lot of natural light will fill the space.
There is no cushion on the bench. Instead, there are many throw pillows there to give comfort.
Due to the lack of space, there is no additional chair placed next to the small round wood table. But, to accentuate the whole look, a woven shade treatment is added to each bay window panel.
This treatment is helpful if the sunshine gets too bright and the homeowners want some privacy.
2. Incorporating Light Blue and White Color Scheme in a Bay Window Breakfast Nook
Light blue is a perfect shade to choose from if you want to bring in the sky outside.
In this bay window breakfast nook, the light blue is used as an accent, and it is incorporated in the cushion of the white bench.
This small nook has a semi-circular design that follows the line of the bay window.
Judging from its medium tone wood floor and the contrasting dark tone wood round table from Restoration Hardware, this area has a traditional style.
The off-white walls painted in Dunn Edwards – Shady, along with the crisp white ceiling, window, and bench, are also accentuated with the Scandinavian style chairs, which are from Serena and Lily.
The designer added an extra-large light bulb that is actually a hanging pendant to illuminate this small nook as a finishing touch. Both artificial and natural light are always able to highlight a perfect pairing of light blue and white colors.
3. Small Breakfast Nook Bay with a Round Dining Table for Two
This is another small and traditional small breakfast nook in a bay window.
This area is placed in an open floor kitchen, which utilizes some extra spaces in the kitchen.
Actually, the kitchen has already featured a dining area on the island. It means that the nook is solely used for a cup of coffee and some snacks in the morning.
A round dining table can accommodate only two people, not many, but enough. It can also function as extra space if the homeowners throw a small get-together in this kitchen.
The beige walls blend seamlessly to the white bay window and the white cabinetry in the kitchen, creating a consistent look in this area.
There is a built-in bench without a cushion, but that doesn't make it any less comfortable. There are throw pillows on the bench to compensate for the lack of cushion.
The chairs are similar to the dining chairs in the kitchen, giving an impression of an adjoined room and cohesion.
On the contrary, the designer distinguishes the area of this breakfast nook and the kitchen by using different lighting.
The kitchen is illuminated by three glass pendants over the island, along with some recessed ceiling lights. On the other hand, the nook features a hanging white shaded pendant that complements the beige walls and white window perfectly.
4. Cottage Style Breakfast Nook in a Bay Window with Green and Floral Pattern Valance
Incorporating a floral pattern in your breakfast nook will never fail to give the space a lovely cottage style in a vintage look.
This cottage-style breakfast nook features a beautiful floral patterned bay window treatment to add a splash of color to this bright white area.
The floral patterned valance is meant to decorate the bay window.
This kind of treatment will not entirely block the sunlight. However, adding an accent to the plain bay window is good. The red and green color in the fabric managed to spark some lively elements in the nook.
To top it off, the checkered pattern in the cushion of the bench and the dining chairs are in soft green color, matching the floral pattern of the window treatment.
This area proves that using different patterns in one space with one similar shade will not make it look too overwhelming and too flashy. On the contrary, those patterns will deliver a put-together look and add more character to the area.
It seems that this breakfast nook is a part of one bigger room that also incorporates green shade. It can be seen from the green backsplash and green walls in the next room.
Playing with patterns and textures like this will definitely draw the most attention.
Last, the designer also incorporated a chandelier that seems to be a four-light Durango Candle Chandelier. This is an ideal piece to add if you want to highlight a vintage look in a certain room.
5. A Long Bay Window with a Bench and Wooden Oval Dining Table
If you have a long bay window and a large family, why don't you make the nook bigger?
This way, you can double the nook as a breakfast spot and a dining space too. This large breakfast nook, for instance, is located in the corner of the long bay window.
It is completed with a curved bench following the lines of the window and a cushion that matches the cushion of the chairs.
All cushions are finished in dark blue shade, which looks elegant when paired with medium to dark wood elements.
The dark wood floor matches the wooden chairs and table, creating a consistent traditional space with the wood element.
In order to achieve a contrast look, the designer painted the window trim in white, similar to the ceiling, and painted the walls in a light blue shade. Light blue walls will look strikingly remarkable when contrasted with a dark blue accent.
6. Breakfast Nook in the Bay Window with a Curtain to Separate the Nook and the Dining Space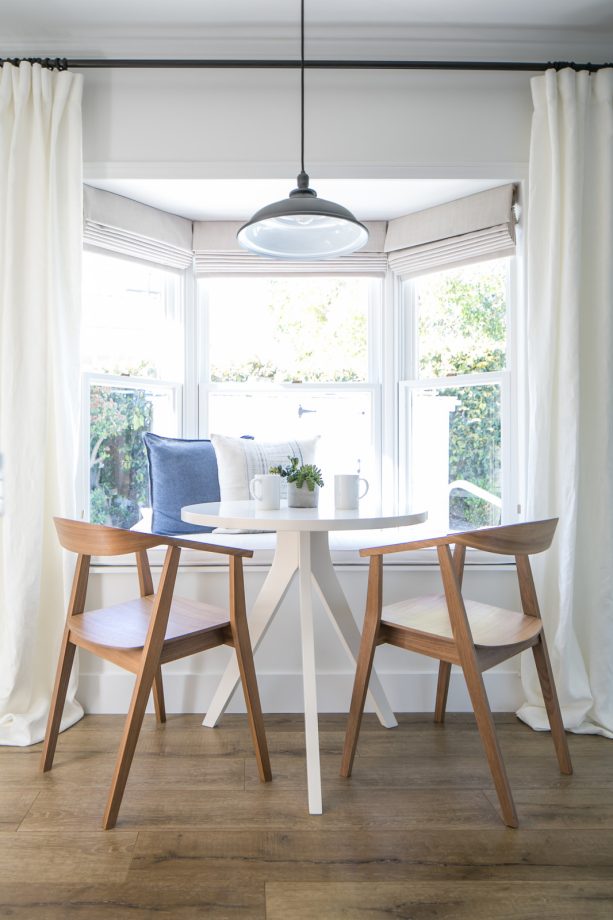 This unique breakfast nook is small. With the additional chairs, this area can only accommodate four people at once. However, the bay window breakfast nook has a curtain in it. The curtain can separate the nook and the dining space.
If the curtain is opened, the built-in cushioned bench on the nook is completed with a white round dining table from West Elm and two wooden chairs to complement the medium tone wood floor.
However, the homeowners have the option to separate these two spaces.
The nook is completely separated from the dining space if the curtain is closed, making it a perfect spot as a reading nook.
This is a good idea if you want to have a separate space for the breakfast nook and dining space.
Adding a sheer white curtain will give you an illusion of two different spaces in one area.
7. Red Cushion in a Built-in Bench of a Bay Window Breakfast Nook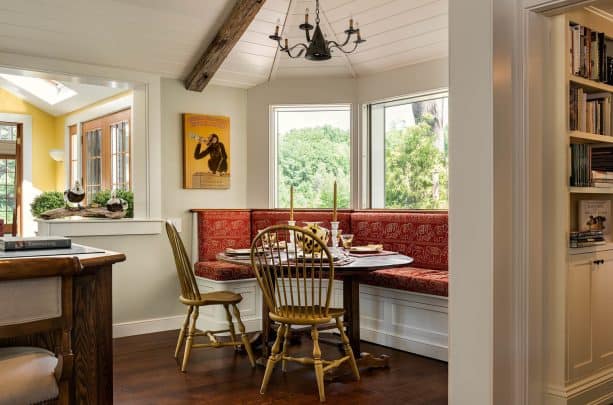 The red patterned cushion in this bay window breakfast nook is incorporated to add a splash of color.
This nook is finished in a crisp white shade to create a cohesive look to the open floor room of which it is a part. It seems that the cushion is accentuated in an elephant pattern in gold threads.
That is why the dining chairs were also carefully selected in gold-finished to create a subtle cohesion look.
Somehow, this breakfast nook resembles Asian style in its own way.
The built-in white bench blends seamlessly with the white walls around.
The extra thin framed bay windows add a modern look to this nook. On the contrary, the black chandelier delivers a perfect traditional look.
This would surely be a perfect transitional breakfast nook if this place wasn't completed with an exposed beam. Yet, the exposed beam makes it a great example of a farmhouse-style nook.
8. Spacious Bay Window Breakfast Nook with a Combination of the Wood Element and Pastel Colors
This spacious nook looks extra comfortable and cozy, not only because it is completed with cushioned bench and upholstered chairs, but also has a combination of pastel colors in the cushion of the bench that is combined with the wood element.
Such a combination turns out able to give you a more welcoming and inviting ambiance.
The medium tone wood floor perfectly matches the dining chairs and the oval table.
Wood is a timeless element that can fit into any design style. Moreover, wood is also considered as a cooling effect. So, it looks perfect when incorporated in a too-bright room with too many white colors used.
This cozy nook is also actually dominated in white color. Plus, it features huge bay windows that will make this space even warmer with a lot of sunshine. The wood element counterbalances it nicely.
To top it off, the pastel colors in a striped pattern cushion deliver a more balanced look.
9. Tiny Transitional Bay Window Breakfast Nook Finished out with an Orb Pendant
Incorporating different colors and patterns in a spacious breakfast nook is OK because too many patterns and colors won't make it look crammed.
But, how about in a tiny space?
In this small nook, you'll see that it's actually fine to experiment with colors and patterns too, especially if you have a wood floor, like the one you've seen in this picture, which was made by Shaw, a "Suttons MTN" in Weathered Saddle.
This white nook is splashed with a dark blue velvet cushion of chairs from Bassett and Houndstooth black and white cushion on the bench.
The Houndstooth black and white pattern don't match the solid dark blue color entirely. However, that's the fun part. You can actually combine anything that may not look truly matched.
This is going to work if you have a perfect white color as a background, a canvas for your experiment. This white bench and white chairs are enough.
The dining table is finished in white with a copper top, a perfect transitional style as an additional accent.
The designer added an iron orb pendant from Shades of Light to finish everything. This statement lighting enhances a modern look to this space, making it entirely a flawless combination of the traditional and modern elements.
10. Transitional Breakfast Nook with Modern Style Bay Window and Classic Chairs and Table
This breakfast nook looks open and bright because it has a minimalist style with less clutter.
Moreover, the white walls and the white bench play a big part in making this space looks bright and bigger. Plus, they create a consistent look to the open floor kitchen right next to the nook.
The traditionally white shade in this nook is beautifully contrasted by the blue cushion. It seems that a blue cushion is added to create a pop of color in this all-white design. Popping color like this is often associated with modern style.
The modern look is also enhanced by the thin black frame of the bay window, contrasting the white wall.
On the other hand, the classic chairs and tables pull off a conventional look. They are made of wood with a vintage style.
The table was designed and custom-made by the architect along with the people from tablebases.com and Cabinets by Design.
The brass hanging pendant is also classic, complementing the retro look of the table and chairs. It is part of the set of Small Flush Mount fixtures from Circa Lighting.
Overall, the elements in this breakfast nook is a perfect pair of modern and traditional style. Hence, a lovely transitional look.
11. Comfy Bench with a Cushion and No Additional Chairs in a Window Bay Breakfast Nook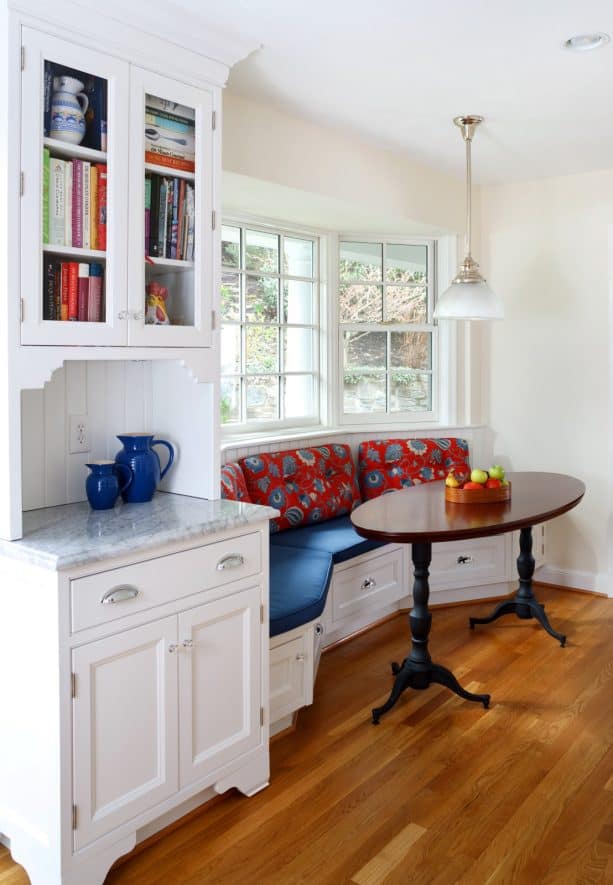 The most fun part of incorporating bold colors in a white canvas is when you experiment with endless options of colors and patterns.
In this breakfast nook, the white walls and white windows are accentuated by blue cushions and red patterned throw pillows.
Red and blue are both vibrant and bold colors. If you want to incorporate them both as an accent in one space, make sure one of them is solid.
Don't forget to add a timeless element, like a wood floor, as a background. This one is a red oak strip floor.
This small nook is in a space 7' 8" wide and 9' long. It is the main traffic area towards the dining room.
This wall space below the window for the bench is around 34 inches in height, from the floor to the bottom of the window.
Due to the lack of space, this area is not completed with additional chairs. A cushioned bench is enough as seating. The bench is around 19" deep, and it overall fits the dimension of the custom oval table.
A wooden oval table to complete this nook enhances its traditional style. Its top is a custom-made product, yet the legs can be ordered from tablebases.com.
The lighting, the hanging pendant in this nook, is finished in white color.
It is obvious that the pendant is not a statement part, a focal point in this breakfast nook. It is meant to blend with its surrounding, serving as a white canvas for the red and blue color.
The ceiling is painted in Benjamin Moore – Ceiling White 258, and the walls are in Benjamin Moore – American White 2112-70.
12. Matching Fabric for the Pillows and Cushion in a Breakfast Nook with Transom Above the Bay Window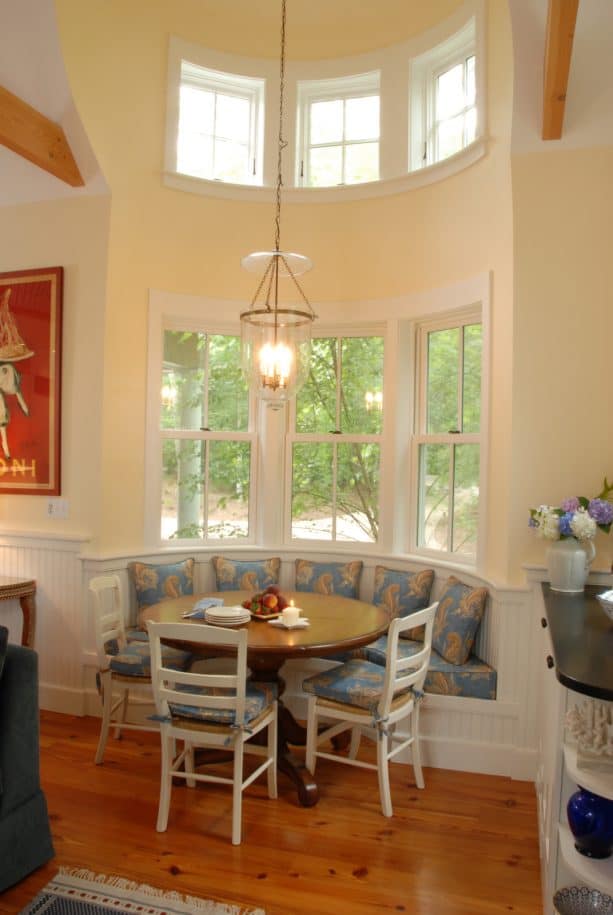 If you want to create a bigger look to your small breakfast nook, apart from painting it in a bright white color, it is even better if you have a high ceiling, so you can complete your bay window with a transom, with a wide space apart from the windows, like in this picture.
This way, your small nook will be elongated, a unique way to make it look more spacious.
This small nook is approximately 4'-4" in diameter. It is accentuated with patterned fabric for the pillows and cushions for the bench and the chairs.
The beautiful fabric is Lee Jofa 200811954 in Chatham Inn Blue pattern. According to the designer, she purchased it from the Boston Design Center.
The matching look like this will give you a splash of color and create a put-together look. It means that you don't just randomly add a splash of color in the nook, but you carefully plan it to create a perfectly incorporated look.
The wall is painted in Benjamin Moore – Rich Cream, while the wainscoting and the trim are painted in Benjamin Moore – White 01.
The simple yet stylish table ad chairs are from Pottery Barn. It is a Tivoli round table that is made of wood.
The vintage pendant is from an antique store, and it has been retro-fitted to enhance the traditional style.
13. Retro Style Breakfast Nook with a Floating Bench and One Vintage Chair
You can take a traditional style to a whole new level.
It is very common for a traditional style to have conventional neutral shades, wood elements, classic chandeliers, or floral patterns. You can try this idea if you want to elevate your traditional style.
This breakfast nook is completed with a floating bench that will remind you of a vintage bar in the 1970s. Moreover, the square-shaped metal table also resembles a classic diner. To top it off, the retro blue chair really pulls it off!
According to the designer, basically, each element in this retro breakfast nook is a mid-century relic.
The homeowners are tasteful collectors of authentic vintage items, and they are incorporated in this nook, including the teapots on the windowsill. The designer did the remodel around those key pieces.
The bay window looks high because it has a sill.
Unlike the other breakfast nooks you've seen before with the built-in bench right over the window, this floating bench is installed closer to the floor.
And the bay window has a square-shaped panel. Despite its square shape, it is installed high on the wall.
So, the space between the window and the bench is optimized for the windowsill, extra space to put some decorative vintage items.
14. Cheerful Cushion with Floral Pattern in a Window Bay Breakfast Nook
This is a true classic window bay breakfast nook with a sweet look. Approximately, this nook is 10-12' in width.
The floral pattern is on the cushion of the chairs. It is also used for throw pillows. This way, the floral pattern spread across the nook and was used evenly, creating a balanced look. The fabric was purchased through Robert Allen.
The chairs, on the other hand, are from Stanley. It is available through designers, though.
The built-in bench is completed with beige colored cushion, an ideal background for floral patterned and solid-colored throw pillows.
There is a glass top table in the center of the nook. You may think that glass is a more ideal option for a modern look, but basically, glass, like wood, is a timeless element. You can incorporate it in any style without compromising your original taste.
In order to emphasize the conventional style, the bay windows are completed with roman shades in white color.
The Roman shade itself is considered traditional, especially when it is in a conventional shade like white. The hanging pendant with a chain style also pulls off a traditional style.
All in all, this is a perfect spot to enjoy a cup of coffee with an ambiance that will remind you of a vintage movie set.
15. White Breakfast Nook with White Roman Shade Window Treatment
White window trim and built-in white bench are a flawless combination if you want to experiment with accent colors. You need to provide a solid canvas as a background to incorporate bold colors.
This breakfast nook is no exception. It has an all-white design that is often associated with a traditional style. Moreover, the bay window has roman shade as a treatment in a similarly bright white color, another way to increase the classic look.
If you want to maintain the traditional style, you can add a splash of color in a deep shade.
Deep and dark shades will never fail to give you a sophisticated and elegant appearance that is usually related to a traditional style.
In this breakfast nook, dark blue is used as an accent color. The dark blue cushion and upholstered chairs perfectly match the dark blue stripes in the throw pillows.
As if it were not enough, the homeowners also carefully picked the chairs made of dark-tone wood.
Dark tone wood and dark blue complement each other. They contrast the all-white design, providing a cooling effect to the warmth of white.
The homeowners added a green rug below the dining table and installed a traditional lantern-style hanging pendant to finish everything out.
Everything in this breakfast nook is flawlessly balanced.
16. Tips for Creating a Cozy Window Bay Breakfast Nook
To design a comfortable breakfast nook, here are some basic things you should consider:
Comfortable and inviting ambiance. In the morning, most families run on high energy. It would be nice to have a more welcoming and softer morning space to start the day. To achieve this, first, you need to incorporate comfortable textiles, like upholstered seating in your benches or chairs, and add some throw pillows and even lap blankets during the winter.
Statement lighting: Just because your breakfast nook has been filled with natural light during the day doesn't mean you don't need to add lighting. You need statement lighting, like a whimsical design chandelier, to denote your nook as its own separate space. You can have one attractive lighting or multiple smaller fixtures hanging over the table. Make sure the lightings are dimmable.
Casual style. The best ways to achieve a casual style are through texture and color. The perfect color combo for breakfast nooks include:

floral pattern and white. White is a complementary color for the pattern.
Patterned cushion in blue accent to get a welcoming color combo.
Soft pastel color to bring a softness and warmth to your nook.
Red patterned element to give a splash of color in a neutral color scheme.

Benches. Sometimes, dining chairs are not enough for your breakfast nook. You need a built-in bench around the bay window most of the time. Don't have built-in benches? You can reuse or upcycle other items to create one:

Turn old dressers, wood boxes, or pallets into a seating bench.
From a bunch of storage boxes, you can also create a nice bench.
Lift-up benches with compartments are flawless seating if you want to double your breakfast nook as a homework station.
Ask a local carpenter to custom design a bench that blends seamlessly with your nook.

Chairs. You need more than just a bench in your bay window breakfast nook. Be creative with the chairs. Pick some unique seating that can give you a restful feeling. Don't hesitate to mix and match your chairs, especially with a cushion, with other elements in your nook to create cohesion.
Tables. Basically, all table shapes work in any breakfast nook, be it a square, rectangular, round, or oval table; you can just put it in the corner and surround it with seating, a bench, and chairs. Adjust the size of the table with your nook's dimension. Smaller nooks need a smaller table, too, to create intimacy. You can use a long dining table that fits your nook for a larger family.