Apart from adding your home's value, the front door portico can also protect your inside foyer.
It may not seem essential for some, but no one wants to run hurriedly from the vehicle to the front door during a rainstorm.
It's never enjoyable if you have to struggle to open your front door in the rain. Portico will prevent sleet, rain, and snow from getting into your entrance.
If you have a UV-sensitive material in your exterior, like hardwood floors or panel siding, portico can also act as a protector. You can keep your front porch from warping and fading from the sunlight.
The shade provided by the portico will make your front door less worn even after a while.
Those are the reasons why adding a front door portico will add your home's value.
Portico is a small porch protected by a pillar-supported roof in front of the door.
While it may sound simple, actually building a portico isn't as simple as adding some columns and a roof to your entrance.
You need to build a portico with a design that matches the existing style of your home, highlights your front door, adds dimension, and increases your curb's appeal too.
A portico should merge with the existing structure of your home, and this is quite a challenging task.
Yet, the portico design options are endless. You can make it stand out against the entire exterior of your home built with an entirely different material, or you can make it as an extension of your home's exterior.
Either way, here are 14 classy front door porticos to inspire you:
1. Traditionally Styled Portico Painted in Benjamin Moore – Brilliant White with Tuscan Columns and Black Front Door
A traditional portico like this is usually characterized by white paint. This one is no different.
This portico, completed with Tuscan columns and detailed trim work around the entrance, is painted in Benjamin Moore – Brilliant White, a similar shade used to paint the entire exterior and the trim. What a bright and crisp shade.
The portico is 8" wide and 6' deep. The height of the Tuscan columns is 7' 6", which is basically not too high, but it is enough to support the roof. The roof pitch itself is 8 on 12. The roof on the portico is Western Cedar Shake, the same as the roof on the entire house to create cohesion.
The great thing about this portico is the design copies the second-floor addition dormers. This way, the portico is meant to be blended with the entire house, not to stand out.
This is what you should do if you want to design a traditional portico. It doesn't need to draw much attention. Instead, it should perfectly match the existing style of your home.
The front door is from Simpson Door made of wood and painted in Moorglo Black. The black front door creates a contrast to the white portico, and this is another key element that you shouldn't miss if you want to achieve a traditional look.
If you're wondering, the front door is 3' wide, and it is completed with 1' wide sidelights with a total opening width of approximately 5'6".
2. Arts and Crafts Front Door Portico with a Hip Roof in a Geometric Pattern
Contrary to the previous picture, this craftsman-style portico has a different element from the exterior.
There is a geometric pattern on the hip roof of this portico, creating a unique and more structured silhouette.
The columns are painted in gray, creating a different look to the white exterior wall. You can do this simple thing if you want to highlight the difference between your front door portico and the rest of the exterior.
Moreover, the hip roof on this portico seems to be made of wood. Despite its polished surface, it is completed with exposed beams and trusses that somehow deliver a rustic look.
The wooden trim on the roof matches the front door, along with the exposed beams and trusses. It creates a cohesive look, but not too much, because this portico is not entirely made of wood like you usually see in a traditional rustic style portico.
Gray and wood is basically not a perfect pairing. But, the white exterior wall around serves as a canvas, an element to counterbalance the clash effect of gray and wood tone.
This way, instead of making a color block that hurts the eyes, this portico looks different. It has a strong character with a combination of natural elements and a neutral color scheme.
3. Classic Entrance with a Portico and Arched Front Door
This is another traditionally styled portico with a more classic look.
There are two elegant white columns on the front side to support the gable roof.
There is an arched design in the roof/ceiling structure to accommodate the arched design of the front door. While an arched design is a key element in a Mediterranean design, it actually can also be used in a traditional look.
The arched front door is painted in black to contrast the white columns. It seems that the columns along with the trim are painted in Benjamin Moore – Simply White, the best shade if you want to brighten up your exterior.
To enhance the look of this simple black door, the designer adds a transom as a window to let the natural light in. Plus, the homeowners also hang a decorative item in it that matches the hardware.
The hanging lantern is also added to illuminate the portico area.
Incorporating lighting in a portico is an excellent idea, especially if you have a long and deep portico. In this case, the hanging lantern is used to enhance the traditional look because its vintage design fits the portico very well.
As a traditional portico, the designer wants this to blend seamlessly with the entire exterior. So, it is also made with stone walls and also painted in a similar paint to the trim.
A combination of stone walls and white color gives more character to this home exterior, making it look classic and timeless at the same time.
4. Simple Portico with a Metal Roof to Cover a Dark Single Front Door
It is actually lovely to see an elegant and detailed front door portico with majestic pillars. However, there's something tempting in a simple and minimalist portico.
A small portico with a small design doesn't demand much attention. It can blend seamlessly into the exterior.
This kind of portico is more functional than decorative, but it can fit in any home design perfectly. If you're not sure how to match your portico with your exterior, you can just create a minimalist one like this.
This small portico is completed with a metal roof supported by two thin columns painted in white. There is nothing bold here.
The front door is also painted in a dark shade, a simple color that doesn't make any statement. Even there is no transom and sidelight around this front door. What a low-key entrance and portico.
The homeowners added some potted plants to this protected porch to compensate for the simplicity and minimalist design.
The bright-colored perennials make this portico look fun, cheerful, and natural at the same time. Moreover, this portico opens to the walkway surrounded by similarly bright perennials.
Who needs a detailed and ornamented portico if you can just decorate it with colorful flowering plants like this?
5. The Elegant Portico is Made of Asian Style Roof and Bricks that Match the House Exterior
There's something in the metal roof on this portico that reminds you of an Asian style. It looks like an east Asian style roof that consists of a hip roof that slopes down on both sides and creates a gable on the opposing sides.
However, an Asian roof like this is usually made of encaustic tiles. Instead, the roof on this portico is made of metal. It shows the various characters, a great way to mix several styles.
There is no column. Instead, you'll find a kind of recessed opening in the wall to create a front door portico.
The recessed opening is styled in an arched shape to follow the lines of the front french doors. Arched french doors like this will never fail to give you a vintage look but with style.
The walls in this portico are made of bricks, similar to the entire exterior. It seems that the bricks used here are Meridian Brick and Magnolia Bay with Southern brand mortar in white color combined with bleached white sand shade.
This is the type of brick that you can opt for if you want to create a neutral-colored canvas that can be paired with any color or shade.
See how this brick complements the gray front door and shutters and, at the same time, contrasts the metal portico roof.
6. Black and White Color Scheme in a Front Door Portico with Glass Element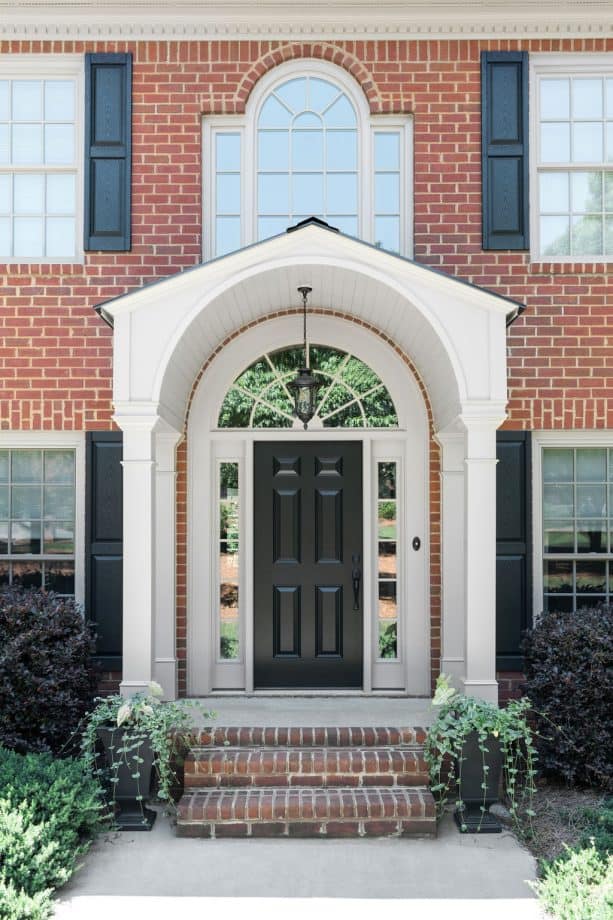 The glass element in this lovely portico is so prominent. The sidelights and the arched transom are made of reflective glass, the kind of glass that will provide you privacy but modern style at the same time.
There are four white columns, at the back and at the front side of the portico. The gable roof has an arched opening to match the front door design.
Basically, every element in this front door portico exudes a conventional design. From the gable roof, the arched design, the black and white color scheme from the front door and the columns, to the brick steps in front of it. The brick walls also enhance the classic appearance.
Yet, the designer managed to create a transitional portico out of the traditional exterior, thanks to the reflective glass element.
7. Rustic Styled Front Door Portico Made of Wood with a Stone Wall
If you want to incorporate the wood element in your portico, it is better to create a rustic design altogether.
This rustic portico has everything you need in a mountain style, from wood columns and structures, stone wall, wood front door, to exposed beams.
The wood columns are attached to the entire structure that supports the low gable roof. The curved X-shaped beams in the front add a lovely detailed look.
The arched double front door is made of wood, even though it seems that it is finished differently with the wood columns, structures, and beams.
The reflective glass panels in this front door are the only modern element in this portico. And it appears that the panels are more functional than decorative because they are useful to let the natural light enter the room since there is no transom, sidelight, or even window in this portico.
The stone wall and the brick porch + steps complement the whole look flawlessly. After all, there is no better pairing for wood in a rustic element than stone and brick.
The greeneries are added to highlight the natural look, which is often associated with a rustic style.
8. Small Portico with Four Columns Attached to the Balcony in the Upper Floor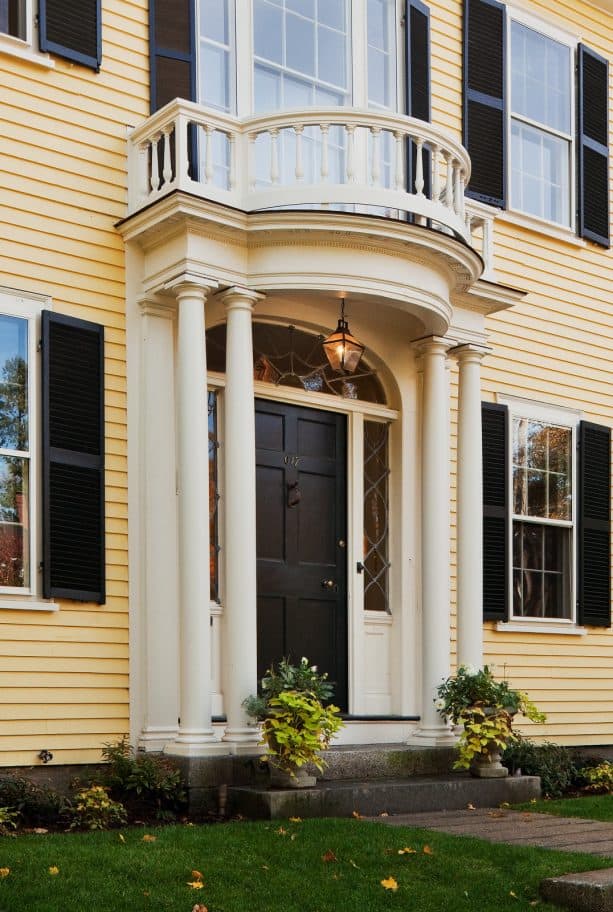 If you have a two-floor spacious home in a traditional style, it is recommended to have a versatile portico like this.
Basically, this is a small portico. What makes it functional is its roof doubles as a second-level balcony. There are four columns supporting the roof that is attached to the balcony on the upper floor.
This small portico proves that you don't need a large portico to install four columns. Instead of vertically, the four columns here are lined horizontally, two on each side.
The columns and the roof are painted in beige color to match the front door's trim.
The front door itself is completed with an arched transom and decorative sidelights. The dark-colored front door creates a classic contrast to the beige-colored columns.
On the other hand, the clapboard siding is painted in Benjamin Moore – Crowne Hill Yellow #312, which is basically a soft yellow color. It complements the beige portico very well.
The trim in the entire exterior is painted in Benjamin Moore – Navajo White #947, which seems brighter than the beige portico.
9. Combination of Metal and Wood Elements in a Front Door Portico
A combination of modern and traditional design will create a transitional look, and you'll see it in this mid-sized portico.
The light wood barn styled front door obviously shows a traditional look, especially it is bracketed with two vintage-looking wall sconces.
However, the crisp white columns and the gray trim around the front door have a different look.
White and gray are both neutral colors. When they are combined together, they will create a stylish and minimalist look, which is usually associated with a modern design. The sleek and clean lines in this portico also deliver the latest trend.
Don't forget the metal roof.
The designer uses a different material and type of roof for this portico from the rest of the property. It seems that the designer intended to create a highlighted look, a focal point that draws attention out of this portico. And we all know that a metal roof will never fail to give you modern touch.
So, the combination of metal roof, wood barn door, and minimalist, sleek design will deliver a perfect transitional look.
10. Bright Red Front Door with a Small Portico Connected to the Porch
What a charming small portico!
The bright red front door, painted in Benjamin Moore – Caliente, is the main point here, a perfect shade to create a focal point.
This is a simple paneled door with a transom window. It is clear that the bright red front door creates a fun contrast to the white siding around.
In case you're wondering, the siding is HardiePlank lap siding by James Hardie painted in Benjamin Moore – Ice Mist OC-67, which seems similar to the white columns.
There are three columns instead of two or four here. It seems odd, but this front door portico is connected to the porch on its side.
Due to the limited space, the porch is built beside the portico instead of in it. However, it is still covered with the same roof as the portico's entry pediment. So it means that basically, the porch is part of the portico.
The porch's roof and the entry pediment are standing seam metal roofs made of natural copper by Custom-Bilt Metals, Titan SL-100.
One of the three columns is used to support the porch's roof. This way, it creates a connection from the portico to the side porch.
11. Wood Portico with Custom Built Cedar Beams and Brackets Framing a Double Front Door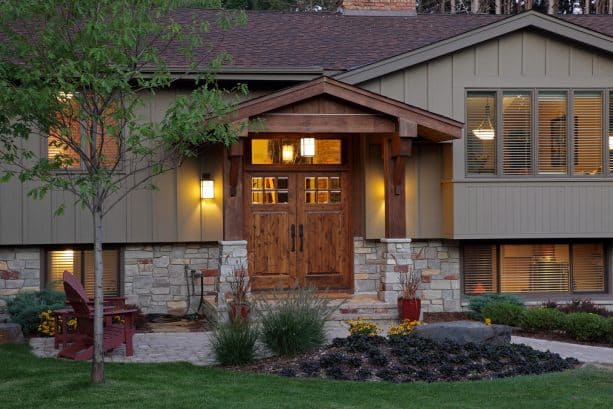 According to the designer, this area used to have a split entry, but they made several changes to alter the split entry: creating a portico. The homeowners intended to keep the huge transom window to increase the curb appeal.
Even though the front door portico is dominated by wood elements, it features a traditional style, not rustic. It is because somehow, this portico is still connected to the traditional exterior.
The designer just wanted to make the portico a bit different but still in a traditional style.
The cedar beams and brackets are custom-built, which is meant to match the wood front door, to add warmth and style.
This is a Marvin door that seems to be made of Alder, different wood from the beams and brackets, but still looks the same. It is 6' wide and 80" tall, quite large for a traditional double door.
The natural stone is added as a finishing touch, an accent. It is Chilton Weathered Edge, a natural stone veneer, the kind of stone that will complement any traditional design.
This portico's stone posts and wood columns deliver a natural look that complements the gray siding.
12. Elevated Entrance with a Classic Front Door Portico Made of Standing Seam Copper Roof and White Pillars
The brick front stairs that lead to the portico make this entryway look conventional.
The color scheme used here is also traditional, with a classic contrast of black and white. The black railing of the front stairs creates a contrast to the two white pillars.
The wall trim around the front door is also painted in white, similar to the pillars but subtly different from the entire siding of the exterior.
According to the designer, this was a replica of a portico found in historic Williamsburg, VA. However, instead of a cedar shake roof, the designer decided to use a standing seam copper roof.
The dark wood front door looks elegant in this portico. It is a custom mahogany door built by Jeld-Wen IWP. The six-panel design is completed with half-view sidelights and a transom, which is hard to see from this angle due to the dark shade of the front door.
Basically, the combination of dark tone wood front door with white pillars in a portico is a usual combo.
It is a common option if you want to get a fool-proof design. However, despite its being too common, wood element paired with white is a timeless element. It is never out of style.
13. Decorative Front Door Portico with an Arched Lattice and Built-in Benches in the Columns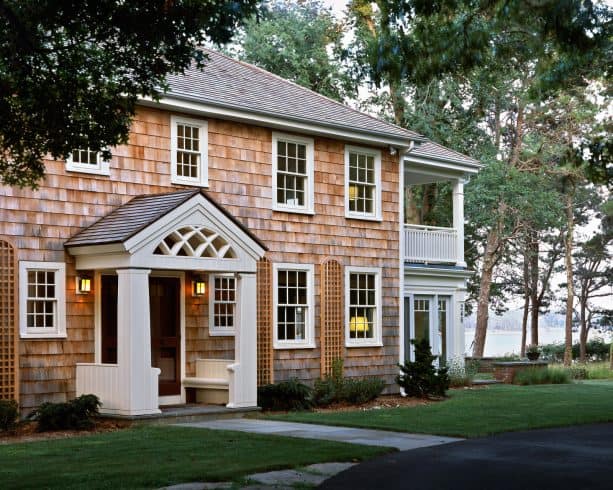 If you think that a portico is only an area where you just spend a little time before you enter the front door, think again.
This portico is definitely different. There are built-in benches in the columns, making it a perfect seating space if the homeowners want to spend more time in this spot.
This small portico can't be entirely categorized as a covered porch either. It is too small to become a porch, and it lacks the element every porch should have. Yet, that doesn't mean that the designer couldn't add a seating space.
Due to the lack of space, it would be impossible if freestanding chairs or benches were added. Hence, these built-in benches are painted in white to blend seamlessly with the columns and the roof.
Instead of cladding, the roof is completed with a decorative arched lattice, which was made by Specialty Builder's Supply. Inc. in Brewster, MA. Such decoration will absolutely increase the curb's appeal but doesn't demand much attention.
So, if you want to make a statement but not in a dramatic way, it is recommended to use this decorative lattice in your entrance, in the portico's roof.
The black front door here is meant to contrast the entire color scheme of this portico. It creates a classic contrast to the white columns and benches, but it complements the red cedar shingles.
14. An Arched Portico with a Glass Front Door and Four Elegant Columns
This slightly arched portico has four columns painted in white to create a traditional look. The four columns are installed side by side, with two on each side, to support the steel roof.
The steel roof here also resembles a traditional Chinese roof but with a much lower design. Such a combination of hip and gable roofs made of metal will add a unique look, a touch of modern style in a conventional design.
Despite the traditional design, this portico is also completed with a glass front door with black trim to contrast the white surrounding. It is undeniable that glass is a timeless element, but it is often used in many modern styles.
Glass will create a trendy and updated look in any design. So, when you add a glass front door completed with sidelights and transom in a traditional portico, you just have turned the entire area into a transitional look, neither traditional nor modern.
The front door portico here looks very prominent against the exterior.
The designer intended to make this portico stand out. See how the metal roof contrasts the brick exterior. After all, brick is a traditional element. It looks odd if you juxtapose it with a metal roof, especially if there is a glass front door.
Closing
Even though it is quite common for a portico to be supported by columns, you can actually design a simpler and smaller portico with just brackets instead of columns or pillars. It may look less extravagant than those that are completed with columns, but this design is more suitable for a small home.
The columns look as classy as those you usually see in ancient Greek architecture for a traditionally styled portico. They look prominent and are usually painted in white color.
In fact, most porticos in the pictures above are painted in white. Maybe because white is a neutral color, a traditional shade, the safest option that can be paired with any accent.
You can combine the white columns with a black or dark shade front door to enhance the traditional look. The contrast in a classic color combo will highlight the conventional appearance.
If you want to add a touch of the modern look, you can add a glass element to your white-columned portico. A glass panel front door can be your best bet.
Better yet, you can add a window transom and/or sidelights in your front door if you have wider wall space. Adding a metal roof is also an excellent way to give your portico a modern appearance.
Rustic-styled portico is also famous. Obviously, in a rustic portico, the columns and the front door are made of wood. The common wood type for a rustic portico is cedar.
You can also add exposed beams in the ceiling to emphasize the rustic or mountain style look.
So, which portico that you like the most? Share your thoughts in the comment section below.