We all know that a vaulted ceiling can make any room look larger and feel airier, regardless of the design.
The question is, how to decorate your vaulted ceiling, so it looks more attractive?
Sure, there are many ways, but you can always count on exposed beams if you want them to look stunning, cozy, and warm.
The combination of exposed beams and vaulted ceiling is totally perfect. Yes, you can always add exposed beams to a typical ceiling, but it will be better in a vaulted ceiling because the beams will add the country-chic appeal.
Exposed ceiling beams will also give a room a dramatic sense of heft and strength.
Keep in mind that exposed ceiling beams are not only suitable for rustic or country style.
You can add these structural designs to any style because beams, along with the vaulted ceiling, are timeless. They will definitely add character to your space.
If you want to get more inspired, keep scrolling to find out which kind of vaulted ceiling beams will fit your room:
1. 8×10 Alder Beams in a Vaulted Ceiling with Recessed Lights
This white vaulted ceiling is completed with recessed lights to provide a warm yellow glow to the room.
Lights in a vaulted ceiling will make the room look more elegant because apart from being large and airy due to the vaulted ceiling, the lights will bring out a modern vibe.
On the other hand, the exposed beams pull off a traditional style.
The beams are made of alder wood by carpenters on site. They are 8×10 with a center ridge beam at 10×10. Actually, these are the kind of simple and typical exposed beams in a vaulted ceiling.
What makes the beams look dramatic is the fact that they contrast the ceiling but at the same time complement the gray walls. The beams, ceiling, and walls are a perfect combination of a neutral color palette: black, white, and gray.
Such a color combo truly represents a modern style, but at the same time, exposed beams will never fail to add a traditional touch in any style. Therefore, they create a lovely transitional style.
2. Cedar Plank Vaulted Ceiling with White Beams
It's obvious that the color combination of this traditional living room is white and brown, a kind of warm tone that will surely make your living room look more comfortable and cozier.
Such a color combo can also be seen in the ceiling. The ceiling is made of cedar plank that matches the other brown elements in the room, including the wooden floor.
On the other hand, the exposed beams are painted white. The white exposed beams blend seamlessly with the crown molding and accentuate the beige walls. There are recessed lights in this vaulted ceiling, too, to highlight the cedar plank.
If you're wondering, the ceiling height is approximately 15', quite high to create an airy feel in this living room.
If you want to enhance the traditional look of a vaulted ceiling beam like this, you can just hang a classic and elegant chandelier at the center ridge.
3. Dark Finished Exposed Beam in a White Vaulted Ceiling
If you don't want to deal with the fuss of installing a complicated decorative beam, you can just install a usual and typical exposed beam in your vaulted ceiling.
But, how to make it look imposing? Easy, you just need to contrast them both.
This vaulted ceiling is painted in white, mixing harmoniously with the walls, a wise choice if you want to make the room appear larger.
To create a dramatic contrast, pair the white vaulted ceiling with dark finished exposed beams. Let the bareness of them be the center of the attention.
There is no need to add recessed lights if you want the ceiling to be as simple as possible because the contrast is enough to create a striking point.
It would be nice to hang a ceiling fan and a decorative pendant on the beam. Let them be functional and aesthetic at the same time.
The black and light contrast should also be applied throughout the room in many elements to create a cohesive look.
4. Distressed Gray Exposed Beam in a Vaulted Ceiling
According to the designer, the beams were original to the house. That's why they look weathered and aged, but that's part of their charm.
The designer only applied a layer of coat to create a distressed gray look that enhances its vintage appearance.
The designer stated that it too much experimentation and samples, which means that the color of the beams is not readily used. To achieve this exact shade, the painter layered a gray wash paint and a pecan stain color.
Look how these beams complete the white vaulted ceiling. The bright and polished look of the white vaulted ceiling acts as a backdrop to the rough textured beams. They combine modern with traditional lines for a transitional look.
The ceiling height itself is 9 feet at the lowest point, and the vaults are up to 14 feet, high enough to open up this kitchen.
Instead of recessed ceiling lights, the designer decided it would be better to hang two modern pendants over the sink in the beam.
If you want to add a rustic flair to your modern and polished room, it is recommended to use this kind of stain for the beams.
A weathered and aged finish will beautifully contrast the sleek look of a modern design.
5. Tongue and Groove Vaulted Ceiling with Cut and Fit Beams
If, at this point, you've come to think that beams should contrast the vaulted ceiling, think again. It doesn't have to be that way.
In this traditional bedroom, the paneled vaulted ceiling is made of tongue and groove. The paneling is added over drywall.
Tongue and groove paneling in a vaulted ceiling is a great way to add more accent to your room. It surely gives more texture and character to the area.
However, the textured ceiling is more than enough to draw attention. You don't have to install contrasting beams to make it look stunning. The beams were cut and fit to this space, and they actually only consist of one piece of solid stock.
Both the beams and the paneled vaulted ceiling are finished in white, creating a seamless look. It's an idea you can recreate if you want the beams to be more functional instead of decorative.
Remember, the contrast still needs to be added. If you don't add any contrast to the ceiling and the beams, then you can contrast them to the surrounding wall.
See how the vaulted ceiling and the beams here contrast the dark gray walls but at the same time match the door trim.
All in all, they deliver a consistent look throughout the room that is contrasted by a darker shade.
6. Antique Pine Vaulted Ceiling with Solid Oak Beams
If you're a big fan of vintage and classic traditional looks, you might want to recreate this look.
The vaulted ceiling in this room is also paneled, and it is made of antique pine. The antique pine has a light tone, subtly contrasting the beams.
It appears that the beams are made of solid oak, which is a few shades darker than the antique pine panel.
This look proves that you don't have to paint the wood, both the paneled ceiling and the beams, to create a contrast. The natural characteristics of the woods can also contrast each other.
All you have to do is just find two different types of wood to pair.
There are recessed lights in the ceiling that will dramatically enhance the room's ambiance.
To top it off, there's also a chandelier-like classic pendant that delivers a vintage look. This vaulted ceiling beams combination is elegant and stunning, but remember that it can make your room appear darker.
So, to counteract it, you need to add a lot of lighting and build a large window to make sure the room will be filled with natural light during the day.
7. Hand Formed Cedar Beams in a Large Vaulted Ceiling
It's crystal clear that this living room has a rustic style. It can be seen from the wood element dominating this area.
Everything in this room was carefully designed to create a rustic design with an organic characteristic.
From the weathering steel roof, hand-formed cedar beams, a rugged stacked stone veneer base, to laser-cut steel fasteners, they all deliver an elegant look suitable to this open concept room.
The large vaulted ceiling is also paneled, complete with LED lights. The exposed beams are made of cedar in the dark finished to subtly contrast the ceiling. We can surely see the large and thick beams to support such a large ceiling.
The center ridge of the beams is connected to the trusses, which creates a structure to the stone accent wall as the focal point in this room.
Actually, this is a complicated thing to do. You surely need a help of a professional carpenter if you want to create a seamless design for the beams and the trusses like this.
However, keep in mind that a large ceiling, thick exposed beams, and huge trusses are only suitable for a spacious and open concept room.
8. Douglas Fir Beams with Engineered Trusses in a Vaulted Ceiling
This vaulted ceiling looks quite sharp-angled, perfect for a not-so-large room.
The ceiling is a typical painted one in a beige color that is usually used in a Mediterranean look.
The exposed beams are made of Douglas Fir with a dark walnut stain from Sherwin Williams. See how the dark stain contrast the warm beige of the ceiling, and they totally represent a Mediterranean design.
If you're wondering, these exposed beams are lagged bolted to the top plate. They are not structural but true beams. The structure itself is completed with engineered trusses.
Sure, there are less expensive and easier ways to attach or retrofit beams for an existing home. You can consult your carpenter to get the right technique, no need to exactly mimic this.
The key element is that if you want to decorate a Mediterranean room with exposed beams in a vaulted ceiling like this, you can add decorative trusses to the beams. The details will make your beams look stunning.
Don't forget to create a contrast between the ceiling and the beams, but make sure the shades represent the Mediterranean style. That's all you have to do to recreate this look.
9. Vaulted Ceiling with Matching Exposed Beams for a Seamless Look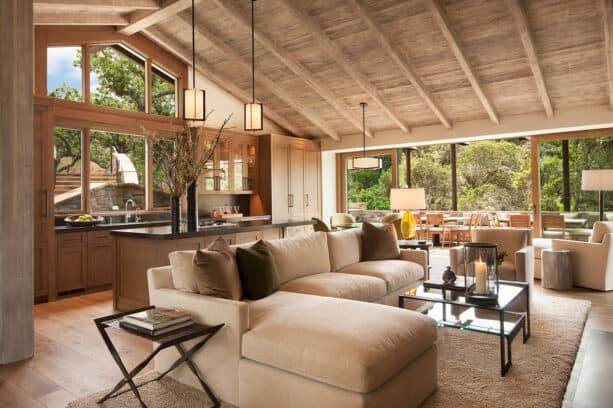 It's true that contrast is just not for everyone.
If you think that your room has already been well decorated, you don't need a contrasting element to highlight the look.
For instance, the beams and the vaulted ceiling here are meant to blend seamlessly. It seems that they are made of a similar type of wood and finished in a similar treatment, too.
It's obvious that the homeowners wanted to keep the simple look of the room. The color palette is consistent throughout the space, with only a very subtle contrast in several spots.
A consistent look like this is helpful to make the room appear larger because your eyes will automatically flow to the entire area without interruption.
Having a paneled vaulted ceiling with matching exposed beams that highlight the natural charm of wood will never fail to give you a lovely rustic look.
There is no need to add decorations like recessed ceiling lights if you want to make them minimalist. Hanging contemporary pendants over highlighted spots is enough to accentuate this ceiling.
10. Horizontal Beams in a Vaulted Ceiling with Skylights
You've seen vaulted ceiling beams that fit the place. But what about exposed beams that lay horizontally above the ceiling instead of fitting it?
This one is a perfect choice if you think that fitting beam is way too mainstream.
This kind of beam layout is called cross beams. These are made of 4×12 stained Douglas Fir. The bottom part is placed at 8'-6 above the floor, but they are set 1 foot above the wall top, which is actually only 7'-6.
The designer decided to install cross beams instead of fitting beams because they have added skylights to the vaulted ceiling.
Skylights are one of the functional elements that some people like to add in their rooms to add more lights. It would be counterproductive to add fitting exposed beams to the ceiling that have been completed with skylights.
Moreover, cross beams like this are simpler and easier to install than fitting beams.
You can install them on your own, assuming you have basic carpentry skills. It makes the beams look a lot like an unfinished truss rather than beams, but that's the stunning part.
It won't hurt either if you contrast the beams and the vaulted ceiling, just like in the previous pictures. A white vaulted ceiling can be a perfect backdrop for a dark tone beam.
11. White and Cross Exposed Beams in a Vaulted Ceiling
This room also features cross exposed beams below the vaulted ceiling, similar to the previous picture. In fact, if you look at it closer, this vaulted ceiling has two different kinds of beams.
The first one is the fitting beams. The fitting beams are finished in white to blend seamlessly with the paneled ceiling.
It appears that these beams are more functional than aesthetic because they are meant to provide structure for the ceiling.
On the other hand, the homeowners wanted to add another decorative beam to complete the whole look. Thus, they installed the cross beams.
It seems that there are only two cross beams. They are made of totally different wood from the white vaulted ceiling and beams and finished differently, too.
Look how odd they look against the bright and polished vaulted ceiling and beams.
The cross beams look natural, which makes them look unfinished and untreated. They deliver the true beauty of wood, complete with the grains and the flaws in some parts.
The great thing is that such beams will always be able to give you a nice farmhouse touch in any design.
If you want to mimic this look, paint your room white and add untreated cross beams below the ceiling to add more textures and characters to the space.
12. Criss-crossed Willow Beams in a Vaulted Ceiling
Want something more complicated yet more stylish? You should consider having criss-crossed beams like these ones.
The beams are 8" wide and 12" high and are meant to be over scissor trusses. Hence, the criss-cross look.
It's obvious that these beams are custom-made. They are made of willow, similar to the hood and the island, to create cohesion. All of them are antiqued and glazed too.
These beams are indeed stylish and elegant, but remember that they only fit a spacious room because they are large and thick, which will surely overwhelm any small room.
Keep in mind that they are decorations themselves, so you don't need to add a hanging fan, pendants, or chandelier to make them look more imposing.
If you want to add lights, you can install the simple recessed lights in the ceiling instead of the beams.
The vaulted ceiling in this room is also unique because it looks more angular with multiple heights that you can clearly see above the hood. O
The white vaulted ceiling and the glazed willow beams complement each other because white is a neutral color that can work as a backdrop.
The white vaulted ceiling helps the criss-crossed beams look more imposing. They even match the wood edging pattern on the floor.
Creating beams like this is not a job for newbies. You should hire a skillful contractor to do the job for you. It would be easier if you just showed him this picture and asked him to create criss-cross beams like these.
13. Important Things about Vaulted Ceiling Beams
A vaulted ceiling can be a typical painted ceiling or a shiplap one. Both can be added with beams.
The beams, on the other hand, can be structural or decorative. Structural beams are not meant to be attractive. Decorative is quite the opposite.
Decorative beams are solely intended for aesthetic appeal. They are available in a variety of styles. You can install your own decorative vaulted ceiling beams in your DIY project with basic carpentry knowledge.
However, these faux beams may add substantial weight, so it's better to have an engineer assess the existing structure before installation.
Due to the fact that vaulted ceiling beams are large and imposing, they tend to look the best in a spacious room. They will boost your home's appeal.
Exposed beams don't have to fit into the vaulted ceiling. You can install horizontally cross beams below the vaulted ceiling or add some decorative trusses attached to the beams. It's important to hire a professional carpenter if you want to install a complicated decorative design.
The most popular ones for vaulted ceiling beams are cedar, solid oak, willow, and Douglas fir when it comes to the material. Those are the strong and solid woods that can make the most for your exposed beams.
You can also stain and finish the beams to match the vaulted ceiling or contrast it if you want a bold look.