What makes a good living room? Of course, a nice room setting, comfortable pieces of furniture, a warm ambiance, an eye-catching layout, and a homey feel.
Therefore, installing a fireplace as a centerpiece of the room would be lovely. All the family members will gather around the fireplace to have their quality time.
What makes it even better? A functional, space-saving, and aesthetic piece that can complete the centerpiece. It is built-in shelves.
Building built-in shelves around the fireplace are beneficial for you who have a small living room. It can save more space because the shelves can be great storage without taking floor space.
Organizing your things will not only give you a smooth and clean look to your living room but also help in adding beauty to your wall design.
Installing built-in shelves is a nice way to arrange your books or other precious kinds of stuff to elevate your living room's beauty perfectly.
Even if your living room is mid-sized to large, it is also recommended to have built-in shelves around a fireplace.
Built-in shelves are never outdated. They can add some extra look to your living room, regardless of the design style you have.
Built-in shelves can be decorated in any style. All you have to do is finding the right decoration, paint/stain, accessories, and color palette.
Can't find any idea? Here are some pictures of built-in shelves around a fireplace that you can mimic. Each picture has a different design style.
1. Modern Living Room with Black Fireplace and Built-in Shelves Around
This is an example of a minimalist living room design. This lovely room features a ribbon fireplace, built-in dark shelves, gray walls, and a pop of color as an accent.
The bright red chair looks awesome combined with the carpet tiles from FLOR and patterned throw pillows in a muted neutral-colored room.
The majestic part of this room is the fireplace. It catches everyone's attention right away when they are entering the room. This is a Majestic (no pun intended) Echelon fireplace with the driftwood media package. You can check them out at majesticproducts.com. That is a direct vent gas fireplace. The fireplace surrounds are Basalt Lava Tiles. You can find them at norstoneusa.com.
The built-in shelves here are used as display shelves. There are some unique decorations displayed on the floating racks to enhance the look of the room.
There are also covered shelves below the racks that could be stored for other kinds of stuff. On the top of the floating racks, there are double narrow windows that are meant to let the light enter the room. Those windows make the shelves are even magnificent, with the light shines right above them.
2. Warm and Traditional Living Room with Low Built-in Shelves Around Fireplace
This elegant living room has an earthy tone that makes it look warm and comfortable.
The seating is placed around the fireplace to make sure everyone sitting there would be comfortable. The light brown couch, the dark chair, and the light brown armchair are completed with a stylish dark brown leather ottoman.
The fireplace is the centerpiece of this room. It is a tile fireplace with a custom blend of colors mosaic in 1"x1" from Pratt & Larson Tile. It is completed with built-in white shelves around.
The top of the shelves are roughly 54-58" high. Those are actually bookcases, so there is no drawer there. The shelves are roughly 10-12" deep. The firebox comes into the room, so it looks like the bookshelves were recessed. Actually, they are not recessed into the wall.
If you are wondering, the lovely paint of this room is from Devine – Hazelnut. The designer stated that they used Devine paints for the house. The majority of the colors used were "Pecan," Muslin," and "Hazelnut." If you want to find a similar alternative, Benjamin Moore – Bridgewater Tan 1096 is very close to this.
3. Wood Built-in Shelves Around a Stone Fireplace
This living room was a basement before. This complete custom basement transformation creates a lovely timeless living room. It is completed with a ribbon fireplace, built-in shelves, and two sets of couch and armchair. It is also decorated nicely, with a lovely Starburst Wall Mirror from Crate and Barrel.
The room's dimension is 13' x 10" x 12'-6". But when the fireplace and the built-in shelves were installed, the room shrinks into 11'-6" x 12'-6".
The fireplace you see here is a Spark Fireplace. It is surrounded by stone, called "ledge stone." This stone is easy to find. You can find it at any tile vendor or specialty stone.
The built-in shelves are actually bookcases that were turned into display racks. The wood tops on the cabinet counters are Walnut. It is a custom wood, though.
The shelves are completed with LED stripe light. You can purchase this light at any specialty lighting store. The light is installed at the front of the shelves and alter angled to the back of them. The thin strips are hidden by the shelf.
4. Crisp White Fireplace with Tiles Surround and Built-in Shelves Around
This is a mid-sized trendy living room with medium tone wood floor, gray walls, and a standard fireplace completed with built-in shelves.
Trivia: this is not really a wood floor. This is a porcelain wood-look floor. This floor looks like real wood, but it's actually not.
This type of floor is starting to gain popularity nowadays. It is because this floor is beautiful and extremely durable. These plank tiles are available everywhere, from Lowes to any high-end tile showrooms.
To install this floor, you have to choose a grout that closely matches the floor.
The fireplace and the built-in shelves were already made when the room was initially built. The shelves were painted in Benjamin Moore – Swiss Coffee.
The shelves are basically basic bookshelves. From top to bottom, there are only bookcases, and there is no drawer and cabinet installed. However, these bookshelves have been transformed into a display rack.
The fireplace is decorated with a mosaic tile surround. It is also equipped with doors. Those doors are standard glass completed with brushed nickel/silver trim. They are basically a part of the gas insert.
When it comes to the wall paint, this room is painted with Sherwin Williams – Tradewind SW6218. However, you should know that colors change a different times of the day.
5. Combination of Fieldstone Fireplace and Polished White Built-in Shelves Around
This crisp and polished living room look perfectly flawless. It is a classic traditional living room completed with a stone standard fireplace, white walls, built-in shelves, and a sectional sofa. It features a minimalist design, and that's what makes this living room adorable.
This room used to be a basement. This was an unfinished room. Later, the designer added the fireplace completed with a custom-designed entertainment center. The entertainment center, aka built-in shelves, was built on-site.
The display racks are combined with cabinets and drawers below as extra storage. These built-in shelves look gorgeous with the coffered ceiling.
The fireplace itself is surrounded by fieldstone. It prettily accentuates the crisp white color around.
The wall paint also shares a similar paint with the built-in shelves; it is Sherwin Williams – Wordly Grey. The trim is a color mix from Sherwin Williams – Natural Echo. The flooring is a white nice plush carpet, which is also white.
6. A Custom-Built Walnut Built-in Shelves Around a Tile-Wrapped Fireplace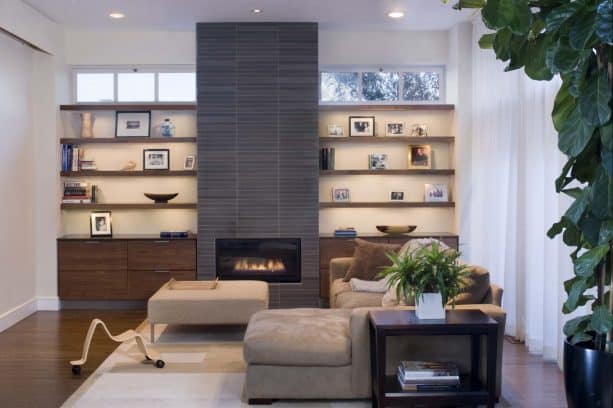 This is a contemporary living room completed with a tile fireplace, floating built-in shelves, and a plush sectional.
The first thing that grabs your attention when you see this room is, of course, the stunning fireplace. The combination of tile and wood is undoubtedly awesome here.
The tile you see on the fireplace wall is Ann Sacks Tile in Luxor Gray color. It is a wrapped tile if you are wondering. The tile is not applied to the wall surface.
The fireplace itself is a 36" SPARK model. A similar model can also be found at Heatnglo and Montigo.
The built-in floating shelves were custom-designed and custom-built. It is better to have your shelves custom-designed like this because they will fit perfectly to the room's dimension and can meet your needs either. These shelves are made out of walnuts.
The wall racks look elegant because of the light that comes from the windows above, while the hanging cabinets have four drawers as storage.
7. Trendy Carpeted Living Room with Floating Built-in Shelves Around Fireplace Feature
This is an example of a trendy carpeted living room. It has a ribbon fireplace with a wall-mounted TV above, completed with built-in shelves around and beige walls.
This gas fireplace looks trendy and chic with the stone surround. The material is a natural stone. The stone is sourced locally from a vendor in Omaha, NE. It is basically not difficult to find the similar one.
The built-in shelves are made out of oak wood. It is stained with a clear stain, so the natural color of the wood still shines.
The shelves are basically a floating rack. They were installed asymmetrically to enhance their beauty, perfect for a display rack. Below, there are cabinets with drawers that serve as extra storage.
The fireplace and the shelves look nice combined with the wall paint. The walls share a similar paint with the ceiling; it is Benjamin Moore – Revere Pewter HC172. It is mixed with the lovely trim, which is Benjamin Moore – Soft Chamoise #969.
8. Adorable Built-in Glass Shelves Around a Quartz Stone Fireplace
This appears to be the loveliest and most beautiful room so far.
This living room is a part of a tropical home with a contemporary style. It is a huge open concept living room 32" wide completed with porcelain tile, ribbon and stone fireplace, and unique floating glass shelves.
The most intriguing part is the shelves. They seem to grow right from the stone because there are no supports visible here. It turns out that the designer designed the wall to accommodate these shelves.
He used the sandwich blocking technique by slotting out the CBU backer to receive 3/4" glass shelves. Later, the stone was installed to raise the glass from below on an invisible silicon bed.
The shelves were stuck in the depth of the wall approximately 4 1/2" total. The shelf is 9" from the floor. The cabinets below the floating shelves are coconut palm wood from Plyboo. The trusses here are southern yellow pine.
Now, look at the fireplace in the center of the room. It is a Napolean LHD62 Natural Gas Fireplace. That fireplace is decorated with that special wall that also accommodates the shelves.
The wall is 100% quartz stone, ledge cut. It is not manufactured, though. But you can easily find it in any distributor.
9. Canyon Creek Stone Fireplace with Neutral Colored Built-in Shelves Around
This is an example of a beach-style living room. It is completed with a classic stone fireplace and a wall-mounted TV above.
There is also a floating rack right above the fireplace that is used as a display rack. Around the fireplace, there are built-in shelves that accommodate the lovely decoration in the room.
The fireplace was purchased from Capo Valley Fireside in San Juan Capistrano, CA. You can check it out at capofireside.com. This fireplace is surrounded by Canyon Creek Stone, which was purchased from the northern Rockies.
The built-in white shelves here consist of a display rack and a cabinet. The cabinetry here is not that big. The cabinet only features a double door. But it is such a perfect choice to wrap your fireplace around.
10. Victorian Medium Tone Wood Fireplace with Built-in Shelves and Cabinets
The fireplace is undoubtedly is a focal point in the living room. This is a victorian style room featuring a medium-tone wood floor, a standard wood fireplace, built-in bookshelves, a couch, an armchair, and a coffee table.
The shelves here are custom-designed and custom-built. No wonder it fits perfectly into the dimension of the room.
The homeowner is basically an antique expert. She intended to create a room with a classic and vintage look. Thus, this fireplace set.
The fireplace itself is a Valor Portrait Gas Fireplace in Windsor Arch front and coal effect fire. This fireplace features three fire options: rocks, logs, and coal. There are also several font options. You can easily find it in any Valor dealer.
The built-in shelves are made out of similar wood. Unlike the other mantels you saw above, these shelves have huge twin openings on each side of the fireplace. The openings are meant to be a reading nook. However, the homeowner decided to use them as a display.
Above the fireplace, you won't find a wall-mounted TV like you usually see in any living room. Instead, there are bookshelves and a classic painting as a perfect combination. Below, there are closed cabinets that are used as storage.
11. A Tile-Surround Fireplace with Douglas Fir Built-in Book Shelves
This is a craftsman-style living room complete with built-in bookshelves, a mosaic tile standard fireplace, and a window seat.
All of them are perfectly combined with a medium-tone wood floor and beige walls. The lovely rug is there to accentuate the room.
The fireplace is about 5'-6" tall, while the bookshelves are about 5'-0" each.
Instead of surrounded by the twin display shelves, this fireplace features a media rack (for TV) on one side and a bookcase on another side.
Below them, there are storage cabinets with glass panel double doors. The cabinets are made out of Douglas fir with a touch of cherry here and there. The finish on all the wood here is clear.
Those wooden pieces look matched with the red oak flooring. The wall paint is also matched with the all-wood furniture pieces here. It is Benjamin Moore – Cotton Tail 2155-70.
12. Glacier White Built-in Shelves Around a Calcutta Gold Marble Fireplace
This is a classy living room with an eclectic design. What makes it eclectic is the unique driftwood mirror that serves as a focal point in this room. It is placed above a white marble fireplace.
The overall sensation you feel when you look at this picture is serenity. It features clean lines accentuated with soft, warm woods and a nice contrasting blue.
The standard fireplace here is surrounded by custom-built cabinetry by Corsi. It is painted in Benjamin Moore – Glacier White OC-37. That is an open cabinet used as a display rack. The all-white decorations were put there to enhance the polished look.
Around the fireplace, you see the stone surrounding it. It is the same stone that is usually used for kitchen countertops: "Calcutta Gold Marble." The stone is polished to create a chic and modern appearance.
13. A Herringbone Tile Fireplace with Low Built-in Shelves Around
This is an adjoining lovely living room that is accentuated by a tile fireplace and built-in shelves. This living room delivers a chic minimalist look from the neutral color palette. However, it also adds bright pops of colors to enhance the look.
This mid-sized room has a lovely combination of gray walls and a dark wood floor.
The most striking part of this living room is the herringbone-patterned fireplace.
If you are wondering, the tile used here is Ann Sacks in Context Metallic Black. The tile looks beautiful in that herringbone install.
On the floor infant of the fireplace, you can see the black material there. It is actually a remnant stone found by the designer at a local stone yard. It's most likely a Black Absolute granite in a honed finish.
The built-in shelves around the fireplace are basically a set of bookcases. Both are installed low and meant to display the books and other decorative stuff.
Above, there are two identical windows with a contemporary painting right in the middle. The windows are useful to make the room look even brighter, thanks to the natural light.
14. A Stone Standard Fireplace with Built-in Shelves Around as a Media Wall
This is a lovely combination of a family room and living room.
This room also combines function and form well. It is not only formal enough to host a ceremonial party but also cozy enough to host any kind of fun game. It features a sectional that can accommodate 5-6 people at a time.
And don't forget the oversized ottoman that has plenty of room for the family members to put their feet up. The wing chair also looks comfortable.
There are decorative accessories on the built-in shelves around the fireplace.
Those shelves are not only meant to be a display rack but also as a media wall. There is a TV on the right side. Magazines and books are neatly organized in the rattan tray on the table.
So the shelves are not a bookcase like you saw in the pictures above. There are cabinets below for extra storage.
The built-in shelves were actually custom-designed and custom-built. They were built on-site along with the existing fireplace. They are meant to fill the wall space, top to bottom, left to right.
If you are curious, the trim color here is Benjamin Moore – Mayonnaise. That is the color of heavy cream, a beautiful and crisp white color that doesn't look cold. The wall color in this room is Benjamin Moore – Cream Silk OC-115.
15. Black and White Stone Fireplace and Narrow Built-in Shelves
This is a mid-sized transitional modern living room with a trendy combination of black and white. Actually, this enclosed room is a family room and a music room mixed together. It features a standard stone fireplace, narrow built-in shelves, and black walls.
The fireplace is a Marquis gas fireplace. Its dimension, including the surround, is 5'-6". The beautiful surround you see here is a Haddonstone Vangrugh. It is finished in Portland finish, with a custom dimension.
Around the fireplace, you see the built-in shelves in white color. The shelves are practically closed bookcases, not a media wall. So, you won't find a TV here. The books are stacked neatly on each shelf.
Even though the shelves are closed, it features a glass panel door. People can still see what's inside the shelves. At the top of the bookshelves, there are display racks to store decorative stuff.
If you are wondering, the wall color here is Benjamin Moore – Midsummer Night #2134-20. It looks nice combined with the trim color, which is Benjamin Moore – Manchester Tan #HC-81 finished with tan satin Impervo Enamel Alkyd Low Luster.
The ceiling is painted with Manchester Tan too but finished with regal select wall satin-matte finish.
Keep in mind that the colors you're seeing here are produced by a digital camera. Colors here will vary drastically from what they are really like.
16. How To Decorate Your Built-in Shelves Around Fireplace
Aren't you impressed with all the pictures above? Those designs are absolutely amazing in their own way. Which one is your favorite? If you are planning to build your built-in shelves, it is recommended to ask a carpenter to create your custom cabinetry. Thus, you can have the shelves based on your preferences.
After installing the built-in shelves, now it's the fun part. You can decorate your built-in shelves to make them look aesthetically pleasing. Here are the things that you should do:
Collect your decorative stuff. You don't need to buy new ones. Finding accessories or decorations around your home is not that hard. You can breathe a new life into them by refinishing them or pairing them with other kinds of stuff.
Add your books. It takes no brainer to know that built-in shelves = books. No need to fully stack the shelves with all your book collection if you are an avid reader. Just add some of your books, especially with unique and colorful colors. Books can add texture, color and add some height to your accessories.
Add some greeneries too. Pops of greenery in your room won't hurt. You can either use faux or real plants, or even your can combine them both. Just make sure when you water the plants, remove them from the shelf first. Don't water right upon the shelf, especially if it is made out of wood.
Don't forget to mix and match the objects and textures. Those books, vases, pots, picture frames, boxes, and other decorative stuff should create various heights, objects, and textures on one shelf. You really don't want to fill your shelves with just all frames or all books. Make sure you have a little bit of everything.
Add some statement decor—no need to fill up all the space with family heirlooms. On the contrary, try to incorporate some meaningful decor or statement stuff, something personalized that contains a tiny detail about you.
Good luck!