Having a backyard is not enough. Sometimes it takes an excellent patio to make your garden a beautiful escape from indoor living. A patio usually includes a sitting area, a fire pit, and sometimes a pool too.
The patio can be designed and decorated in any style. You can choose a similar style with your main property.
Now, what about the decoration?
One of the essential parts when decorating your patio is choosing a paver.
Pavers are blocks and slabs made out of various materials, like marble, flagstone, concrete, porcelain, travertine, plastic, and even rubber to create a paving surface for not only patios but also pool decks and driveways.
There are also several alternative choices of materials, like stamped concrete is considered better than natural concrete slabs.
Basically, paver patio ideas are various. However, if you want something with good looks and value, you have to choose wisely when it comes to patio pavers. You can pick one material or mix and match two or a couple of materials to add more dimensions to your patio.
Adding a fire pit to your patio is also beneficial. If you love spending time outdoor and the patio is your luxury retreat, it is a must to add a fire pit to your patio.
If you are still unsure about adding a fire pit, here are some reasons why you should do it:
Fire pits can make your patio a space suitable for any season. You don't only enjoy your time outside during summer. When the temperature outside drops, a fire pit can warm you up during the colder days. Put your fire pit in the center of your patio. Place some chairs or benches around the fire pit.
Fire pits can add ambiance. The glow of your fire pit can add visual warmth to your patio. It creates a perfect cuddly atmosphere for those who gather around the flames.
Fire pits can be romantic. If you often have something to celebrate with your partner, a fire pit can be your best bet for a romantic evening. You can enjoy a warm cocktail outside with your partner around a fire pit.
Fire pits are entertaining. Watching the logs burn, stoking the fire, and any simple activities to keep the flame lively can be such entertainment. This is true for a wood-burning fire pit.
Fire pits can be a great cooking tool. You don't have to roast a pig or something with your fire pit. Instead, roasting a few sticks of sausages or marshmallows can be a lovely treat for you and your friends.
Sure already to have a fire pit in your patio? Well then, if you want to remodel your patio, here are some ideas for pavers and additional fire pits. Check these out:
1. Lovely Sierra Color Paver Patio with Round Fire Pit in the Center
This is basically a simple patio with only one sitting area gathering around a fire pit. But its simplicity is what makes it lovely.
Located in a large backyard, this patio features brick landscaping that looks stunning against a huge area of mown grass. There is also a fire pit that makes it possible for the members of the family to enjoy the sunset even though it is not summer.
The fire pit is lowered with only three stacks of bricks. It gives enough room for a large gathering around the fire.
The pavers here are Unilock Avant Ashler in Sierra color. If you are wondering, the banding is also Unilock. It the combination of Unilock Brussels pavers in Sierra color and Unilock Hollandstone in Charcoal color.
There is a half-circular wall that creates a full circle if you combine it with a half-circular heightened area in the patio.
The walls are also Unilock Brussels wall stone in Sierra color, same with the paver and the wall coping. And for the pillar caps, they are Unilock Ledgetone in Buff color.
2. Belgard Stone Paver Patio with Grill Surround and Fire Pit
This is a considerably small patio, but that doesn't mean it is less comfortable.
This stunning patio features a circular fire pit in the corner, a built-in grill, and a sitting area with an umbrella. The built-in grill surround is meant to add definitions to this patio. The fire pit is right in the middle of the seat walls. It creates a warm space in the corner.
The grill surround here is built with Belgard Weston Stone in Cotswold Mist. It is added with an accent color from Weston Stone in Brookstone Slate. The pavers here are Holland Stone pavers which also have a shade of Cotswold Mist.
The Holland Stone pavers are completed with an inset Mega Arbel circle. There is a double soldiers course surrounding the inset circle to add more dimension to this area. Basically, this small patio looks warm. It is such an inviting space for entertaining.
3. Natural Flagstone Paver Patio with Seat Wall and Fire Pit
It is an adorable outdoor living space complete with a deck, outdoor fireplaces, fire pit, covered wood structure, seat wall, and wood fire oven. All of them are highlighted by a concrete paver hardscape and warm landscape lighting.
This outdoor area is a complete entertainment space. This can be a place to host a party or to enjoy the sunset after a long hard day with the family.
The stone patio looks nice combined with the deck and the covered wood structure. Both natural materials basically don't share a similar shade in color, but surprisingly stone and wood do complement each other.
If you are wondering about the deck, it is a hardwood deck with no oil or stain. It is natural wood, and the homeowner decides to let it remain natural.
Now, look at the patio. It is paved with natural flagstone. It is called Iron Mt. The half-circular seat wall is such a nice spot to get some warmth. The fire's total diameter is roughly 5ft. If you are curious, the fire pit's walls are 8" thick. It is about 2ft from the seat wall.
4. Modern Patio with Concrete Paver and Black Metal Fire Pit
This is a modern patio with a nice combination of neutral colors. It is a considerably large patio completed with two different areas, the high and the low ones.
The high area features two chairs and one round table. It leads to the main house. The low area features a set of benches on the opposite side of the fire pit.
The most striking element in this patio is, of course, the fire pit. It adds more elegance to this modern backyard.
The fire pit is a custom-built product. It was built by a local Portland blacksmith and designed by Risa Boyer Architecture. It was made out of deform metal.
If you are wondering, there is a gas line that runs to the fire pit underground. When it comes to the dimension, the fire pit is roughly 2' wide and 4.5' long. It is a gas fire pit, by the way.
The patio next to the fire pit is made up of concrete pavers. It is a dry set over a sand bed. Those pavers are from Mutual Materials and in Charcoal color. Concrete pavers Mutual Materials are known as great concrete paver. So, it is highly recommended to purchase this one if you are paving your own patio.
5. Mid-Sized Tuscan Backyard Featuring Stone Paver Patio and Circular Fire Pit Table
Are you not really into neutral colors? You might get some inspiration from this bright patio.
This patio is situated in a mid-sized Tuscan backyard. It is a stone patio complete with a fire pit in a bowl.
The fire pit is surrounded by an upholstered stone bench with some throw pillows and a bright red armchair. The red armchair was carefully picked to match the pink pavers.
The most interesting part of this patio is the stone bench. It is a solid bench built with recycled concrete. Trivia: the concrete used in the stone bench is actually the one that used to pave the patio before the renovation. Each piece of the concrete was placed carefully to create the perfect shape and stone effect. And the surface of this seating is trowelled concrete.
The fire bowl is also unique. It is there to match the lovely stone bench and pink pavers. The fire bowl had already been plumbed for gas. It looks modern and stylish on this Mediterranean patio. When it comes to the pavers, it looks a lot like a flagstone. The material between the pavers is a decomposed granite. It is permeable with no binder.
6. Bluestone Paver Patio with Bench Seating Around a Square Fire Pit Table
This no-cover patio looks polished and modern with its gray color. From this design, we can finally find out that exposed bricks look perfect combined with gray. Even the throw pillows upon the brick bench are also in gray color.
The fire pit is installed in the center of the patio, enclosed by the stone bench with only one opening. The stone bench is also made out of bricks, similar to the wall on one side of the patio.
This brick bench is equipped with a bluestone cap. And the fire pit is a built-in custom-designed one made out of concrete. This fire pit features natural gas that has an electric spark started.
The paver here is bluestone completed with a slot of gray beach pebbles around the fire pit. The gray pebbles are not the only accents on this patio. There is a wood screen wall behind the bench seating that features lighting and supports the vine growth too.
7. A Large Classic Brick Paver Patio with Dining Area and Fire Pit
What nice landscaping! This is a traditional backyard with several sitting areas in one place.
First, there is a dining area. It is separated from other spaces by three large containers of plants on the right and a fire pit area on the left. This dining area is completed with an umbrella to make sure the members of the family won't be bothered by the UV rays during the day.
Next to the dining area, there is an outdoor living room with a metal sofa and an armchair. The sitting set is also completed with a metal table. This is a nice place to chill and enjoy the view of the sunset. A small grill with a counter is placed conveniently near it.
The third space is the fire pit area. The rectangular fire pit is surrounded by a stone bench. The fire pit area and the dining area are separated by a lovely low-profile planting bed.
The pavers for all spaces in this backyard are a cast brick paver from Unilock called Thornburry in Bavarian Blend color. The trim brick is Unilock too, called Old Towne in Burnt Clay color. The wall cap is also a Unilock product called Ledgestone in Buff color. You can check this entire product line at unilock.com.
8. Trendy Granite Fieldstone Paver Patio with Semicircle Bench Around a Fire Bowl Pit
If you are into something trendy and modern, you might get your inspiration from this patio.
This is a simple yet trendy patio with a fire bowl as its highlight. The fire bowl pit is installed near the stone bench. The half-circular stone bench creates a full circle with the related paving, whose center sets on the edge of the patio.
The fire bowl is a cast iron. It was purchased from Mill Stones millstones.com. The stunning part of this bowl is it is lit from below. The lights are low voltage landscape lights recessed into the beach pebble surround at the base of the bowl. Additionally, the designer picked a yellow lens for the lights to create a warmer look.
The paver here is a granite fieldstone. It is the same with the seat wall. The wall is a combination of a Bedford Limestone custom cut seat and a split-faced granite fieldstone.
9. A Traditional Backyard Stone Paver Patio with a Pergola and a Fire Pit
This is beautiful landscaping. The designer and the homeowner really know how to turn a large backyard into something stunning like this. Surrounded by flowers and foliages, the spaces here are divided into three spots.
The first spot is, of course, the patio with a fire pit. The second one is the pergola, completed with sitting areas and drapes to protect the people there from the weather as well as to give some privacy. The third spot, next to the pergola, is something that looks a lot like a carport.
The patio seems to be the most comfortable spot to enjoy the view here. The fire pit looks rustic with no trendy and glossy bowl included. Instead, the fire pit only features some rocks lined up circularly, and it seems that you need to burn the logs traditionally to start the fire. However, turns out that this fire pit uses gas logs, so you don't really have to strike a match to these logs to start the fire.
If you are wondering, the stone used for the paving is called full ranged bluestone. This bluestone is also fully patterned to achieve this dimensional look. The stone is set in a compacted gravel base. Looks definitive, doesn't it?
10. A Huge Timeless Backyard with Limestone Flagstone Paver Patio and a Fire Pit
This large backyard with timeless design is completed with a stone patio that looks small here. But, for your information, it is a 2000 sqft patio.
Quite big, isn't it? Unlike the other modern and stylish patios you have seen above, this one doesn't have too many seats or benches. It is because the main aim of this design was to create a natural camping campfire. So formal and expensive furniture wasn't really a concern.
The fire pit is built on compacted gravel. The stone and the pit are et on top of the firm surface.
Later, the compacted gravel is also set with a pitch to let the water drain. The flagstone (stone around the fire pit), decorative gravel, and the fire ring are able to let the water flow through. So there is no pooled effect here.
It may seem difficult to install, but this patio is installed like other stone patios. It takes base compacted in 6-8 inches and flagstone upon it. The decorative stone between the bigger flagstones is meant to help lock everything together.
If you live in a colder area, it is important to use mortar fortified with fiberglass fibers as well as some acrylic admixture. It is useful to minimize cracking. It is also recommended to set the flagstone in a concrete slab 4" to avoid major cracks too.
However, you should also know that setting the flagstone upon a compacted-based and adding decomposed granite can only last for a few years due to maintenance issues.
11. A Stylish Patio Design with Concrete Paver and Fire Pit Plus a Floating Bench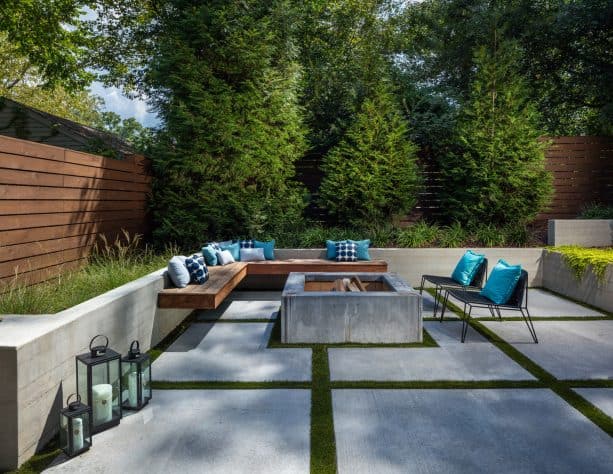 What a nice and minimalist outdoor living space!
This inviting space features a set of chairs, a fire pit, and a unique and lovely floating bench. This floating bench is really a nice idea. It doesn't only create a unique look and inviting ambiance, but this also saves more space, which is great if you have a considerably small patio.
The fire pit is made from concrete. This is a custom-designed fire pit. So if you want to mimic this one, you can have it made by a local smith.
The paver of this patio looks like concrete as well. It is decorated with grass around its edges.
There are low gray walls around the patio, into which the floating bench was secured into. This Ipe floating bench looks matched with the cedar fence around. That cedar fence is perfect for providing some privacy as well as a calm setting for city living.
12. Japanese Garden with Cobblestone Paver Patio and a Metal Fire Bowl Pit
Basically, this is not a large backyard. However, the designer managed to create some different spots in this yard.
This whole landscape looks a lot like a Japanese garden. It features a bamboo water feature, outdoor dining area, a pergola, paver patio, outdoor bamboo bench, fire pit and stools, lattice, metal roof, privacy screens, and paver walkway.
The covered area (pergola) features so many little details. But they all come beautifully together. The structure is 12×12 from post to post.
For your info, the black circle on the backside of this pergola's structure is hand-made and hand steamed. It really takes a super detailed task to complete this look. That black circle really stands out at night.
The slats are built in detail to let the outdoor lighting shine up thru the slats and truly show that black circle when the sun goes down.
The patio area is completed with a metal fire pit bowl. This lovely fire pit can be purchased at paloform.com. The fire pit is surrounded by three matching stools and a lovely bamboo bench from Home Goods. The paver is from Mutual Materials. It is a Roman Cobblestone in Summit Blend.
13. A Fire Pit Seating Area and Patio with BlueStone Paver Around a Pool
This is a large backyard in a cottage style, which features a rectangular and stone pool.
Next to the pool, there is a patio with a fire pit and four armchairs. Basically, this is not really a patio since it uses a floor instead of a paver.
The "paver" here is a Bluestone "Select Blue" in running bond pattern. It is 18" x 36". The designer also used mason mix by Quickcrete for the grout. It looks nice surrounding the pool. If you are wondering, the pool is 40'x18'.
The loveliest part of this backyard is the fire pit. It looks unique and unusual. It is a custom fire pit that was designed by the designer.
The fire pit is basically a board from concrete and topped with Ipe wood. Inside, it features the fire rocks and a metal insert with the fire ring. This is a gas fire pit. The homeowner can turn the fire pit on with a gas key, thanks to the connection of the gas line and the fire pit.
14. A Relaxing Patio with a Circular Stone Fire Pit and Roman Cobblestone Paver
This is an elegant patio that has a relaxing ambiance.
Did you see the water feature on the right side? It creates a soothing sound of bubbling water.
In the center of the patio, there is a fire pit that creates a lulling sound of fire crackling.
The combination of bubbling water and crackling fire truly relaxes your senses. It is a perfect spot to chill and unwind after a hectic day.
The fire pit is a stone gas fire pit. It seems that it is a Petra Gas Fire Pit from Bond Manufacturing Co.
That's a classic pit that can work well with everything despite your style preference. This pit is perfect for any style, from rural rustic to modern minimalist.
This is also a nice outdoor accessory. It will always be nice to sit around it with your favorite guests while enjoying the warmth of a cozy fire glow.
The paver here is a Roman Cobblestone Harvest Blend from Mutual Materials. It creates a harmonious design with the fire pit. Last, the weaved chairs from Home Goods give an accent for a stone paver and pit.
15. A Simple and Minimalist Design Patio with Concrete Paver And Rectangular Fire Pit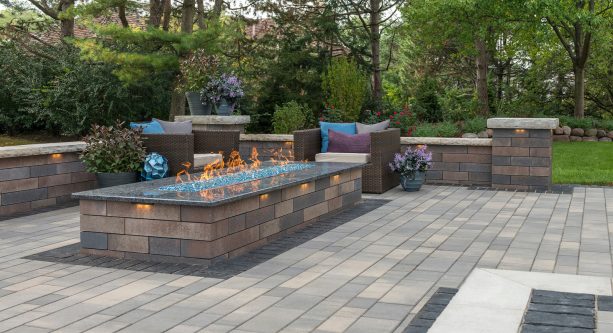 A simple and minimalist design will never fail to create a polished look, like in this patio. This patio is situated in a mid-sized trendy backyard. It has no cover, so the homeowners can enjoy the nature around more freely.
The thing that catches the most attention is the fire pit.
This pit is totally one of a kind. It has a long rectangular shape in a flawless design that can deliver more comfort and warmth. It is basically a fire table, not a fire bowl like you've seen in the pictures above. This is Lineo Dimensional Stone (Sierra) Fire Table. Its sleek lines and contemporary design is completed with a linear multi-length plank look.
The fire table is surrounded by a black stone. It is a Town Hall (Basalt) Accents from Unilock. It is a cast from original brick street pavers. It delivers a worn and distressed look and is totally perfect combined with the pavers.
The pavers are Artline (Steel Mountain) from Unilock too. It has clean and long lines, which create a minimalist and modern outdoor design. It is nice to know that there is any number of colors that can be used together or separately to create a pleasing visual effect.
Closing
So, what do you think about the patio designs above? Which one do you like?
After seeing various paver materials with their different shapes, colors, patterns, and sizes, you might want to dig a little deeper about each material. Here is some quick look at paver materials mentioned above:
Bricks. They come in many shapes and colors. Bricks can also be laid in various patterns to create a visual effect. And since they are made out of natural materials that can be salvaged, cleaned, and reused, bricks are eco-friendly. However, bricks are fragile. They can chip and crack easily. Plus, bricks need a good base and regular maintenance.
Concrete. A concrete paver is easy to install. It has many sizes, shapes, and colors. Concrete is also cheaper than bricks because it uses low-cost raw materials. Compared with poured concrete, concrete is more durable because it has undergone some process. However, artificial pigments can fade as time goes by. Under an extreme change of temperature, concrete can crack too. It has short longevity because it is basically a low-cost material.
Bluestone. This material is somewhat durable. It can be shaped into any shape too. The color is also magnificent, which starts as a royal blue, even though under the sun exposure, it becomes faded too. Bluestone can also be integrated with different paving materials. However, you should be careful when purchasing bluestone because there are many fake bluestones out there. The authentic bluestone is considered pricey because bluestone is rare.
Flagstone. This material features a non-slip texture, so it is better for a patio paver that includes a swimming pool. Flagstone is also more durable than the concrete paver. It comes in many shapes, sizes, and colors, so you can create any pattern you like. The shapes and colors can work well with other materials. Flagstone is basically unique with a beautiful finish. However, flagstone is natural. It is quite hard to get a similar planned output if you have one. Flagstone is also more expensive than other paver materials.
Marble. This kind of paver is smooth and polished, perfect for a sophisticated look. The patterns can create an unusual finish to your patio. Marble is also highly durable and can last for a long time. However, marble conducts heat. So your patio can be awfully hot during the noon on the summer days. Marble is softer than other materials, so it can be scratched easily. Be extra careful when you have marble paver, too, because it might lead to discoloration and stained when exposed to acidic chemicals, like cleaning products, beverages, or sauces.
Travertine. This material is extremely durable. Plus, it is also environmental-friendly and natural. Compared to marble, travertine is way cheaper. It has many tones and colors that won't fade. Travertine won't absorb heat, so you don't have to worry during summer days. However, travertine is heavier than other pavers. It is highly sensitive to acids as well, so be careful when cleaning your travertine paver. Never use vinegar or other acidic formulas.
Porcelain. Compared to other raw materials, porcelain is cheaper. Its appearance is pleasing and elegant. Porcelain doesn't need regular maintenance, and it is easy to clean. It can prevent bacteria and molds from building up because porcelain absorbs less moisture. It has various patterns and colors too. However, porcelain paver is not suitable for a highly-elevated area because it might not be able to hold up well for a long time.
Cobblestone. This paver doesn't require daily maintenance. You just have to wash it once or twice a year. Cobblestone is also long-lasting and durable. When installed properly, it can last for decades. There are many colors and styles to choose from either. However, cobblestone is expensive than other paver materials. The installation needs a professional, and it is time-consuming.
Have you decided what kind of material you would use for your patio? Hope you get a spark of ideas and inspiration after reading this. Happy paving!