Most people put a lot of thought into interior design ideas, while more often than not, exterior decorating gets neglected.
Yet, decorative patio wall ideas are basically countless, and building an attractive patio wall is an easy way to brighten and liven up an uninspiring outdoor space.
The walls can bring more characters and colors to your patio all year round, not just during the summer.
We know that not every patio has a panoramic view. You surely don't want to enjoy your summer nights outside by looking at cracked plaster or bare walls.
Whether your patio is small or large, think of it as an extended decorating opportunity when building a decorative wall. Opt for ideas that can turn your patio into something colorful and stunning.
You can add a calming oasis that acts as a backdrop to your patio wall, or you can create a seating area, and even a vertical garden.
If you're still unsure, scroll down to get the most attractive patio wall ideas to spice up your patio, perfect for any outdoor space:
1. Dry Stacked Ledge Stone Patio Wall Around a Fountain
Actually, this patio accent wall is not that large. However, the contrasting texture is enough to make a statement.
This patio wall is made of dry stacked ledge stone created by Real Stone Source (RSS). The designer installed a water wall made of solid concrete in the center of it, all in a single pour.
Installing a water feature in a patio wall is not a new idea. So, if you want to make it different, you should be able to combine it with other materials to add more characters. And it only works for a simple water wall like this.
There are many types of water wall features. If you prefer a simple one like this to any extravagant designs, it's your job to find the right match.
The matching material doesn't have to be bold. Instead, it should have a contrasting texture and tone.
For instance, in this patio wall, the water wall seems smooth, while the ledge stone around has a rough surface. Both are finished in black, but somehow the shade is subtly different, adding more visuals in this area.
2. The Idea of Using a Lattice Trellis as a Patio Wall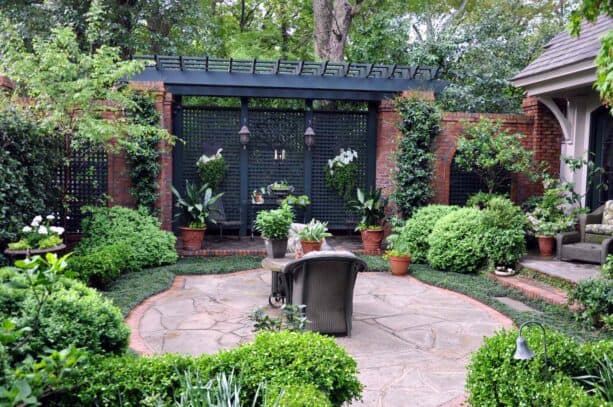 For some, it may be essential for a traditional patio to work with materials other than wood. Not because wood is not beneficial, but it is a bit too overrated when it comes to traditional design.
Many people use wood to represent classic and traditional styles, but there are many other materials, appearances, and designs that pull off a traditional look.
For instance, in this patio, the wall is made of bricks. But as a focal point, the designer installed a lattice trellis completed with a pergola to accentuate the brick wall.
In fact, the lattice trellis is part of the patio wall, too. It is painted in Benjamin Moore – Black Forest Green, a kind of shade that most people use to decorate their outdoor spaces because dark green would be lovely when combined with fresh greeneries.
The homeowners decided to liven up the trellis by hanging some plants there. This is a basic idea, but it's always worth it because the lattice trellis will look bare if you don't add it with some greeneries.
There are two arched lattices on both sides of the trellis to visually balance the lattice trellis wall in the center.
All in all, the entire wall of this patio brings off a traditional look perfectly. Brick, paired with trellis in a dark green shade, will never fail to give you a charm of classic style.
3. Cedar Planks Patio Wall Used as a Part of a Seating Area
Cool and contemporary, that's the vibe that the homeowners wanted to induce in their patio.
Actually, this patio has already been completed with a low stone wall on the outer perimeter to separate this area from the other zones.
However, the designer created something more. There's a leuders limestone bench equipped with cushions and pillows.
At the back of the bench, there are cedar planks set on raw steel posts.
The cedar planks are multi-functioned. They can be used to promote a cozy and comfortable atmosphere on the patio, but at the same time, they also work as a patio wall since they are way higher than the stone wall in the outer perimeter.
There are many patios that have walls used as a bench. Yet, that's not the case on this patio.
The back of the bench here is also part of the seating, but it is detached from the limestone bench, only connected by the steel posts. It makes this patio wall look even more unique and different.
4. Redwood Fence that Doubles as a Patio Wall
This is another multi-functioned patio wall that offers beauty and functionality. The patio wall is made of wood, redwood, in fact. It works as a fence to cover this patio and as a wall at the same time; with 6" tall.
Actually, it is usual to use wood as a garden fence. So, redwood is a good option if you want to incorporate wood into your patio.
However, as stated before, wood is way too mainstream for a traditional design. It would be better if you use wood in any style but traditional.
This patio, for example, has a lovely contemporary style. The simplicity it's got totally radiates a contemporary look.
There are two types of wood here, the Redwood for the patio wall and cedar for the bench. Both look contrasted because they have a different tone and finish.
The great thing is that the designer managed to combine wood with concrete. The result is stunning because it turns out that they complement each other.
If you want to incorporate wood in your patio wall, it's recommended to contrast it with lighter colored material, like concrete, to create a visual balance.
Don't forget to accentuate them both with plants to add a pop of color.
5. The Idea of Using a Vertical Garden as a Patio Wall
The idea of using a vertical garden as a patio wall is also widely used. It's your job to make sure your vertical garden wall is different from the others.
The ideas are unlimited, and you can squeeze your creativity juice to design a unique vertical garden patio wall.
This wall is 80-foot long, and most of the space is filled with greeneries.
Basically, the idea is simple. You just have to find the right plants to add to your vertical garden, and it surely takes a professional gardener to give you the right advice.
The owners of this patio seem to know what to do when designing their patio wall. Instead of incorporating some wild ivies or other creeping plants, they hang many different types of plants.
The plants come in a kind of slab, a medium where they could grow. The soil slab is in a rectangular shape, so it's easy to place them in a decorative way.
Hang three similar plants in a row, and then start to hang a different species afterward, also in a 3-row, and keep hanging different plants after three rows.
This way, you'll get a lush green wall that has different textures and colors.
6. Living Patio Wall Completed with Water Feature
Quite similar to the previous picture, this patio wall is also made out of living things. However, this one features tall trees grown on the ground instead of a vertical garden.
It seems that the patio wall is made of simple concrete, but the homeowners wanted to cover it so people won't see the bare concrete.
The tall trees, which look like yellow bamboo, are planted right in front of the concrete wall. There is also a kind of trellis to separate each tree from the others.
Everything looks perfectly structured and organized on this patio wall.
To top it off, there are also water features on each side of the trellis. It's actually a small water feature each, in a square shape and a cap, providing a small fountain.
It's obvious that these small fountains are not meant to be a focal point. Instead, they are simply used to complete the natural look of this patio wall and produce a soothing sound that most people like to add to their patio.
If you want to recreate this look, don't forget to add some up lights in the ground to highlight the living patio wall. The lights will also look nice when reflected in the water feature.
7. Wood Panel Patio Wall with Decorative Lights
As a timeless element, it would be a waste if you only incorporate wood in a traditional setting only.
Look at this modern patio. It looks extra with the wood panel patio wall completed with similar pots to accentuate it.
Actually, a wood panel patio wall would be just enough if you paint or finish it in a bold shade.
However, since the homeowners wanted to keep the natural beauty of the wood panels, they should make the most of it. That's why the decorative lights were added.
This light is actually a custom-made product, specifically made for the owners by Revolution Design House.
If you want to recreate this idea, you don't have to use a similar light. You can opt for any decorative light, as long as it is quite huge and prominent to highlight the wood panel patio wall.
You can also hang some potted plants around the light to finish it off. Make sure the pots are as modern as possible, and the color should match the light to create cohesion.
8. Artificial Leaf Panels as a Patio Wall
It's true that adding greeneries to your patio wall will instantly make it look fresh and natural.
Yet, not everyone likes to take care of the plants on a daily basis. For some, it would take a lot of effort to maintain the garden.
If you're one of them, but you still want to make your patio look natural and fresh, the best solution is to add a bit of green with artificial leaf panels.
This artificial leaf patio wall is designed by Greensmart Decor, the smart way to keep the patio lush and green without the maintenance and water consumption for real foliage.
This panel is claimed to be high quality with the weather-resistant feature.
The great thing about having an artificial leaf patio wall is it can also be used as a privacy solution for any outdoor space, be it backyard, patio, deck, or even balcony.
This can be a good option if you're a busy person instead of designing a vertical garden. However, it would be great to add some real plants in front of this artificial leaf patio wall.
You can choose low-maintenance plants, to begin with. Put them each in a pot and line them up in front of the leaf panel patio wall to create a lush area.
9. Slatted Patio Walls are Used to Mount Hanging Gardens
If you think the wood panel is overrated, you might want to consider using a slatted wall for your patio.
This wall is also made of wood but with a larger gap between each slat.
The great thing about having a slatted wall is you can paint it in any color you want and finish it any way you like, but make sure it corresponds with the style of the patio. Slatted patio walls are used to mount hanging gardens.
For instance, in this modern patio, the slatted wall is painted white to match the rest of the patio. The patio itself is made of concrete with white Adirondack furniture.
As you may have known, modern design is often associated with a neutral color scheme, so white is your best bet.
Since the slatted wall will look too plain if it goes undecorated, the homeowners hung some vertical gardens in it.
You can actually fill the entire slatted surface to hang your vertical garden. But the owners thought it would be counterproductive because it would eliminate the essence of modern style, which is minimalism.
If you want to hang several gardens only on your slatted patio wall like this, you should arrange them in order to create a visual appeal.
10. Painted Concrete Blocks with a Resin as a Patio Wall Idea
This lovely backyard patio has a bold wall that perfectly embodies the contemporary style.
When it comes to the materials, actually, this patio wall is simple, a usual stucco wall, but the homeowners painted it in bold colors. The base wall is painted brown, while the center part is painted in a bright yellow color.
The yellow wall is made of 8x8x16 concrete blocks and a sand finish stucco. Right in the middle of it, there's a resin panel from 3-form.com. The resin panels act as a focal point, and it looks lovely against the yellow wall.
The basic idea is to paint a stucco wall in an earth tone, then build another layer of the wall as a centerpiece, and last, hang a decorative piece on top of it.
It's easy to mimic this look. You don't have to use exactly similar color like this. The color options are various, but make sure you paint the base wall and the top wall in a complementing color.
You can opt for any weatherproof statement piece to highlight the entire patio wall when it comes to decoration. The main reason why you add that piece is to draw attention and showcase the wall.
11. Perforated Copper Mounted on a Steel Structure as a Patio Wall
It's true that it takes a lot of creativity to decorate a patio wall, so it looks attractive.
If you think that you're not that innovative in designing something jaw-dropping, then it would be best for you to choose a material that will stand out even without being decorated.
In this contemporary patio, it's obvious that the wall is the focal point, the most striking element in this area. And it's also visible that the homeowners didn't add anything to make it pop.
This patio wall is made from copper. According to the designer, eventually, this copper would oxidize and turn green. If you're looking for other colors, you could make this panel system with other materials.
This perforated copper is mounted on a steel structure to keep its solidity. It's not only the color and the texture that makes this copper patio wall extravagant, but also the design, where it's raised in some parts.
It won't hurt if you plant some succulents or other small plants in front of this wall. Make sure the plants are low enough so they won't interfere with the charm of this wall.
12. Concrete Fountain Patio Wall with Water Pegs
This patio is situated in a courtyard, and the courtyard itself seems to have two areas. Therefore, the patio wall is used to separate these two zones.
The wall is basically simple, made of concrete. Yet, it has water pegs, too, because this is supposed to be a water wall. If you're wondering, this is a concrete sand finish wall with a bronze trough, a custom-made product.
Installing a fountain wall as a focal point in your patio is a simple way to add a water feature. No need to add a majestic three-tier fountain if you can install it right on your patio wall.
Below, there's a rectangular pond that's meant to collect the water.
The concrete wall will change color after a while due to the water, but that actually delivers more character to the wall. You don't need to stain it if you can let it change its color naturally.
The homeowners added two planter boxes made of bricks on each side to accentuate the wall.
It's easy to recreate this look. After getting the custom-made water wall, you'll just have to put some pebbles in front of it to increase the natural appearance.
Plant some shrubs next to the pebbles to complete the whole look.
13. Stone Retaining Wall Around a Step-Down Patio
You can clearly see that this is a step-down patio, with landscaping on the upper level. So, it's reasonable to use a retaining wall.
Retaining a wall around a step-down patio is a common design. It's important to keep the soil stay in its place so it won't tumble down to the patio.
This patio wall is made of stone to match the paver block patio. The stone wall delivers a traditional look, while the colorful paver blocks pull off a more modern look. When combined together, they bring out a perfect transitional look.
In order to highlight the wall, it's better to add some LED recessed lights in some spots to illuminate the whole patio at night. Plus, such lights will highlight the wall nicely.
To recreate this look, you need to add some bold colored urns in front of it with colorful blossoms.
It would look super lovely if you're able to play with the colors because the stone is basically a neutral element that can be a backdrop for anything you add in front of it.
14. Creating a Focal Point by Using a Fence and Colorful Pots as a Patio Wall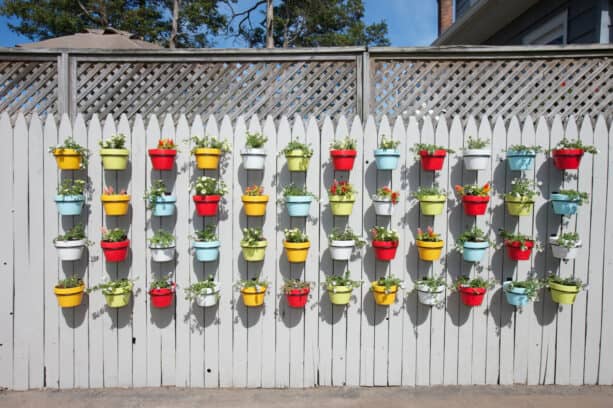 Even though you'll need a professional's help to build your patio wall in some cases, you can make a simple one on your own and include it in your DIY project.
This wall, for instance, is an easy one to recreate. It's basically a simple wooden fence painted in a neutral color with colorful pots to decorate it.
Find the right type of wood to create a fence like this. Or, you can purchase a readily-use wooden fence.
You can repaint it if you don't like the original color. Keep in mind that if you want to incorporate brightly colored elements in front of it, make sure the fence is in a neutral shade because it acts as a backdrop.
Later, find some plastic pots and paint them in any solid color you like. Make sure the colors are as bright and bold as possible. You need a kind of wire to hang them on your wooden fence. This is a simple DIY project with a huge impact.
Don't need to create a vertical garden if you can use some small potted plants to accentuate your patio wall.
Opt for small plants that have brightly colored blossoms to complement the bold pots. This way, you have added a fantastic focal point to your contemporary patio.
15. Painted Stucco Patio Wall with Vines
Actually, there's no basic rule about how to decorate your patio wall. You can do whatever you want, but make sure it looks pop.
But, if you don't want to deal with the fuss of installing a heavy and costly material for the wall, you can just build a usual stucco wall and paint it in a bold color.
This patio wall is painted in a lovely maroon shade, a kind of shade that surely attract attention.
However, you don't have to strictly imitate this look. The shade and color can be anything as long as it is striking enough. At the same time, avoid too bright and neon colors because they will look too flashy in an outdoor space. Stick to warm tones for the safest options.
This stucco wall has a rough finish, but it's combined with vines, which is Virginia creeper.
You're wrong if you think that painting your stucco wall in a bold and warm tone is enough. It definitely takes more than just a vibrant color to create an accent on your patio.
The homeowners even added a black paneling made of wood right in front of this stucco wall.
The black panel is not only used to contrast the patio base wall but also to provide a space for potted plants, and it matches the planter box on the right side of this picture.
16. Brick Wall with Mounted Pots in a Mediterranean Patio
Even though bricks can be used as an alternative wood material in a traditional style, this element is frequently used in a Mediterranean style.
In this patio, the wall embodies the Tuscan style perfectly; moreover, it is combined with terra cotta tiles.
The brick walls match the low wall around the tree in the middle of the patio, creating a uniform look.
In order to decorate the brick patio wall, the homeowners hung various sizes and types of potted plants around.
The potted plants are not only on the wall but also on the patio, creating a garden. The patio wall creates an extension for the garden.
In the center part of the wall, there's a huge black framed mirror that looks in contrast to the brick.
There are many benefits of adding a mirror to a space, but the main reason why people use it is to create an illusion of a bigger space.
Right in front of the mirror, the owner also places a statue as an additional decoration.
It's basically OK to place an artwork or a statue in an outdoor place like this. But, if your patio has no cover, make sure the statue or the artwork is weatherproof.
Don't forget to add a sufficient amount of outdoor lighting to make sure everything is perfectly lit. You can place a standing garden light against the wall or mounted lights on the wall to highlight it at night.
17. Most Popular Patio Wall Ideas
Frankly saying, there is no limit to patio wall ideas. You can use anything and even include it in your over weekend DIY project. However, if you want to incorporate a famous patio wall, here are the ideas:
Green wall. Vines, ivy, and other climbing plants will instantly turn your dull patio walls into something beautiful yet natural. The lush greenery will never fail to give you visual advantages. Some of the climbing plants need a trellis, while the others can hold to the facade with suction cups. Apart from the beauty, a green patio wall is also useful to improve the ecological balance and microclimate.
Wooden slats. This kind of patio wall is a hype in today's architecture. Its timeless look also makes it a good alternative for the facades of classic houses. You can lay them horizontally or vertically and add some mounted pots to them. Yet, keep in mind that wooden slats are prone to moisture. Thermal insulation function is the side effect of wood cladding.
Vertical gardening beds. You can use vertical gardening beds as an alternative to climbing plants or container plants. Yes, installing them actually takes some time, but this unusual decor is totally worth it. Vertical beds can improve the air around your patio way more effectively than climbing plants. It will be even better if you use moss because it filters large amounts of pollutants from the air.
Simple wall decor. If you want an easy and simple installation, you can build a simple wall out of bricks or concrete, paint it, and improve its look by hanging one or more decorative elements. For instance, you can hang decorative lights, fairy lights, planters, resin, or a weatherproof work of art. It's recommended to use metal frameworks or wood paneling as a basis.
Seating area. This solution is perfect for you who have a small patio. This way, you don't have to add furniture pieces that will cram your patio. The patio wall should be low enough to be a built-in bench. To make it look even more cozy and comfortable, you can add cushions, pads, or throw pillows.
Painting the wall in a bold shade. This is the simplest way to create an attractive patio wall. All you have to do is just paint it in a bold shade. Painting one wall with a vibrant shade will create an accent look on your patio, giving it a focus and creating a lively backdrop. Dark red can be a good option. You can also try dark green or bold blue as an alternative. Complete it with climbing plants to create a contrast.