Building a patio in your courtyard or backyard may sound simple.
All you have to do is just lay the material, and voila, it's done! Your new outdoor patio is ready to use.
Yet, without proper edging, your outdoor patio is likely to sink and shift after some time. That's the main reason you should build a patio border or edge.
Without a proper border or edging, your patio will also be more likely to spread, especially if you use pavers to build your patio. Moreover, a borderless patio can also be damaged by weed and moss growth between the cracks.
Another reason why you have to build a patio border is, of course, the aesthetic. That's why you should carefully pick the right material.
When choosing the right material, you should also consider the design style of your patio, the material of the patio, and the ground cover of the surrounding landscaping.
Each material has its own pros and cons. They also carry different styles.
Stone, for instance, will never fail to give you a rustic look, while the wood will pull off a traditional look.
Still not sure what to add to border your patio?
Well, here are 12+ eye-catching patio border ideas that will not only be functional but also accentuate your patio and landscape:
1. Granite Cobblestone Patio Border to Separate this Area from the Surrounding Mulch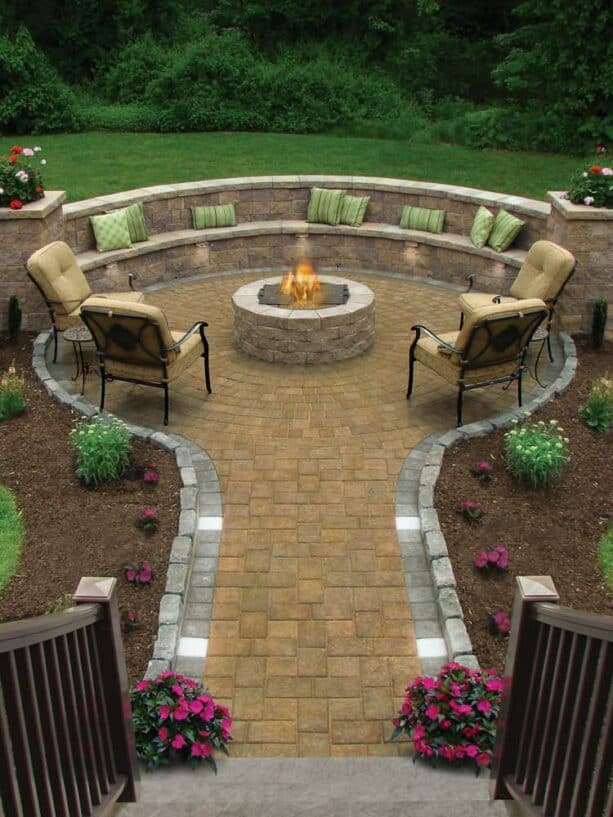 This traditional fire pit patio looks small and intimate because of its circular shape.
There's a half-circular built-in bench at the far end of the patio, which is basically a concrete wall, complete with columns and caps on both sides.
This bench acts as an extra seating space that can deliver comfort because it is completed with throw pillows. Actually, this bench also serves as an outer border of the patio.
This wall is made of concrete wall blocks manufactured by Cambridge Paving Stones, a Maytrx 6" high block series. The blocks came in four sizes and were mixed for many possibilities.
The columns on both sides are corner blocks finished on two sides.
The whole patio area is made of concrete pavers manufactured by Cambridge Paving Stones. It is from the Roundtable Collection series, and the color is Sahara/Chestnut.
The inner edging, the gray stones you see surrounding the chestnut-colored blocks, is 4x4x8 granite cobblestone. They are one of the pretty natural stones that can accentuate any colored paving material.
It's essential to use edging to build your patio with paver blocks to keep it from sagging down. Moreover, this patio's gray granite cobblestone edging looks natural against the paver blocks and the mulch around.
2. Concrete Border Path Idea to Frame a Gravel Patio
A perfectly maintained gravel patio deserves a perfectly stylish path to deliver a defining edge.
This gravel on the patio is decomposed granite. It is beautifully framed by the concrete paths on both sides.
You can also create an on-trend path like this with concrete or paving slabs as an alternative floated in a bed of gravel. The natural concrete color keeps the entire area of your patio looks pristine.
It's also recommended to plant shrubs or bushes in the outer part of the path to add a natural look. This is especially important for a gravel patio, so the patio won't look too desert-like.
Using paths is actually a classic method for zoning areas, not only the gardens but also patios, too.
For a relaxed feel, choose something inspired by country gardens. This way, you can swap the concrete with a real stone slab and change the gravel with pebbles as an alternative.
Making it in a straight line will also help you keep up the neat and streamlined look.
3. The Idea of Using Plants as a Patio Border to Add More Greeneries
This small yet lovely patio is made of stone from Credit Valley.
Look how perfect it is when paired with a hedge border. It is a boxwood hedge that surrounds this seating area, such a natural border that always adds a fresh look to the stone patio.
For your information, the boxwood hedge here needs clipping after new spring growth, so it needs a good amount of care. However, it is easy to clip.
The great thing about boxwood hedge is it stays green all year round. It's usually more resilient generally, but since microclimate differs from place to place, it might affect a certain plant, including the boxwood hedge, in a negative way.
The survival of the hollies depends on many factors.
So, if you're interested in using a boxwood hedge to border your patio like this, it's recommended to consult a pro gardener first, whether it can survive and grow well in your local climate.
If it has been confirmed, you can pair your boxwood hedge border with pea gravel area as the outer edging to create more balance between a neutral color scheme to a bright and fresh green tone.
4. Using a Combination of Flagstone and Creeping Thyme as a Patio Border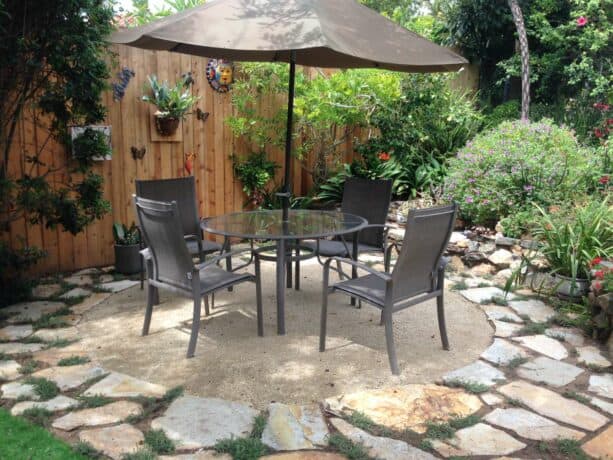 If you want to create a small and intimate patio setting, it is recommended to build a circular shaped one instead of a rectangular one.
See how this circular patio setting looks warm and cozy even though it can only accommodate one single seating space.
This patio is made of small decomposed granite, which actually looks plain and basic. The most alluring element in this patio is the border. It has a flagstone slab border in free-form shapes and sizes.
The great thing is, the flagstone is interplanted with creeping thyme. It turns out that a mix of low water plants like thyme and flagstone will deliver a varying texture and color that perfectly frames and encloses a small patio.
This look is even better if it's surrounded by garden landscaping like this.
If you want to recreate this patio design, make sure you spare one cornered space in your garden to build a stone patio.
A stone patio surrounded by a garden will appear like an oasis, an inner space that's free of plants and greeneries (except on the border). It would be a nice spot to enjoy your garden view, too.
5. Wooden Bench Patio Border that Can Be Used as Seating
If you have a super tiny patio, adding furniture as seating space is counterproductive because it will cram the area.
The best solution is to build a built-in seating space that can be both functional and aesthetic at the same time.
As you see on this patio, there is no chair, table, or even stool. The solid slab of the concrete patio looks clear. However, it is edged and bordered by wooden benches that match the cover of the hot tube.
The benches are made of Ipe or Brazilian Ironwood, while the hot tube cover is made of cedar. Basically, those are two different types of wood, but they were finished in the same way, so the result looks quite identical.
The Ipe benches are supported by Corten Steel, the material that most people look for if they want to get strong and lasting support.
Since this patio is surrounded by trees in its perimeter, it follows the trees' growth line. That's the reason why this patio is quite angular, not perfectly rectangular. And it can be seen through the design of the bench. But that's what makes this patio look unique and whimsical.
The main point is that if you think your patio is too tiny and can't hold any seating space, you can imitate the look of this patio. Border it with a built-in bench that can be used as seating.
6. Retaining Wall with Country Cobble Cap as a Patio Border
This lovely patio is completed with a pergola as a cover. And unlike the usual pergolas that have an open roof, this one is equipped with a see-through roof that can let the sunlight penetrate through it and at the same time protect the homeowners from the rainfall.
Since this patio is situated lower than the lawn garden, it means that the homeowners need a retaining wall to retain the soil of the garden. That's why this border patio is a retaining wall.
Being functional aside, retaining walls can be a beautiful border, a prominent and aesthetic one. This is a suitable option for you if you want to create a pronounced border that outshines the patio itself.
This retaining wall is completed with a cap, which is a County Cobble by Keystone. It has a mix of colors of reds and charcoals, delivering a soft yet warm appearance to the patio.
The homeowners also built a border in the back of this area, but it is a natural border made of the hedge.
This hedge wall is called Pittosporum "Silver Sheen", the kind of hedge that stays green all year round that doesn't flower. This hedge also works as a physical boundary to separate this area and the neighbors.
7. Peebles Patio Border to Complement the Bluestone Wall Around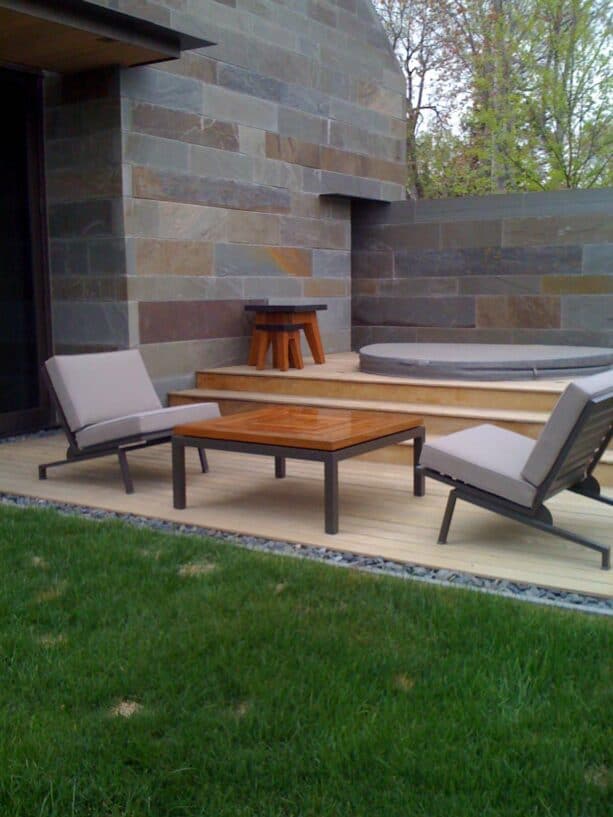 This can also be considered a small patio. It has multi-levels, which consist of the lower level for seating and the upper level for the spa.
This patio is surrounded by neatly mown grass that looks in contrast to the Ironwood that makes the patio.
To separate the patio area and the lawn, the homeowners prefer to use pebbles as a border. There's a kind of creek bed that is filled with these pebbles, creating a smooth and straight line between the lawn and the patio.
Using pebbles as a border is basically the homeowners' way to correlate the border with the stone wall around the patio. This exterior stone is a flamed face Bluestone. It was specifically quarried out of Vermont for this house.
The stone accent wall will complete the wooden patio and the lawn because basically all of them are natural elements. But with simple and clean lines, together they create a modern patio.
8. Simple Metal Patio Border to Separate the Gravel and Mulch Area
Among the others, this patio border is considered the simplest and humblest. It's obvious that the homeowners never meant to make this border a stunning point in this patio. They just want it to be as functional as possible to create zones in this large landscape.
This is a circular-shaped gravel patio completed with a metal fire bowl in its center. Since metal has been incorporated in this area to add a modern vibe, the homeowners decided to pair the metal fire bowl with a metal patio border.
The metal border makes the gravel and the surrounding landscaping stand out more. The landscape around seems to have wood chips as a ground cover, which is an excellent option to reduce weed germination in the landscape.
Wood chips and gravel do contrast each other, from the color to the texture.
That's why a simple metal border is needed to bridge them both. The border should be lowkey and humble since gravel and wood chips have been prominent without additional elements.
You should take this into account if you have a gravel patio completed with a metal fire bowl surrounded by a mulch or wood chips-covered landscape.
9. Stone Wall Patio Border to Deliver a Rustic Look
If you have a cabin or a house in the countryside with a breathtaking view, it's always nice to have a patio in the courtyard or backyard to enjoy the outdoor view.
One thing, it's important to match the surrounding view with the style of your house.
For instance, this house faces a lovely mountain view. So, it's better to decorate the house, or at least the outdoor and exterior, in a mountain style or rustic.
This patio has a charm of a rustic style with bluestone pavers and a stone wall as a border.
The low stone wall is made of catawba stone. Both the bluestone pavers and the catawba stone are sourced through a local mason. The low stone wall has a curve line, spreading along with the patio and the landscape. It successfully separates the bluestone area from the lawn around.
Why does it have to be low?
Because the main point of using this wall is to create a border, not as a thing to give privacy. It should be low to let the homeowner enjoy the mountain view in front of it.
To top it off, this stone wall is equipped with Brick Star LED lights from NSL. Imagine how warm and cozy this patio is at night with the warm lights that shine from the wall.
10. Placing Boulders in Each Corner as a Patio Border
This traditional patio looks unique with a touch of a rustic look. It is made of stone, which is an excellent option if you surround your patio with grass landscaping.
This patio is made of flagstone, and the fire pit is also surrounded by stone. According to the landscaper, both the flagstone and the fire pit stone are limestone materials. No wonder they complement each other.
Between the flagstone is decorative pea gravel that's a shade darker than the flagstone itself, adding more dimension to this area. Moreover, this decorative gravel between the large flagstones is useful to lock everything together.
Even though this patio looks large in this picture, it's actually not that spacious. It's only about 2000 sqft.
The unique thing about this flagstone patio is it is bordered by boulders.
The large boulders don't fully surround the patio. They're only placed in each corner of the patio. The boulders are set in pairs for each corner to widely cover the area.
Such a border is not actually a real physical border. It is more of an aesthetic option than a functional one.
But if you have a small patio like this, it's better to have an aesthetic border that doesn't fully enclose the patio. This way, your small patio can look bigger.
11. An Evergreen Ground Cover is Used as a Patio Border
This large patio is used as an outdoor kitchen and an outdoor dining space.
The dining space is separated from the relaxed seating area by three large containers on one side and from the fire pit by a planting bed on the other side.
There's a small grill with counts placed near the three-season room. This is a perfect example of a large classic backyard patio.
The patio is made of Unilock product known as Thornbury, which is actually a cast brick paver in Bavarian Blend color. The large edging pieces in this patio area are also from Unilock called Ledgestone in Buff color.
Between the Thornbury and the Ledgestone, there's a small border in a darker shade. It's also a Unilock product known as Town Hall in Burnt Clay color.
As if those borders and edgings were not enough, the landscaper also incorporated another extra border in the outer part to separate the patio and the lawn area.
There's a plant bed around that's filled with an evergreen ground cover. It's Pachysandra, a plant that requires shade.
Actually, using ground cover as a patio border is not a new idea. However, it's always nice to incorporate living things like a functional element in your landscape.
See how this Pachysandra accentuates the Unilock pavers and complements the surrounding grass.
12. Wooden Planter Box to Border a Traditional Patio
This rectangular-shaped patio is located in the backyard.
Frankly speaking, the setting of this patio was simple. That's why the homeowners decided to make it look more stunning by incorporating a lot of plants. The plant will never fail to elevate the look and create a fresh ambiance in any setting.
The entire space of the patio itself is free from any plants. It is made of Hanover Pavers Slate Face. You can check it out at hanoverpavers.com.
The gray slate tile looks simple and humble. But, it is surrounded by a large wooden planter box that's also used as a patio border.
This planter box separates the patio area from the brick wall exterior, so it is not attached to the house.
Using a planter box as a patio border is actually a great idea if you don't mind maintaining the look of the plants. This is suitable for you who love gardening, but you couldn't find a spare area to build a garden in your backyard.
Depending on your local climate and your personal taste, it doesn't matter what kind of plants you want to add to your planter box patio border. The thing is, make sure you combine various types, heights, colors, and textures of the plants.
13. Brick Border in a Round Stone Slab Patio
There's nothing more comfortable than a round setting patio situated under a big tree. This can be your inspiration for a timeless backyard brick patio with no cover.
This patio itself is paved with a stone slab with seeming thyme to fill the space between each slab. Using a stone slab as a patio paver is recommended if you want to pull off a rustic look.
The owner of this patio managed to create a contrasting look by using brick as a border. The natural color of brick subtly contrasts the gray stone slab and the plant around the stone.
There are two layers of the brick border here, which delivers a thick edging that extends the size of the patio itself.
The brick border also complements the lawn and the mulch in the perimeter of this landscape.
As a timeless element, brick can actually fit into any style and complement any material. The thing is, if you want to create a border that can complement any patio paver and can be used as a patio extension either, you can always count on bricks.
Make sure the bricks are not colored to keep their natural charm.
14. Popular Ideas to Border Your Patio
You may have seen a lot of excellent ideas about the patio border. All of them have their own goods. But, if you want to have something popular that most people use, you can recreate these ideas:
Stone. There are many types of stones, but if you prefer a simple and traditional look, always opt for a contemporary stone for your patio border. A solid edging in contemporary stone is a perfect way to enhance the appearance of your patio, giving it a clear definition to design a modern style. You can have the stone lain in a straight, corner, or curve.
Bricks. It's true that if people use bricks for their patio borders, it's for a more functional than an aesthetic reason. It's because brick is affordable, weather resistant, and considerably easy to come by. This is one of the most effective patio border options. Brick offers a timeless look that can complement any surrounding, be it traditional or contemporary. You can lay the bricks side by side or arrange them artistically to create a pretty border. To avoid unevenness, try setting the bricks in a level bed of sand.
Hedges. To design a free-form feel for your patio, you can choose a natural edging out of plants. Hedges are the best plants that you can use to border your patio. Let them act as a clearly defined edging; no need to put materials in place. Hedges can be used to add a classic garden feel to your patio. This is also an excellent way to add greeneries to your patio.
Wall. Be it a retaining wall or a regular wall, it's also recommended to use walls as a patio border. You can build your wall out of wood or stone, depending on the style of your patio. Wooden wall is often associated with a traditional or contemporary patio, while stone wall leans more toward the rustic style. Wall delivers a more solid and stronger border that can double as a bench for extra seating.
Boulders. For a more natural-looking patio, consider bordering it with stunning large stones or boulders. Boulders are ideal for creating pretty but low-maintenance landscaping, assuming your patio is surrounded by garden landscaping. To add a splash of color, try to pile a few of the large stones up and plant some perennials that can cascade from the stones during spring and summer.