If your house is situated on a steep grade, the most reasonable solution to keep everything in place is by building a tiered retaining wall.
There are several reasons why you should build a tiered retaining wall in your landscape.
First, of course, it's for an aesthetic reason.
A single and high retaining wall will only make your house look like a fortress. It can be too overpowering for the wall's setting.
As an alternative, you can break the wall into three or four-tiered retaining walls. These walls can also be designed to create terraces for planting areas, so you'll have several garden beds.
Second, it's for safety.
Designing only a single and high retaining wall to even the surface and handle the elevation may be forbidden by local safety ordinances.
If you place the fences at the top and bottom of the wall structure to keep pedestrians away, it can create an unwanted situation for you and the people around you.
Third, it's economics.
To build a tall retaining wall, you usually have to deal with additional excavation that can enlarge your original budget. On the other hand, you don't have to do additional excavation for reinforcement if you build a tiered retaining wall.
In spite of the reason, you should also consider what items should be addressed to ensure that your tiered retaining wall will perform as desired?
Since this is a professional project, you need to hire a pro to do this for you. And while you're looking for a pro, here are 15+ aesthetic designs of tiered retaining walls that can conquer your steep grade:
1. Curved and Tiered Retaining Walls are Utilized as Planters
Tiered retaining walls don't have to be so boring with a plain horizontal design that lays from one side to another.
Why settle for the plain one if you can create curves, columns, and landings in your tiered retaining wall?
In this traditionally styled landscape, the tiered retaining wall is made by Versa-Lok.
Versa-Lok is a manufacturer of solid block units that have been widely used by many architects, engineers, and contractors for a long time ago. Their products are known for their versatility and durability, setting a standard performance for a retaining wall design and construction.
This tiered retaining wall consists of columns, stairs, corners, and curves, delivering ample room for landscaping. The retaining walls are built on both sides of the stairs, and they are used as planters for the colorful blossoms.
See how these perennials contrast the brown-colored blocks of the tiered retaining wall. One of the benefits of using simple and neutral-colored material for your retaining wall is that you can use it as a backdrop for your pretty perennials.
Some potted plants are also placed on the landing to accentuate it, and at the top of the wall, there's a simple patio with seating to complete the whole look.
2. Smooth Surface Poured Concrete Tiered Retaining Wall with a Staircase in the Middle
This landscape features a mid-century design with a poured concrete tiered retaining wall.
Poured concrete is indeed the best option for a modern design because it has smooth and sleek lines, delivering a simple and minimalist appearance.
There's a staircase made of poured concrete in the middle of these tiered retaining walls. Actually, these are custom-made retaining walls.
Even though poured concrete is not the strongest material on the market, according to the designer, these walls were still in excellent condition even after a while.
If you're wondering, the poured concrete here is a standard mix, and the walls are around a foot thick. Some of the areas are finished with a smooth appearance, while the others are sacked, which means that they were coated with a cement slurry to fill the small rock pockets.
When it comes to the color, it's a natural shade. There's no coloring agent added. The smooth surface of the retaining walls makes them look lighter in color. It was achieved using resin-coated form boards.
3. Rock Tiered Retaining Wall to Create a Rustic Look
If you're a big fan of a rustic look, you can opt for stone as a material for the tiered retaining wall instead of wood.
This steep slope looks high, but the tiered retaining walls help ground the surface. See how the stone stairs in the middle of the tiered retaining walls reach up high to the main entrance. It indicates how steep this slope actually is without retaining walls.
Rock is indeed a perfect material for a steep slope because it can retain the soil more efficiently and naturally than the other materials.
There's a blend of different rock types in this tiered retaining wall. Instead of using one type of rock only, using several types would be nicer because those rocks can add more characters to the landscape and interest to the retaining wall itself.
The stone steps are all the way down and lead to another landscaping. The steps have a lighter color than the rocks on both sides, and this is a great way to create a contrast in your yard.
Stone also comes in various sizes and colors. So you can mix and match the color to deliver a rich appearance.
To top it off, the ground cover seems to be a mulch, a type of ground cover that enhances the natural look.
Both the mulch and rock-tiered retaining wall are two complementing elements in a landscape to make a rustic style.
4. A Tiered Retaining Wall Made of a 3-piece Mosaic Block
Rocks and stones will never fail to give you a rustic look and a traditional appearance.
This tiered retaining wall is actually not really made of stone. It's a 3-piece mosaic block that imitates the look of a stone block perfectly.
Moreover, this tiered retaining wall matches the house's exterior wall, which seems to be made of stamped concrete, another stone imitation.
The retained walls look curvy, complete with a cap, and the top part is attached to the house's exterior.
Instead of plants, the landscaper utilized the retaining walls for the stone landscaping to enhance the rocky look. See how the pebbles and small rocks fill the planter boxes. Some bushes were planted there, too, to complete the stone landscaping.
Surrounding this mosaic block tiered retaining walls are the small rocks that fill them. They look overflowed from the bed, creating a frame around the tiered walls.
If you want to add a unique yet aesthetic look, you can design your retaining walls with a terraced or tiered look.
Instead of a simple horizontal lined stack of the wall, you can create some half-circular walls on top of each other, attached to each wall, to create an interconnected look.
5. Oregon Mild Steel Tiered Retaining Wall Paired with Boulders
Actually, steel is not a popular material when it comes to tiered retaining walls because they tend to corrode and change color after a while. However, the designer proved that it's okay to use steel for retaining walls.
According to the designer, they wanted the steel to weather to a dark color, so they didn't opt for the Cor-ten steel that remains pretty orange even after some time.
This tiered retaining wall is made of Oregon mild steel. It is 1/2" thick and 36" tall for the top three tiers, leaving 12" in the ground and 24" above the grade.
You may wonder how to keep the steel in place. The designer stated that the plates were concave, so the soil pressure from behind pushed them more securely to the boulders on both sides. However, mostly they were held in place by the 12" of buried steel that's invisible from the ground.
The boulders around the steel are real. They are not only used as a decoration but as pieces to pin the steel in place because the walls are all concave, and when the steel flexes in the middle, it pushes the boulders sideways.
These boulders are perfectly placed for any sideways forces.
6. Mountain Styled Landscape with Light Tone Wood Tiered Retaining Wall
We all know that woods are prone to rot, and they can absorb moisture. However, that doesn't make it impossible for you to use woods for a tiered retaining wall.
Besides stones, wood is also a popular element to add in a rustic or a mountain style. This timeless piece will beautify both indoor and outdoor areas in a mountain-style design.
There are more than 380 landscape timbers were used in this landscaping project. According to the designer, there are wooden stairs on one side of the walls that reach the deck. The walls look bare and plain because the timbers are not painted and finished with a certain look.
However, this is a perfect look if you want to incorporate colorful blossoms and bright perennials. Those plants need a plain canvas that won't steal their spotlights.
If you're going to recreate this look, make sure you go bold and big with the plants. Don't be afraid to plant some thick bushes and/or brightly colored leafed plants because these walls are made not only to retain soil but also to create planter beds.
Don't forget to incorporate some boulders to accentuate the plants and enhance the mountain style at the same time. Install the LED lights on the walls to illuminate the whole area in the evening.
7. Small Tiered Retaining Wall Made of Limestone for a Traditional Look
If the sloped area you want to handle is not that large, or if it's placed on your house's side, you can consider creating a circular-shaped tiered wall like this.
It's not only aesthetic but also functional too. It's more efficient and economical to use curved retaining walls because you don't need a lot of materials to build them.
These tiered retaining walls are made of 6" limestone, a perfect look for a traditional appearance. They don't appear too high, providing an even surface for the plants.
As part of the natural stones, limestone will give you a natural look that won't overwhelm the landscape but still look attractive in a natural way.
Pair it with a mulch instead of bare soil to create a simple and minimalist look.
Mulch will prevent weeds from growing, so your planter beds will always look clean and polished, perfectly matching the limestone walls.
8. Tiered Retaining Wall Made of Stucco for a Simple and Minimalist Look
If you have a Mediterranean or Tuscan house, the most reasonable way to accentuate your landscape is by building a similarly styled garden.
There are many ways to create a Mediterranean garden. The unique and different way is through the tiered retaining walls.
Instead of poured concrete, build your retaining walls with a stucco like this. The stucco wall is indeed one of the key elements in a Mediterranean house.
So in order to be all out in a Mediterranean style, don't hesitate to use stucco for your tiered retaining walls. Stucco may not be a popular material for retaining walls, but it can complement your Stucco exterior walls.
Similar to poured concrete, stucco also delivers a smooth and polished look for your tiered retaining walls. Yet, stucco looks brighter and cleaner because they are naturally white instead of gray. So the appearance can be simple and minimalist.
These retaining walls have two tiers, which means that the slope is not that steep.
Yet, it's obvious that the designer wanted to create a planter box out of these two-tiered stuccoes retaining walls. The result is a super big planter box, a spot where the homeowners planted some greeneries and evergreens.
No colorful blossoms here, which enhance the simplicity and minimalism of the walls.
9. Tiered Retaining Wall Made of Heavy Boulders with a Natural Stone Walkway
This is a large house with a spacious yard. So, to keep the visual balance, the landscaper should create a big retaining wall to keep a lot of soil in its place and match the house's style.
This is a traditional landscape with a simple look and a lot of natural elements to complete the whole look.
The tiered retaining walls look majestic in a horizontal line with heavy boulders and a natural stone walkway. All of them are made of natural stones stacked together to deliver a natural look and add a bit of a rustic style.
You may wonder how to hold the big rocks in their places.
According to the landscaper, no mortar was used on this project to build these three-tiered retaining walls. They only used heavy boulders with backfill completed with drainage behind the wall.
If you use large and heavy boulders like this for your tiered retaining walls, don't forget about the drainage, it's because usually, boulders are difficult to control water flow.
That's why it would be better to use boulders as a material to build retaining walls in a hotter and drier area with minimal rainfall.
10. A Combination of Corners, Columns, Stairs, and Tiered Retaining Wall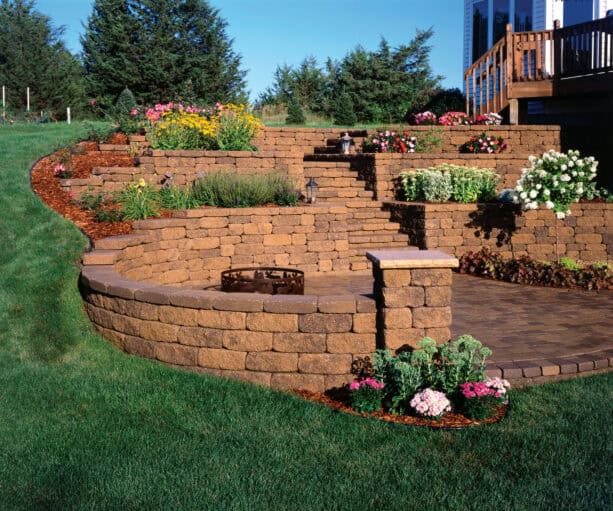 This is another tiered retaining wall that is made of Versa-Lok products.
Suppose you want to create more accents in your retaining walls, complete with stairs, columns, and corners. In that case, it's recommended to use Versa-Lok blocks because they were made with special technology to enable you to build stairs, columns, and corners easily.
See how the big round area in the lower area serves as the landing below the stairs that lead to the main entrance. The stairs are bracketed by the tiered retaining walls that double as planter boxes. There are columns with a cap, too, and the cap can subtly contrast the entire tiered retaining wall.
Since this is a not-simple design with a combination of corners, columns, stairs, and walls, you surely need a help of a pro to build all of them.
Each planted box can be incorporated with brightly colored blossoms and perennials to liven up the whole space.
Make sure the walls, corners, columns, stairs, and landings are made of a similar material to create cohesion.
Achieving visual balance and cohesion is important if you are building traditional styled retaining walls in a traditional landscape.
11. Stone Veneer Tiered Retaining Wall in a Stunning Swimming Pool Area
Simple yet stunning, that is this two-tiered retaining wall. It's made of Primavera real thin stone veneer from Quarry Mill.
Similar to natural stones, stone veneer also comes in various colors and styles. Even though stone veneers may not look as raw as natural stones, they also deliver a natural look in a cleaner and more polished way.
These tiered retaining walls create a border on one side of the swimming pool, delivering a stunning space. It seems that each retaining wall is completed with a cap that's similar to the poolside. The walls follow the line of the swimming pool, which is quite long.
At the top tier, the retaining wall is broken down to accommodate an outdoor fireplace, which means that these long-tiered retaining walls are also divided into two parts. Right in the middle of them, there's a raised patio completed with a fireplace.
To accentuate the poolside, these retaining walls are also used as a planter box, the most common way to utilize two-tiered retaining walls.
To recreate these elegant and stunning poolside retaining walls, make sure you stay away from colorful plants. Instead, opt for small bushes with trees in the middle part.
12. Brick Tiered Retaining Wall with Bluestone Cap
No one can deny the beauty and elegance of brick. This is the material if you want to achieve a colonial, English-styled, or traditional design.
Even though basically brick is a timeless element, it is mostly associated with a traditional look. So, it's better to build a brick-tiered retaining wall in a courtyard of a traditional house.
This large traditional white-colored house looks in contrast to the brick-tiered retaining walls. The walls are completed with a bluestone cap to deliver a polished and sleek look, which is basically an unfamiliar thing in a traditional style.
The brick walls are also finished in a polished and sleek appearance. These walls bracket the lawn landscape, framing it beautifully. There are two curved parts in both bottom tiers, adding an accent to the overall design.
Right in the middle of the walls, the designer also built stairs made of bricks with bluestone steps to match the entire walls.
Apart from the classic beauty it brings, brick also offers durability. It is considered the strongest and most durable material for retaining walls in the market. It is also low maintenance as long as you install it properly.
13. Classic Stone Sunken Patio with a Tiered Retaining Wall
Consider building stone-tiered retaining walls for a classic backyard to create a planter box.
There are many types of stones you can actually choose. The stone material should match the surrounding. So, the safest option would be a light-colored stone.
This tiered retaining wall is made of a native Wisconsin stone, which is known as Chilton Lannon stone.
It's obvious that it takes more than three tiers to reach the main entrance from this seeming basement. It appears that this house is situated on a steep slope.
If your house is just the same, it would be nice to use stone instead of concrete for your retaining walls. It's because concrete block walls, similar to woods, can only be built under 4-foot tall. It would take many of them to handle a steep grade like this. So, the stone is a more efficient option.
Right in the bottom part of the retaining walls, there's a classic sunken patio made of stone. It is completed with an outdoor fireplace made of a similar material to create a cohesive look.
This is a perfect idea to build a sunken patio at the bottom of your retaining walls. It would be a nice secluded place to hide, surrounded by the greeneries on the planter boxes.
14. Gravel Landscaping with Corten Steel Tiered Retaining Wall
This is another tiered retaining wall made of Cor-ten steel. See how the steel walls deliver a pop of color in this contemporary landscape.
The question may pop, does it have to be Cor-ten steel to achieve this color?
Well, actually, any steel plate product can naturally change patina to this color. They will rust over after a while.
Yet, unlike other steel products that are cheaper and easily available on the market, Cor-ten steel only rusts to a certain spit and then stops, so it will not corrode and degrade after some time.
The rust on the Cor-ten steel will become a protective barrier which makes the steel stronger and more durable. Plus, those rusts are also beautiful, adding a splash of color to a neutral-colored landscape. The rust will continue to spread over the surface of other steel products.
In order to create a contrast, the landscaper filled the planter box created from the tiered retaining walls with gravel. The gravel looks even and clean. Even the stairs on the retaining walls also have gravel steps to match the landscape upstairs.
See how the Cor-ten steel contrasts the "Western Dichondra", a green ground cover surrounding the steps. On the other hand, the steps are made of concrete, formed, and poured in place.
Everything in this landscape looks sleek, sheen, and well-structured.
15. Large Concrete Block Tiered Retaining Wall with Stairs on Both Sides
This is another contemporary tiered retaining wall made of concrete. Yet, instead of poured concrete, this one is made of concrete blocks.
There are white walls framing the whole 3-story structure made of large concrete blocks.
Concrete blocks can't be built more than 4-foot high. So no wonder these walls are low and narrow. They are bracketed with two concrete stairs leading to the patio at the bottom of the retaining walls.
The retaining walls are meant to be a bed plant. Yet, only the top tier that's filled with bushes and small trees. The rest of the tiers are covered with grass to maintain a simple look.
The top of this terraced garden is completed with evergreens and greeneries, and vertical gardens on the wall and on the trellis. This can be a great idea if you have an enclosed and sloped backyard.
To accentuate the retaining walls, you can add some recessed LED lamps like this. All of the tiered retaining walls will spark and shine in the evening, illuminating the entire garden and lighting up the steps.
Since this is a spacious space for a backyard, it takes professional help to build all of them.
Concrete blocks need to be lain properly to achieve a neat and organized look.
16. Pennsylvania Fieldstone Tiered Retaining Wall Around the Bluestone Patio
It's fantastic to see a fieldstone stacked like this without any concrete to hold it all together.
This tiered retaining wall has a classic design that works best for any traditional style home, especially if it is situated in a rural area.
This area is basically a poolside, a dining terrace made of a bluestone patio with a brick inlay rug.
The tiered retaining walls are made of Pennsylvania fieldstone, a mix of thin and medium stones tilted slightly back, so there's a 3/4" stone behind the wall and in-between all of them. This method is called a dry-laid wall. No concrete included.
All of the stones are kept together by the materials installed behind the wall and the batter of the wall. They're all locked together, making them like a jigsaw puzzle.
The swimming pool is seemingly a focal point of this backyard. So the tiered retaining walls are meant to frame it. On the other hand, the poolside is made of blue/gray sandstone that looks in contrast to the fieldstone.
The tiered walls are utilized as planting beds. They are filled with flowering shrubs and perennials in a lovely and bright color, surrounding the patio and leading you down to the pool.
They add a splash of color to this traditional landscape.
17. The Best Materials for Tiered Retaining Walls
Now that you know how to build your tiered retaining wall, it's time to decide what material you should use to build it.
In fact, there are many good options out there. But, the most popular and the best ones are:
Concrete block. The upside is that you can use concrete blocks to create curves, corners, and such in your tiered retaining wall to make it look more aesthetic. Yet, the concrete block can only be used for walls under 4-foot tall, which is quite low for some people. Concrete blocks can be designed in slump blocks to resemble Spanish or Mediterranean-style architecture, or ground-faced blocks to create mid-century architecture. Make sure you build a lot of footings because lack of them will affect strength.
Stone veneer. You can create any look out of this type of construction. Stone veneer is able to deliver a natural and/or custom appearance. Yet, a stone-tiered retaining wall must be well-designed, which means that you should hire a landscaper or a skilled contractor. Natural stone has various colors and styles. You need to match the stone on the existing building. A stone-tiered retaining wall is also durable. A solid core can be designed in any height and thickness.
Poured concrete. Compared to a concrete block, poured concrete is way stronger. Plus, there are various design options with poured concrete, so you can unleash your creativity. On the other hand, poured concrete may crack. It also needs a special skill to build a poured concrete tiered retaining wall. But once it's done, the smooth and sleek look is perfect for the modern landscape. Tip: the forms should be immaculate to avoid a bulge or a wave.
Brick. If you want a durable material, always opt for brick. This material is strong enough to last for years. Yet, it needs special accommodations for drainage and is labor-intensive. Despite the effort, we can't deny the classic beauty of the brick-tiered retaining walls. It's perfect for a traditional home and landscape. Several installation methods create a solid structure for an extremely durable wall.
Boulders. This is the most realistic option to create a tiered retaining wall. The result will be beautiful, blending seamlessly with your garden. However, using boulders as a tiered retaining wall means difficulty in controlling water flow. Accumulated water in the wall's interior can destroy it. To handle this, you need a special skill of a pro. Boulders tiered retaining walls are perfect for country, English-styled, or colonial gardens.
Wood. Wood is an easy-to-find material for a tiered retaining wall, and it takes a fairly simple installation. However, wood may rot, and it doesn't last as long as previous tiered retaining wall materials. But don't fret. If it's appropriately installed with waterproofing and preservatives products, wood walls can last for 20 years or even more. Similar to concrete blocks, wood-tiered retaining walls are only recommended for walls under 4-foot. They can fit into any style and blend into the landscape more seamlessly than any other material.