What makes a raised patio different from an ordinary patio is that the raised one is built by raising it from the ground.
The structure is frequently made from retaining wall blocks and finished with the certain material that you picked before.
Building a raised patio in your backyard can be much of a help when it comes to elevating your outdoor living space. Plus, it can also increase your home's resale value.
A raised patio delivers more opportunities for entertaining and outdoor dining.
What is the difference between raised decks and raised patios?
Well, a raised deck usually has a space underneath, while a raised patio doesn't. It means that you have one benefit from building a raised patio: you don't have to worry about maintaining the space underneath.
Usually, a raised patio is built beside a pool to enhance the entire look of the pool and the patio itself.
A raised patio beside a pool usually uses large pre-fabricated concrete blocks instead of smooth concrete to create a color scheme that matches the swimming pool area.
However, raised patios can also be built and created in landscaping.
There are many raised patio ideas to elevate your outdoor living space.
If you want to get inspired, take a look at these curated pictures of raised patio ideas with different designs and unique elements:
1. Raised Decking Patio Completed with a Fire Pit and Adirondack Chairs
This contemporary raised patio looks gorgeous with a lot of architectural elements.
There are two seating areas on this patio. The lower area is made of poured concrete, while the raised patio is a kind of decking. This raised decking patio is made of Trex, a composite wood material.
The square-shaped raised decking patio adds more character to the entire concrete patio. Moreover, this area is completed with a fire pit and Adirondack chairs.
Seating with a fire pit on an elevated patio will make it more comfortable.
The yellow wall is meant to be an accent wall, something to make this raised patio look bright and warm at the same time. It is made of 8x8x16 concrete blocks and a sand finish stucco before being painted.
It is completed with a lovely artwork, which is from Jim Sudal in Scottsdale, AZ.
There's a green-painted bench with a cap that can be used as extra seating.
Green and yellow are known as golden combo to create a bright and vibrant look in one area. However, to tone down the boldness of yellow and green, the chairs were carefully picked in black finish.
The cactus and other greeneries are planted on the perimeter to enhance the natural look.
2. Transitional Raised Patio with a Touch of Rustic Style from the Wood Panel Backdrop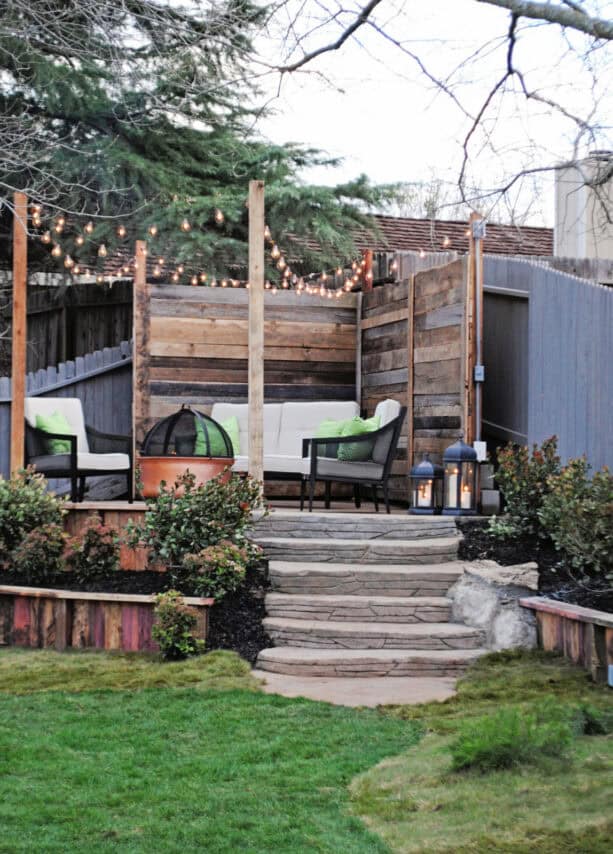 Look how lovely this transitional raised patio is.
It is situated high from the ground, so the designer added stone steps to reach it. This is called California Cozy Backyard, with an indoor-outdoor living space.
The great thing is that this transitional raised patio has a touch of rustic style. It features a repurposed element with a thoughtfully lit design.
The seating area is completed with a fire bowl that can be used to roast marshmallows. What a comfortable spot to enjoy your quality time.
This raised patio's most prominent rustic element is the wood panel backdrop for lazy lounging.
There are also unfinished wooden posts used to hang the light strings, another rustic element to illuminate the whole area, and the lanterns on the floor.
This corner is made from a combination of stamped concrete and hand-carved. It seems that the steps are also made of stamped concrete that looks like a natural stone.
The chairs were purchased from Smith and Hawkin, and they are made of metal and finished in black. The metal gives a great contrast to the reclaimed wood in the background.
3. Stone Raised Patio Made of Chief River Veneer and Bluestone Deck
Stone plays an important role in making the wanted character for this raised patio project.
The designer created a stone-raised patio like a terrace made of chief river veneer with a bluestone deck.
Instead of poured concrete, bluestone will provide more beauty to this mountain-style patio. The composition uses a dry-laid technique with a full range of random cut bluestone decks, a perfect way to enhance a rustic look.
The stone element looks prominent because the patio is being raised.
Since it is quite high above the ground, the designer used some wooden steps to connect the lawn and the patio, which delivers a lovely contrast to the stone element.
Both wood and stone are natural pieces that are often used in a rustic or mountain style design.
This patio itself is not that large, but it looks open even with an attached pergola to the siding.
There's a grill that indicates that this area is also used as an outdoor kitchen. The round table and the chairs serve as an outdoor dining space that blends seamlessly with the surrounding.
Basically, this raised patio is simple and minimalist. But the color palette makes it look extra because it complements the exterior and fits the rustic style flawlessly.
4. Brightly Colored Raised Patio with Colorful Perennials on the Perimeter
If you want something between traditional and modern, always opt for a transitional design style. This way, you can creatively mix and match any traditional and modern element.
In this raised patio, the concrete slab floor has artificial turf as a space filler, a grout alternative that makes the entire floor look pop.
Instead of chairs, the designer created a built-in bench in an L-shaped layout with a planter box in the back.
On both sides of the bench, there are two caps that can be used as a makeshift table. What a clever way to save space.
This is all you have to do if you have a small space for a raised patio and you want to optimize it.
This raised patio looks high above the ground. It seems that it was built upon the stacked-up concrete blocks. The railing should be added to promote safety because this patio is high enough for kids and toddlers.
Despite the simple and traditional element added to this raised patio, the homeowners also added brightly colored throw pillows to the bench's black cushion.
These pillows are what make this patio look bright and cheerful. See how the colors and patterns liven this area up.
To top it off, the designer also planted colorful perennials on the perimeter of this patio, next to the railing. The various colors and textures of the plants decorate this raised patio nicely, making it look bold and vibrant.
The homeowners decided it would be nice to plant red-colored blossoms to accentuate the patterned pillows on the back of the bench, right in the planter box.
The result is that this is the most joyous and colorful transitional raised patio you might have ever seen.
5. Raised Patio Completed with a Pergola for a Secluded Outdoor Place
Simple and low-key are the key elements of this raised patio.
This area was built in the backyard, completed with a pergola for a secluded outdoor place.
A pergola is indeed unable to fully cover your raised patio from the weather, but it creates an architectural feature that will distinguish your raised patio from the rest of the space, making it the best option to exclude a space.
This raised patio is not too elevated high above the ground. It's safe enough for kids to play around here even without any railing.
There are some stone columns with posts to support the pergola. Those columns are made of Allan Block products, similar to the entire area of the raised patio, completed with pavers for the top. Allan Block patio walls are used to give more definition to the space.
The seating looks comfortable because it is not just simple chairs.
The homeowners put outdoor furniture, a couch, a chair, and an ottoman completed with cushions to deliver more comfort. The colorful striped cushions accentuate this simple traditional patio perfectly.
As a finishing touch, greeneries and blossoms were also planted around the patio to make it look greener and fresher.
6. A Traditional Raised Patio made of Pavers and Edged with Bricks
It needs two steps to access this raised patio from the landscape around.
The paver steps are similar to the raised patio area. However, the patio is accentuated with brick edging to create a contrast and a traditional color scheme for this outdoor place.
This front yard basically has multiple levels.
The ground level is the landscape, the lower level is the raised patio, and the upper level is the entrance. Each area is zoned out by the steps, highlighting their different level of them.
This classic patio has a round layout, so the furniture pieces are also set in a round setting, completed with a round table to match the layout.
This raised patio is quite spacious. On the left side, the rounded area is an extra space to enjoy the nature outside.
On the right side, it appears that there's an outdoor kitchen equipped with an outdoor dining area. That area is also finished with a built-in bench with caps that double as a wall.
7. Large Raised Patio with Steps to Access It
This raised patio is completed with steps as easy access from the rest of the backyard.
This is a huge patio that is meant for large gatherings.
The pergola was also added to deliver a little shade to this area because it seems that this is a full sun yard that will receive the most sunlight during the hot summer days.
The walls around are meant to be a border and an alternative for railing.
Using a wall like this is the best option if you want an extra seating space. Each corner of the wall is equipped with columns for the posts to structure the pergola.
This whole patio was made with Allan Block Courtyard Collection and Allan Block Europa Collection, and they were both combined using the Abbey Blend pattern.
It basically looks simple and minimalist, but if you want something that's more functional rather than aesthetic, you can imitate this look.
Make sure to add a lot of seating space to this raised patio because it would be a waste for a large patio to have only one seating area.
You can also create an outdoor kitchen on this raised patio to maximize the whole space.
8. Two-level Raised Patios with Two Different Seating Areas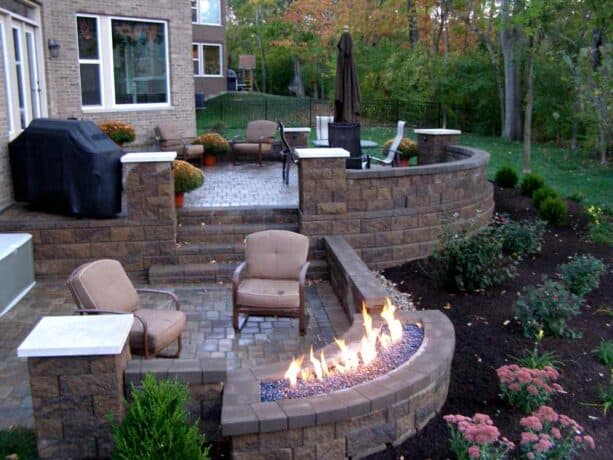 If you have a super large raised patio, instead of creating a plain one-level elevated patio, it would be more aesthetically pleasing if you divided them into two levels.
See how the designer managed to create two raised patios with two different levels in this backyard.
The lower raised patio is completed with a circular shaped built-in gas fire table. The fire table is attached to the wall but a bit lower. The wall surrounding this area is also completed with a cap that can be used utilized too.
There are two chairs as a seating right in front of the fire table. This is a perfect spot for a couple or for those who want to stay excluded from the rest of the party.
There are some steps to reach the upper level of this raised patio. This circular-shaped raised patio is meant for a BBQ area.
Since this area is larger than the lower level, several seating spaces are set here. One of them is equipped with a sunbrella to give a non-permanent solution for the weather.
Similar to the previous picture, the whole raised patios are also made of Allan Block products.
9. Concrete Block Raised Patio Ideas in a Circular Shape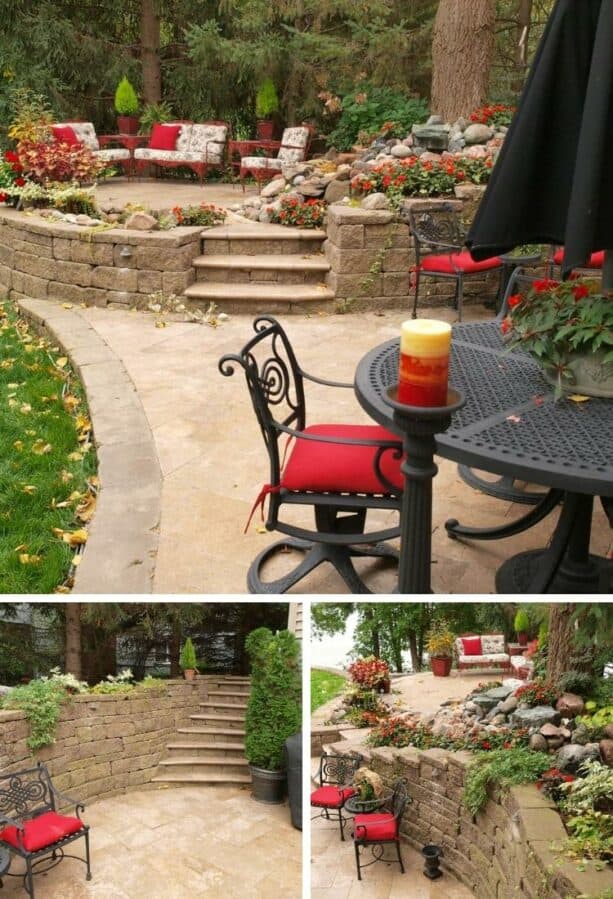 In this contemporary raised patio, there are multiple areas with two different levels that can be functioned as the place to host a get-together.
This raised patio also features retaining walls because this is not only a patio but also a landscape. The retaining walls are meant to keep the soil in its place so it won't tumble down to the lower patio.
Instead of just steps, this raised patio features a full stairway to access it, creating an elegant look for an outdoor space.
But, along the stairway, there are also small steps to reach the upper raised patio, which is set with bright red colored furniture and patterned fabric to add a splash of color.
The landscaping around the seating areas is supposed to add more fun and natural look at the same time.
The designer also added some multicolored rocks along the blossoms and perennials to accentuate the area.
This circular shape raised patio was made of concrete block. Those blocks are Allan Block Europa Collection laid in an Abbey Blend Pattern.
The combination of simple concrete blocks, multicolored rocks, perennials, and brightly colored furniture makes this raised patio look whimsical and unique.
10. Mountain Style Raised Patio Made of Stone with a Spa
If you live on a hill, the most reasonable thing is to build a house, along with a patio and yard facing the beautiful view of the hill. That's what the designer did.
This lovely house is completed with a mountain-style raised patio.
Instead of pavers or concrete, this patio has a stone floor, which is the common element in a mountain style or rustic design.
It seems that the stone used is travertine. Its beige color blends seamlessly with its natural surrounding.
Even though the steps or stairs can't be seen from this angle, we can see how high this patio is situated, judging from how far the ground is from the area.
This is a full-sun patio with no cover, which is a great place to soak up some sun on the summer days.
There is no comfortable couch or cushioned bench here. Instead, there are only two green-colored Adirondack chairs facing up the hills. But, there's a raised circular spa made of stone.
This spa has compensated for the lack of comfortable seats. It would be lovely to chill and unwind in the spa while enjoying the breathtaking view around.
11. Raised Patio is Created Alongside the Pool
This raised patio is created alongside the swimming pool. It may look simple and usual, but it is an excellent way to create an upgraded pool deck.
Usually, people build a deck around the pool. But, if you can create a raised patio made of retaining walls and pavers, you would create an excellent lookout for simplicity.
This is made of pavers and Allan Block products of retaining walls. Right below the patio, there's stone landscaping and large boulders to separate it from the pool.
The patio itself is equipped with a pergola to add more shade and a lovely decorative effect to the entire area.
The pergola is supported by classic white columns that will remind you of ancient Greek architecture. Those are the perfect element to contrast the simple pavers and concrete of the patio.
Unlike the previous patios with a circular or square-shaped layout, this one is quite long and narrow, creating a rectangular shape.
Just like any other poolside, this raised patio is also completed with lounge chairs that can accommodate four people at once.
12. Simple yet Trendy Raised Patio Made of Concrete with Bright Bench
If you only have a small area in the backyard, you can create a simple yet trendy raised patio using poured concrete.
It is important to use poured concrete instead of concrete blocks or stamped concrete in a small backyard, so the raised patio won't overwhelm the whole yard.
Even though poured concrete may look simple and plain, it can be an excellent canvas for any decorative element you might want to add later.
This raised patio is furnished with a built-in bench that seems to be attached to the wooden screen in the back.
What makes this patio look attractive is the cushions. The homeowners managed to add a splash of color to the cushions.
See how the warm tones of the cushion and the throw pillows complement each other. They obviously elevate the look of this plain concrete raised patio and take it to a whole new level of contemporary style.
Plants are added and have been carefully picked to naturally grow in the local climate, adapting well to the site's particular conditions and the site soil.
It appears that this property is located in a hotter area, so no wonder the plants used are the tropical ones.
13. An Elegant Raised Patio Made of Unilock Brussels Block Paver with Landing
This raised patio is beautiful and warm; that's the thing that we can't deny.
For some who love bright and vibrant colors with a touch of the whimsical element, this area may look too plain and boring.
On the other hand, this raised patio is elegant and lovely for those who always rely on simplicity and minimalism.
The great thing is that the whole area of this raised patio is basically a landing.
See how the one step leads to this raised patio, and there are two other steps for easy access to the entrance. And those steps are separated by this raised patio.
You can also mimic this look if you have steps that lead to the front door.
Why don't you create a landing that doubles as a raised patio if you have enough space?
According to the designer, the step area was 2 feet wide, while the main patio was 25 x 16. They are made of Unilcok.
The Brussels block paver has a "Desert" color, while the wall and the steps are "Pisa" with reverse caps in "Sandstone" color.
Those colors do complement each other to provide a classic look, perfect for a traditional styled raised patio.
14. Open Raised Patio Completed with in-ground Hot Tub and Seating
The uneven ground of the landscape below makes a reason to build a raised patio. This way, the patio can have an even surface, perfect for a hanging-out spot.
According to the designer, the homeowners wished to have an outdoor area like this, a space just for themselves.
That's why we can see that even though this raised patio has no cover and wall, it still looks secluded and exclusive with the landscape around it.
This traditional brick landscaping looks open but private at the same time. It is completed with an in-ground hot tub with a removable timber panel in front of the hot tub to access the pump.
There's also a drain installed to let overflow drain into the ground.
Next to the hot tub, there are several seating areas that can accommodate all the members of a big family. The ornate chairs with the round table are accompanied by padded chairs to provide more comfort.
Two steps connect this raised patio to the front door.
In order to highlight the raised spot of this patio, in each corner of it, the homeowners put potted plants with colorful leaves to mark this area as well as provide a living frame.
15. Tuscan Raised Patio Idea Overlooking the Vineyard
Look how stunning the trellis and pergola are in this raised patio. It looks neat, polished, and streamlined.
The perfect square-shaped patio is completed with wide-angled steps to access it from the lawn.
It is obvious that the designer wants this raised patio to blend with its surroundings instead of making a statement. That's why the pergola is finished in dark brown color that complements the soft brown stucco wall.
The pillars, on the other hand, look grand and majestic. They are finished in an off-white color, a shade that bridges the soft and dark brown nicely.
The outdoor fireplace is made of stone, similar to the exterior wall and the treads of the steps, to create a uniform look. It appears that the outdoor fireplace is the focal point, with a hearth.
This raised patio seems to be made of stone with concrete on top of it. The concrete surface delivers a smooth surface that makes the whole area look clean.
There are several seating areas that overlook the vineyard, the area right on the side of this raised patio.
What a perfect complementary for a Tuscan patio in a Tuscan house.
16. Raised Patio as a Border with Courtyard Walls
This raised patio was installed along with the front yard patio walls to deliver extra seating and a border to the outdoor living area.
Built with Allan Block concrete, this raised patio is an example of a traditional patio and landscaping.
There are several zones in this raised patio. It seems that there's a fire pit in the middle of this.
There's a seating space in the upper part with a sunbrella to provide a temporary shade that can be easily folded up or removed.
Right in the corner, there's another seating area with a white pergola. The lounge chairs make a perfect area to soak up the sun, while the pergola gives some shade to this cornered spot.
The courtyard walls surround this raised patio, and they are equipped with caps and a decorative pot on top of it.
If you have a large courtyard, you can build a raised patio as a border of your landscaping like this.
To highlight the raised area, don't forget to build walls around, the courtyard walls.
17. Bluestone Full Sun Raised Patio with an Outdoor Fireplace
Having a spacious front yard is a thing, but having a raised large patio is another.
Combining them both will surely enhance the visual of your curb, increasing its resale value because a spacious yard with a raised patio with several seating spaces will deliver the comfort most people expect.
This raised patio is not that high above the ground when it comes to the height. It's only one step away from the ground. However, that's enough to make it look grand.
This is a stone-raised patio made of chief river veneer with a bluestone deck. It provides a smooth and clean surface of the patio.
This area is not only meant to be a seating space, but it is also an outdoor kitchen.
There's a grill with a countertop on top of a stone wall on the right side. The three seating spaces can be used as a dining area for a lot of people, perfect for a small garden party.
An outdoor fireplace is built in the middle, clearly the focal point of this lovely bluestone patio. The fireplace is for entertainment purposes, and it will be a helpful thing during the colder season.
See how the stone fireplace towers high over this patio. The texture also contrasts the bluestone paver, giving more personality to this area.
The most beautiful thing is this raised patio overlooks the armillary garden. It relates formally to this entertaining outdoor area.
Imagine having your meals outside while enjoying the garden and the landscape. How beautiful is it?
18. Types of Raised Patios
The versatility of raised patios makes them an attractive way to design your backyard.
Based on the material options, here are some most popular types of raised patios:
Brick patios: This material will give you a classic look with a touch of rustic feel in your raised patio. After some time, the color and the texture of the bricks will change, but it will give your raised patio more character. If you want an even surface with consistent color, the brick patio may not be your best bet, but always opt for bricks if you're a huge fan of rustic charm.
Stone patios: Durability is one of the strong points of a stone-raised patio. If you want a natural look that blends seamlessly with the surrounding, you should always rely on natural stone. There are many local stones available in any local store. Make sure you choose the sizes and shapes of natural stone that work best with the layout. The most popular options are travertine, limestone, quartzite, sandstone, granite, and flagstone.
Concrete paver patios: For a more modern look patio with a lower cost, a raised concrete paver patio can be a solution. It can imitate stone or bricks perfectly. There are various shapes and colors of concrete paver. You can combine them to create a unique and whimsical look. Or, you can have a different type of concrete for the edging to visually frame your raised patio.
Solid concrete patios: You can use solid concrete for your raised patio for a simple and minimalist look. Poured or solid concrete is flexible, so you can fit it into any architectural style. Plus, it can be an excellent canvas for any decorative element you'll add later. However, keep in mind that this kind of concrete can be slippery when wet.