It is quite challenging to find a balance between a welcoming exterior and a design that provides privacy for the homeowners.
As it's important to maintain privacy, it's also essential to keep the nosy neighbors at bay.
Yes, you can use tall hedges or wall-to-wall fences to offer the most privacy, but they will create a fortress-like effect, sending a go-away message to the neighborhood.
But, a front yard without privacy will also feel wrong. It can feel too open and exposed.
This will be a problem, too, if you live on a busy street or if you incorporate front yard seating. It would be uncomfortable if you let your front yard seating open without any screen.
If you want to get a front yard that falls somewhere in the middle, balancing a degree of presenting a welcoming view from the street and seclusion from unwanted attention and passers-by, the following 13+ pretty front yard privacy will give you ideas to maintain an aesthetic appeal:
1. Enclosed Mediterranean Front Yard with 4-foot Tall Stucco Wall to Give Privacy
According to the designer, this front yard used to have a lawn running from the sidewalk to the porch. After that, the homeowners decided to reimagine their front yard.
The main thing that the homeowners wanted was more privacy because their home is located on a busy street.
The new design includes a 4-foot-tall stucco wall to enclose the front yard and boost privacy, complementing the home's exterior. The white stucco wall is also completed with lockable gates to add a sense of security.
On top of that, in front of the stucco walls and the gates, there's a new planting palette, too, consisting of low-water perennials, succulents, and ornamental grass that changes with the seasons and delivers color all year round.
Layered plantings perfectly replaced the lawn to let the eyes flow to the foreground instead to the house.
A tip from the designer: you don't need to have a tall hedge or fence to enhance privacy; planting flowering shrubs or small trees in a few key places can be a better option. They can keep the front yard open and welcoming but at the same time can deflect prying eyes.
2. The Idea is to Have Layered Plantings to Create a Semi-private Front Yard
This is a good idea if you want a natural privacy screen to cover up your front porch.
In this front yard, a combination of layered plantings and a porch makes for a semi-private, charming area.
The planting itself consists of a mix of lower water plants set at cascading heights. Like silver carpet (Dymondia margaretae) accentuated with agave, the lowest plants are placed closest to the street.
One layer back consists of asparagus ferns, cactus, and ornamental grasses. Evergreen hedges, a palm, and taller shrub roses are planted in the mid-height layer around the porch to keep privacy.
According to the designer, there were two trees, a crape myrtle on the right and an oak on the left. These two trees are useful to screen the windows from the street. Plus, they can provide a green view from the inside.
The designer included a mall recirculating fountain to complete the whole look, as you can see on the right side of the picture. This fountain is meant to mask the noise from the street traffic.
What a thoughtful choice, because the designer didn't just mean maintaining privacy but also blocking the busy street from entering the property.
3. A Combination of Cedar and Steel Fence with Bushes in a Front Yard to Boost Privacy
This lovely front yard used to have a trellis with a metal frame that was not so useful to give protection and privacy because the passers-by could still take a peep inside through the trellis. But the homeowners wanted a renovation.
So now they have a subtle privacy-boosting design that transforms their front yard.
This front yard now features an acid-etched concrete retaining wall that's supposed to brighten the grade from the sidewalk to the home's foundation.
This new retaining wall elevates the narrow front yard from the street level. Plus, it also gives a boost in height to the plantings for more screening.
After building a retaining wall, the designer made a custom cedar and steel fence completed with bushes and lush plantings.
These plantings include heuchera, hydrangea, tall ornamental grasses, and sedum that grow on both sides. With all of these, the homeowners can enjoy the view of the plantings right from the porch without having to be exposed to the street.
You can also get a better sense of the grade change from the sidewalk to the home's foundation by building a retaining wall like this and layer it with cedar fencing.
Don't forget to add bushes, grasses, or hedges to the retaining wall because it's supposed to be a planter box.
There is no need to plant the exact plantings like these. Just make sure they are thick enough to provide privacy.
4. The Idea of Using a Series of Staggered Screens in a Front Yard for Privacy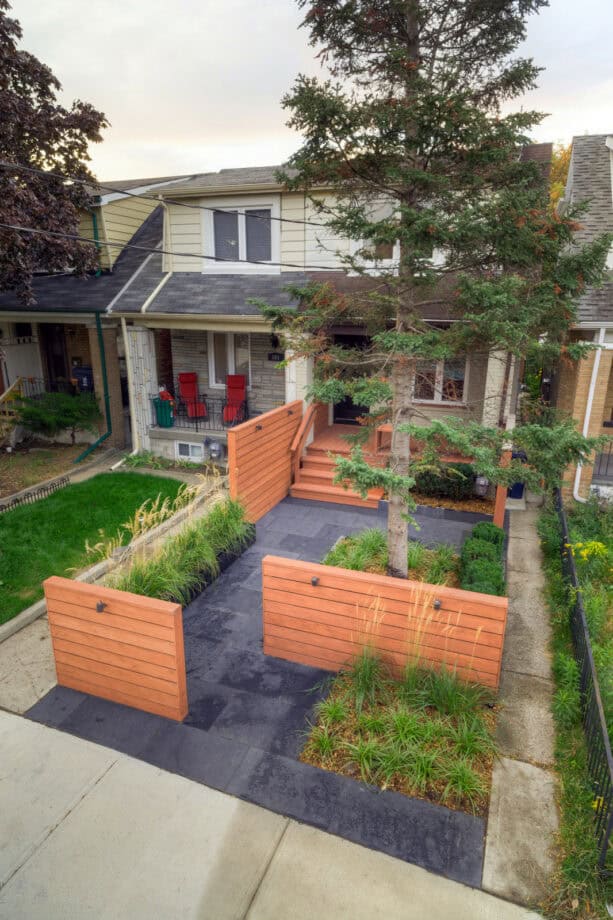 If you want something unique, playful, and whimsical, you can use a series of staggered screens in your front yard to maintain privacy like this.
The designer managed to come up with a new idea to balance privacy and a welcoming entry.
A series of staggered cedar screens perfectly fit into the homeowners' modern style. They were installed strategically to conceal the home from the street and the next-door neighbors.
You can see that the designer didn't entirely use fences to enclose the front yard. Instead, they used plantings in sections along the sideyard to enable the homeowners to have a friendly conversation with the neighbor. But there's also a cedar screen to get some privacy.
When it comes to the plantings, the designer planted airy but tall feather reed grasses: Calamagrostis x acutiflora and yew hedges (Taxus baccata). These plants will stay green all year round, even during the winter.
To top it off, there is a tall tree planted in the center of the front yard. This tall tree is meant to screen the front window. Right in front of the tree, another cedar screen is installed to give a layer of protection.
5. Front Yard Privacy Idea with a Breeze-block Screen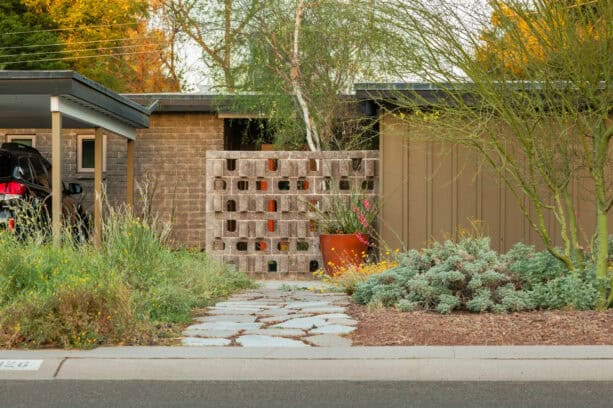 If you really want to get full privacy, it's better to fully cover your front yard with a long wall made of different materials.
In this picture, you see that the screen is aligned with the front and side of the building, protecting the entrance to create a semi-private space.
Part of the screen seems to be made of metal in a vertical position to add a sense of height. But, in front of the entrance, there is a breeze-block screen that delivers partial privacy.
This way, the homeowners can still have a glimpse of the coming visitors but at the same time still get covered. On the other hand, the coming visitors are only able to partially see the bright orange front door.
In front of the breeze block, there's an orange pot outside the screen. It serves as another layer of the screen but also works as an offering to the neighborhood. It brings a pop of color that ties in with the front door.
In the outer layer, colorful low water plantings are actually suitable for the desert climate. Choosing this kind of plant means the homeowners wanted low-maintenance greenery to boost their curb appeal.
Moreover, these plants also provide a nectar and pollen buffet for the coming pollinators, welcoming wildlife to your front yard.
6. Adding Privacy in Your Front Yard with a Low Mortared Limestone Wall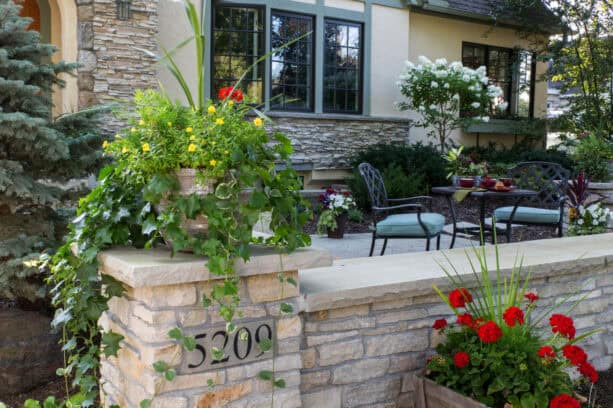 Building a low wall in your front yard is actually the most reasonable way to get privacy.
However, not everyone would like to have a wall in their front yard because it will only exude an unfriendly atmosphere and make the house look like a fortress.
Yet, this picture proves that you don't have to build a fortress-like wall to maintain privacy.
According to the designer, the homeowners wanted their front yard to be inviting to the surrounding neighbors; they also wanted to enjoy evening drinks and conversation with the neighbors.
It means that the front yard should be like a kind of open invitation but at the same time should also act as a border between the owner's property and the neighbors'.
That's why the designer built a low mortared low limestone wall that sits at around 22 inches high.
This wall creates some separation between the street and the front yard while serving as a comfortable spot for overflow seating when the visitors stop by for a chat.
The front yard itself features a tumbled bluestone patio that is large enough for a small recirculating fountain and a seating area.
This area is full of plantings, too, to add a natural look. Lush plantings like a hydrangea tree, geranium, calibrachoa, ivy, and periwinkle add a pop of color and softness to the whole area.
7. Enclosing Your Front Yard for Privacy with Thick Panels of Frosted Glass
It is possible to fully block the view of a busy street in front of our house by enclosing the portion of your front yard just outside your front door. This way, you can gain an outdoor bonus room.
It's important to check local building codes first because some forbid you to have a full enclosure like this. Your municipality usually regulates how far back your fence should sit from the street and how high it can be.
In this project, the designer used three-quarter-inch thick frosted glass panels to make a luminous screen that enhances privacy but doesn't decrease light. You can also use a fence to let some light enter your area as an alternative.
Latticed panels are also a great option, leaving small gaps between horizontal positioned boards.
Better yet, you can combine the frosted glass panels with a wooden fence. This way, you can get full privacy but at the same time still get a bright front yard.
This front yard is spacious enough for a small stone patio, a recirculating fountain, and low-water plantings. Those screens are useful for creating an open-air entryway room.
A useful tip: as stated before, you can use a water feature to block the noise of the busy street. However, if the noise is way too much, it's recommended to use a large fountain design with a fall that can make a splashing sound, rather than a spill-over-the-container water feature with a more subtle sound.
8. Using Lattice Fencing to Add Some Privacy and Security in a Front Yard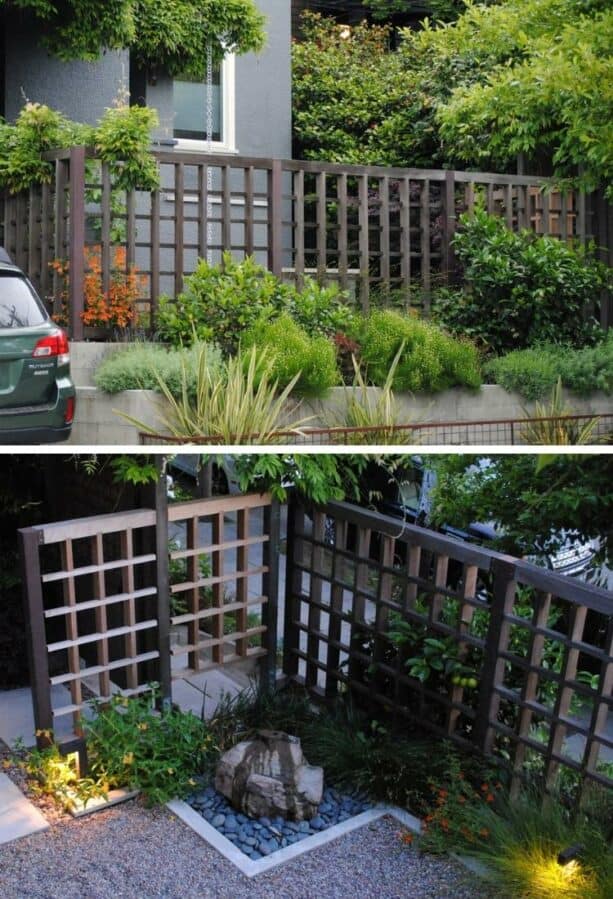 Yes, it's possible to have a friendly yet private front yard.
As you see in this picture, the front yard is enclosed with lattice fencing, which is a perfect solution for you who are looking for some security and privacy, but at the same time, still like to chat with the neighbors.
This solution includes a concrete retaining wall to create the level of the sloped yard towards the home's foundation. It makes room for a front gravel terrace that is slightly elevated above the sidewalk level.
The retaining wall is used as a planter box. There are various plants set there, with various heights to add some extra layer of protection for the lattice fencing.
The widely spaced lattice fencing prettily encloses the front yard, delivering a separation from the street and the outdoor seating area while at the same time keeping the front yard more open and friendlier.
The designer also incorporated a subtle recirculating fountain that falls upon the big boulder in the corner of the inner fencing to complete the whole look.
9. Create a Natural Screen in Your Front Yard with Trees, Tall Shrubs, and Small Hedge Plants
Even though a wall, fence, or screen will provide more solid and stronger protection and separator, it's always an excellent idea to use greeneries as a natural screen.
This front yard has a combination of smaller hedge plants, tall shrubs, and trees that are used in tandem to make a leafy barrier between the busy street and the main property, especially the front yard.
They also work as a screen to block the unwanted view from the passers-by.
One of the benefits of using foliage as a screen instead of fencing is there are fewer regulations on setback and height for "living fences" than the real, structured ones.
In this project, the designer used a thick hedge of Carolina laurel cherry (Prunus carolinianna) as a screen to block the front yard from the passing cars' view.
According to the designer, the front yard has a private gravel patio completed with an olive tree inside these hedges.
If your main goal is total seclusion, it's recommended to opt for a hedge plant with thick foliage growth, like cherry laurel, Carolina laurelcherry, or arborvitae.
If you want to incorporate a leafy green look but also need more noise reduction, you can hide a noise barrier wall between two rows of the hedges. But then again, this should be allowed by the local building codes.
The combination of a hard barrier (wall) and soft barrier (hedges) will create the most effective sound absorbent.
10. A Gabion Wall in the Front Yard to Cover the Pool from the Street
If you want to combine an aesthetic look and a highly functional barrier to create privacy, it's recommended to use a gabion wall like this.
According to the designer, this area used to be a utilitarian building style that was used for retaining slopes. The gabion walls were later built to increase the landscape design.
This gabion wall is made of wire cages filled with stacks of rocks, around 2-3 feet thick. Aside from creating a screen, this wall is also useful to be a sound barrier.
The uneven surface of the chunky rocks in the wire cage surprisingly absorbs more sound than the typical traditional smooth rock walls. It's because smooth walls simply make the noise bounce back.
In this contemporary front yard, the rock gabion wall separates the side yard from the street. This wall is located in the front yard to block the view of the pool that is located in the side yard.
The wall itself is 8 feet high and 23 1/2 feet long, which is perfect for blocking most of the street noise. It makes the yard area feel quiet and private.
11. Tall Potted Plants as Moveable Barriers for Front Yard Privacy
It's possible to have a less permanent screen if you want it to be removed anytime you want. Plus, this temporary screen is easy to install and way more affordable than the constructed ones.
No wonder most people like the idea of having a moveable screen or barrier to protect their front yard.
Actually, you can be creative when incorporating moveable barriers in the yard. Anything aesthetic, functional, and removable can be used.
However, in this picture, the homeowners used tall potted plants in the right spot to help create a visual separation between a private and more public space.
These potted plants are also useful to make the entrance feel more removed from the busy street.
This is an excellent solution for renters who are unable to build a more permanent barrier, like a fence.
One useful design tip: it's better to opt for hardworking evergreen plants or tall ornamental grasses rather than blossoming plants to act as a moveable privacy screen.
A combination of dense foliage and taller containers can also be helpful with some noise abatement.
12. Get Full Privacy with Secure Fencing and a Lockable Gate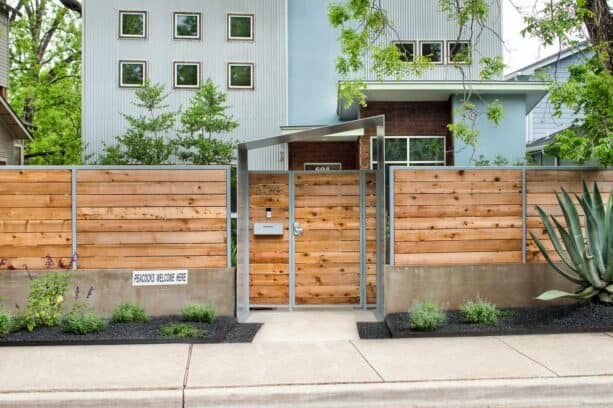 If your primary concern is privacy and security, choosing a fence or a wall with a lockable gate is your best bet.
The wall's material, height, and distance should be set back from the street, though, because those rules are often dictated by local municipal codes.
Even if you are not required to build a setback wall, it won't hurt if you make it anyway because it can increase your curb appeal. In this picture, the concrete wall is completed with wooden horizontal slatted fencing.
In the center of the fence, a lockable gate is constructed by a metal structure that looks in contrast to the fencing and the concrete wall.
In front of the fencing, the wall, and the gate, the designer also built a landscape made of black lava rock completed with some bushes.
Vines, perennials, and hedges are planted inside the front yard privacy to soften the wall and provide interest.
If you want to recreate this look, use a sidewalk-side planting strip as your chance to include plants that help pollinators and wildlife.
You may like evergreens for year-round foliage that can be a good noise abatement as well as screens. You can also incorporate plants like flowering salvias or low-maintenance catmint that attract butterflies and bees.
13. A Series of Freestanding Wall Panels as Front Yard Privacy
In one of the previous pictures, you have seen front yard privacy made of staggered fences. Now, it's time for staggered walls.
This pretty front yard has freestanding wall panels that can provide solid barriers for privacy and reflect street noise.
The great thing is that a series of freestanding wall panels like these also enable you to have plenty of room for landscape plants. This way, you can have green landscaping in your front yard.
Depending on how you place your freestanding walls, you can make a partially enclosed entryway front yard.
In this front yard, the designers installed a series of wall panels that were painted in the same color as the home's exterior to create cohesion.
The walls are not only useful to provide protection for the front yard but also screen the living room windows from the street.
These staggered walls are supposed to create a visual boundary between a private and public space. To top it off, they also work as a background for potted plants, shrubs, and ferns in the interior front yard.
There's a walkway in the center of this front yard, accentuating the wall panels to create a more inviting ambiance to the house.
14. Horizontal Slat Fence with Landscaping to Ensure Privacy in the Front Yard
A horizontal slat fence is a good option for you who want to maintain privacy but don't want to make a fortress-like border.
The gap between the slats will still enable us to see what's outside and let the visitors take a peep inside.
This modern front yard privacy is integrated with home-style, flow patterns, and view corridors. The fence is made of wood, which is hard maple treated for outdoor use.
People are still fond of such fences because they look classy. Wood can be cut and used as required to have a fence that meets the shape of the property's needs.
The wood material that you use can change the sustainability and look of the structure you build.
For instance, a cedar fence with STK planned on one side would give a rustic feel. Wider boards would give heavier weight to the fence; on the contrary, narrower boards will have a lighter weight.
The material for the structural supports also matters. In this project, the designer used steel which fits the narrow posts and has a lighter weight on the screen overall.
The horizontal position in the panel fences is versatile in the modern landscape. One of the advantages is that they can cover a broad range of looks.
If you change the board width, the combination between the wood type and the boards can deliver a different style.
For modern landscapes, aluminum or steel posts are painted or powder coated. In this project, the steel was powder coated with a gray finish.
15. A Pair of Concrete Walls and a Wood Fence for a Privacy Front Yard
This is a perfect example of a small Asian-style front yard privacy. It is made of concrete paver completed with wood fence landscaping.
There are retaining walls on both sides of the front area that are meant to create level ground. The retaining walls also serve as a physical border to separate the public and private areas.
To achieve the privacy the homeowners' needed, the designer installed a wood fence on top of the low concrete walls completed with two columns.
Compared to the previous picture, this wood fence is shorter and simpler. It only consists of four horizontal panels with slats to keep the open feel.
The fence is used as a screen for the large window. The designer planted some hedges in front of the low concrete wall for aesthetic reasons than functional. These hedges can provide an extra layer of protection to the wall.
In fact, this front yard is a contradictory sensation. The floating steps that separate two different landscaping zones deliver a zen ambiance that invites and welcomes neighbors to come inside.
On the other hand, the wood fence serves as a barrier that makes sure the homeowners get the privacy they need. This contrasting sensation is a good idea to recreate if you want to incorporate an Asian-style landscape in your front yard.
Don't forget to add grass as a ground cover to create a lawn and some drought-tolerant plants with mulch.
These two different characteristics of landscaping should be divided by a path, walkway, or steps to add visual interest to your yard.
16. Important Things to Add to Your Front Yard Privacy
There are many elements you can add to your front yard privacy to block the view of your neighbors and free you from piercing eyes of judgment.
However, here are some must-have items if you want to build a front yard with privacy:
Short fencing: It's important to fence your front yard using a picket fence. Yet, the ideas are endless. You can also use horizontal slats to maintain privacy without blocking the entire visibility of your courtyard. A wood lattice fence around your yard is also helpful. You should be creative with the level of privacy you want. If you want total seclusion, opt for a taller fence. There are many materials out there to choose from, depending on your budget and local weather.
Large trees: It would be helpful to plant large trees in your front yard landscaping. It is perfect for you who live on a busy street. Large trees will hide your house and help you have a private space. The most popular option is sycamore because it can reach a height of around 90 feet with a large spread. Yet, you can choose other large and dense trees. This living barrier also helps promote clean air and control pollution.
Hedge: If you don't really like the idea of planting trees, you can hedge your front yard line with shrubs. Shrubs usually grow for around 40 feet with dense foliage. Shrubs will not only naturally fence your front yard but also deliver a pretty visual impact. Also, hedge barriers are excellent at reducing dust, blocking wind, and absorbing noise. A well-maintained hedge can invite small animals and birds, encouraging wildlife to call your front yard home.
Plants: Layering of plants in the front yard can also work as a natural screen. This is a stylish choice for the artistic soul in you. You can start layering with the on-the-ground or short plants. These plants don't rise much above the ground level. For the outermost layer, you can opt for chrysanthemums. After the shorter ones, plant the second layer of shrubs. Complete the whole look by adding the third layer that consists of ornamental trees.
Gate: The right gate won't discourage visitors. Instead, it can help you choose who can enter your adobe. Fence up your front yard and add a gate with a path or walkway towards your property. It can provide you partial privacy and, at the same time, keep unwanted attention away. Incorporating a lockable gate into your fence is an excellent idea if you want a sense of security. Tip: if you're going to make it more secure, install an intercom or a doorbell.