Having a spacious yard means you have a lot of spaces that often go unnoticed. The most overlooked and under-utilized space is usually the corner part.
If you're planning to dress the corners of your yard up a bit, consider decorating with a corner fence.
Corner fences are a great way to enhance the visual interest in your yard, be it the front yard, side yard, back yard, or garden spaces.
Fences are made of wood, so they are typically are easy to install. You don't need to build a wall to enclose your yard corner.
If a wooden fence will do, why settle for something more hassling? To top it off, the corner fence also delivers instant results and an immediate boost in curb appeal for your home.
Corner fences are usually used for framing gardens or marking the entry and are sometimes attached to an arbor.
Yet, there are many other different ways you can use and decorate these L-shaped accent fences.
One of them is enclosing your patio and protecting it from any unwanted attention of the passers-by. It means that you need the corner fence to conceal the other side of your yard.
With that said, let's take a look at these aesthetic corner fence landscaping ideas to inspire your future home improvement project:
1. The Idea of Contemporary Landscaping with Polished Corner Fences is Made of Meranti Wood
This corner fence is useful to enclose the side yard, contemporary landscaping completed with synthetic turf, 50oz TurfGro Pro in field green/olive green" color from Horizon, and a concrete walkway.
The homeowners enclosed this area to create a space for the dog run. According to the designer, the remainder of the yard was not fenced; it's because security wasn't a problem here.
The corner fence is made of Meranti wood and designed in a horizontal slat with tight space. It is a 1×4 Meranti board with 3/4" space, to be exact. A tall corner fence like this is required to make sure the dog won't jump through it.
The polished look adds a contemporary look to this landscaping, an excellent idea to add if you want to stick to the clean and sleek lines.
The Coral Bark Japanese Maples were planted right next to the fence, clearly to accentuate it.
The river rock around the trees adds more character to this landscaping. The rocks give a more organic look to counteract the synthetic turf effect along with the wooden fence.
2. Layered Corner Fence in a Modern Landscape to Create an Outdoor Living Room
According to the designer, this area used to be a small underdeveloped backyard.
Now, it has been transformed into a lively living garden. It is completed with Brazilian slate flooring, a smooth-colored concrete wall, a water feature as a backdrop, and a corner fence. It is safe to say that this cornered area is a mini-ecosystem of life.
The corner fence is meant to enclose this small garden. We can see how the fence and the retaining wall create a layered border from this angle.
Unlike the other corner fences usually made of wood, this one is made of natural rusting cor-ten steel. It adds a layer of interest throughout this landscaping, with 6' high.
The corner fence complements the colored concrete retaining wall that forms a planter box.
Apart from that, this cor-ten steel corner fence also acts as a ribbon tying the multiple spaces together in this landscaping. If you're wondering, the cor-ten steel is fastened to a pressure-treated wood retaining wall.
There is also a wire fencing that looks like a cattle panel in the back of the water feature. The wire fencing connects to the cor-ten steel corner fence to create this cozy outdoor living room.
3. The Idea of Traditional Side Yard Landscaping with a Tall Corner Fence
If you have a narrow space in your side yard, you can turn it into an eye-pleasing place that can still be utilized despite the small space.
The narrow side yard has been transformed into a gravel path with inlaid stepping stones. It is also enclosed with a corner fence that delivers a perfect traditional style landscaping.
The design of the fence is a conventional, vertical board with a not-so-tight space that still allows people to see what's inside. Compared to the previous fences, this one is a bit taller, which is great to be a screen.
To give more privacy, the landscaper planted lining trees around this corner fence, so this side yard area looks secluded and exclusive, but that's what makes it coy and comfortable.
A combination of worn-out looking wood corner fences with greeneries, especially with a stone element, will always give you an inviting look. It is an excellent idea to incorporate all the natural elements in your yard.
4. Front Yard Landscaping Idea with Corner Fence to Separate the Street and the Entry
The great thing about this corner fence is that it creates a trellis instead of a full fence.
Although it is installed in a courtyard to separate the street and the entry and establish boundaries, this corner fence looks neighbor-friendly.
It's because instead of building an intimidating full fence with tight space and tall design, the homeowners decided it would be better to create a trellis-like corner fence completed with a sweet autumn clematis plant.
The fence is also attached to an arbor that seems to be made of similar material, red cedar wood. The wood arbor is also accentuated with creepers to enhance its organic look. It is clear that the arbor is meant to be an entry.
If you're wondering, the posts are pressure-treated 4×4, and the top cap is 2×6 cedar with a beveled top that's used for drainage. The rails are 2×4 cedar for top and bottom, with a 1×4 board fascia over the lath.
Overall, the height of this corner fence is 38" above finish grade. It is treated with Cabot's Bleaching Oil or Stain.
FYI, that's a perfect product that delivers a thin whitewash and bleaches the wood to a silver-gray color. Plus, it can also preserve the wood and prevent it from fungus.
5. Corner Fence as a Semi-transparent Screen that Matches the Sheet Metal Siding
Similar to the previous picture, this corner fence is also used to give the boundaries for the main property and separate the house's landscape to the street and outer walkway.
This fence is treated as a semi-transparent screen, a low boundary that still lets the passers-by take a look at the beautiful landscaping.
The fence is also made of clear finished cedar board with a design that is meant to match the pattern of the sheet metal siding.
Creating a corner fence that mimics the siding will create cohesion in your exterior. It looks even better because the corner fence is low, so people can still see the siding of the property.
If you want to adopt this idea, make sure you finish the corner fence differently from the siding. Moreover, try to contrast them both. This way, the siding, the corner fence, and the exterior walls will deliver more characters to the house.
6. The Idea of Transitional Landscaping with a Dark Stained Horizontal Slatted Corner Fence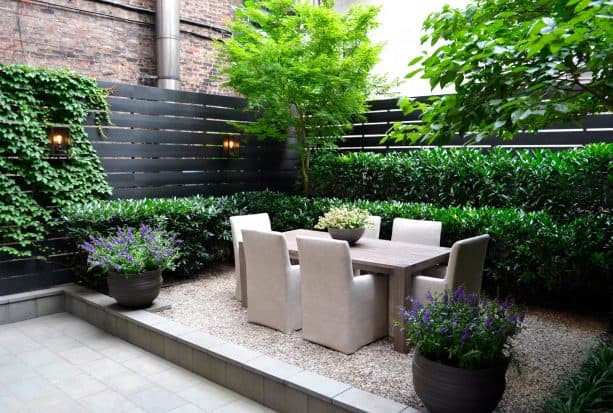 If you think that low corner fence won't do, then you can consider building a much taller one that can be used as a screen to protect your hidden retreat.
This transitional landscaping, for instance, is utilized as an outdoor seating space that can also be used as an outdoor dining area.
To get full protection, the homeowners prefer to use a tall corner fence that is completed with creepers to accentuate the fence and add an extra layer of protection at the same time.
The bushes and the trees were also planted next to the fence because greeneries look contrast against the dark stained fence.
Horizontal slat design with tight space makes this corner fence a perfect screen to conceal this gravel patio.
Transforming the corner in your yard into something like this is a great thing to do, and it will especially work during the summer, where you can enjoy being outside as much as possible without worrying about the weather.
7. The Idea of Craftsman-Style Wood Corner Fence Bordering the Landscape
Even though corner fences are usually functioned as a border to create smaller spaces in your spacious yard, it's also possible to build a corner fence as your main fence in the courtyard.
The corner shape will enhance the curb's appeal. Plus, it can also be a contrast border to highlight the difference between your property area and the public area.
This corner fence has a craftsman style, and it is made of wood to contrast the concrete driveway around the property, which seems to be a public area. This fence marks the area where the property starts and ends.
Right in the back of the fence, we can see the beautiful landscaping with neatly mown grass and tropical plants.
The stain used on this fence delivers a modern polished look that, in spite of the craftsman design, still has a touch of modern style. Such wooden fence also accentuates the greeneries in the landscape flawlessly.
8. Small Modern Backyard Landscaping with Multilevel Corner Fences
This modern landscaping is basically not that spacious; however, the designer made it look cozy despite the limited space.
The corner fence in the back has multi-level because it seems that this property is located on a hill. A sloped area requires multilevel fencing.
This Ipe corner fence is stained in a darker shade than the built-in bench to create a contrast.
See how versatile this corner fence is. It is not only useful as a screen but also as a planter box, a retaining wall. Even though the fence can't be fully classified as a retaining wall, the lower part of it is supposed to retain the soil in the planter box.
The other side of the planter box is supported by the wooden wall that is also utilized as a built-in bench. What a clever way to optimize every space in this small backyard.
The u-shaped built-in bench forms a retaining wall for the planter box on all sides, providing a lower level for this multilevel landscape.
9. Asian Backyard Landscaping with Fully Covered Fence Corner to Create a Secluded Spot
This Asian backyard landscape is fully enclosed and protected by the corner fence, which is entirely covered despite having spaces between each board.
The decorative post cap gives a more authentic look to this landscape.
Obviously, the homeowners wanted to increase the privacy in this spot because it is meant as a retreat, a secluded spot to chill and unwind.
In this backyard, a sacred spot is covered with a pergola completed with a low table, lighting, and Asian-styled seating space.
This sacred area is surrounded by gravel and has a stone path to access it. Along with a covered corner fence, the wood wall and the cover of this secluded spot are meant to create a secret space.
This is an idea that you can adopt if you want to utilize the corner side of your yard with a functional spot that you can enjoy without having to worry about the weather.
10. Extended Corner Wooden Fence Above the Railing Completed with Overhead Wood Planks
Even though this patio basically has a traditional style, a splash of color adds a modern touch.
The homeowners turned this area into a fully decked spot where they can enjoy some time outdoors. Several comfortable seating spaces are available here, from the built-in bench, chairs with a sunbrella, and lounge chairs.
In order to make this patio exclusive and look separated from the rest of the property, the homeowners also installed a corner fence, that is meant to be extended above the rail.
The railing, the corner fence, and the built-in bench are made of similar material and treated in the same treatment, but they are designed differently to distinguish the function of each.
The small railing can also function as a back for the bench. The corner fence was attached to the railing, and it also features overhead wood planks as a "cover" for the bench.
Unlike the previous corner fences used to mark the property or create a smaller space in a spacious landscape, this one is simply used as a decoration because the space is too big to become a privacy screen, and there is no surrounding area distinguished with this one.
11. Tight Slatted Corner Fence to Conceal a Hidden Oasis in a Side Yard
Such a tight slatted and tall corner fence like this is an ideal option if you want to hide a space in the backside of it.
The homeowners have an extra narrow side yard that functions as a hidden oasis. Instead of creating a patio, the homeowners designed a water fountain landscape in a contemporary style.
The corner fence is made of light-tone wood with no space, which makes it impossible for the people on the other side to see what's inside. The tone of this corner fence also brings out the conventional look, despite being a contemporary landscape.
It seems that this fence is treated with a natural coat, so the natural grain and tone of the wood are still visible, acting as a backdrop to the blue-green siding of the property. Adding metal planter boxes in this landscape delivers an organic look.
Even though this area lacks seating space, that doesn't make it any less exciting and inviting. The limited space doesn't enable it to have a proper seating space, but the soothing sound of running water is enough to be a perfect oasis.
12. Tall Corner Fence Made of Ipe to Protect the Fire Pit Area
This is another lovely idea that features a corner fence to fully enclose a cornered patio, which is about 14'18'.
The corner fence is made of Ipe wood, a type of wood that is prized for its strength, durability, and its natural resistance to insect infestation, wet conditions, and decay.
The fence is also constructed to serve as a screen, so this patio can get full privacy.
Back to back with the built-in bench, the structure of this corner fence is also utilized as a planter box. In the back of the bench, right next to the fence, there are some greeneries planted as a living decoration.
On the other side, the built-in bench is built with CMU (concrete blocks) with a smooth stucco finish. FYI, it's weatherproof, so there is no need to worry during the rainy days. As an alternative, you can build a similar built-in bench out of poured in place concrete.
The concrete bench and the wooden fence both deliver a lovely contrast. They both give a combination of natural and artificial looks. The landscaper prefers to let the fence bare without any creepers to create a neat and polished look.
If you have crowded your landscape with plants, adding more to your fence will be unnecessary. It only makes the entire patio look overwhelming.
13. Clear Redwood Corner Fence to Separate the Property from the Surrounding Neighborhood
This property is situated at the corner of the street; that's why a corner fence is installed.
This corner fence seems to work well as the main fence too. We can see how perfectly this fence separates the property area from the public street outside.
In order to avoid being too aloof and reclusive, the homeowners divided the fence into two parts.
The lower part is made fully closed without space, while the upper one is constructed with horizontal slats with wide space, so the passers-by can peek inside.
This is a perfect idea for you who use a corner fence to mark your property. Ensure the lower part is fully covered to ensure the landscape it protects won't be damaged by external elements.
This corner fence is made of clear redwood with a craftsman style, characterized by polished medium tone wood with a simple and clean line, without any post cap.
The landscaper created a cornered spot in this front yard, a gravel landscaping completed with a berm, trees, and smaller plants to accentuate the light-colored gravel and medium tone corner fence.
14. Bamboo Corner Fence in Japanese Landscaping to Hide the Structural Retaining Walls
If you want to highlight the Japanese style in your landscape, it is recommended to use bamboo as the main decoration.
As you see in this landscaping, the designer created a bamboo corner fence instead of wood, and it turned out perfect!
The bamboo was lined up to create a fence, and this is a better idea than wood because bamboo has a more aesthetic visual, especially in Asian landscaping.
The bamboo was attached to a concrete retaining wall, so was the board at the top.
FYI, the bamboo is not attached to the board itself. According to the designer, this bamboo corner fence was utilized to hide the structural retaining walls. Moreover, the neighbor's property was much higher than this one.
So, this fence was applied upon the concrete retaining walls to deal with the grade change from this property to the uphill neighbor's.
The bamboo can be purchased at Home Depot, and it is totally inexpensive. On the contrary, the concrete is not so much. So, use the concrete wisely because it can totally add to the building cost.
See how lovely the plants seem to peek out above the bamboo fence, accentuating the fence flawlessly. To top it off, shrubs and small trees were also planted next to the fence, making it look like a canvas for the greeneries.
15. Plant-free Gravel Courtyard Landscaping with Closed Corner Fence as a Screen
Prefer to have Japanese landscaping with fewer plants? Consider building a plant-free rock garden like this.
You see how this landscape is covered with gravel. In the center of it, there is a minimalist and simple water fountain that enhances the Asian look. The water feature is surrounded by seemingly river rocks that were set in a round shape to frame the fountain.
The greeneries were planted in the perimeter of this landscape, right next to the corner fence.
The corner fence itself is made of Redwood with a vertical design and no space at all. It makes this fence a perfect protector to enclose this area and carefully hide it from unwanted attention.
At the top of the fence, there is a dark-colored cap that is meant to contrast the body of the fence.
Both create a simple and minimalist style. It is obvious that the designer doesn't want to draw much attention to this fence. It is more functional than decorative, so it is made as simple as possible with no creeper to accentuate it.
16. Contemporary Landscaping with a Dark Stained Corner Fence to Enclose a Fire Pit Patio
The corner fence in this contemporary landscaping is barely noticeable because the designer decided to cover it with small trees.
The corner fence is supposed to make this fire pit patio more private, fully enclosing it. It is high enough to not let any nosy neighbors peek inside.
The fence is stained in the dark shade because similar to the previous picture, it is meant to stay behind, a functional element that is not meant to attract attention. Instead, this corner fence serves as a backdrop to the greeneries planted here.
The focal point, the element that should be attractive and demanding much attention in this landscape, is the sweet water flagstone for the patio. It comes in pallets, FYI, and the designer used select pieces, the larger in size.
The patio is in a light shade, which seems to contrast to the dark stained corner fence.
Right in the corner, there is a traditional outdoor fireplace that seems to be made of concrete. This fireplace is constructed higher than the corner fence, completed with a hearth to make it more elegant.
So, even though this patio is fully hidden by the corner fence, the stuck-out fireplace lets others know that it's actually a patio behind the fence.
17. Five Unique Ways to Utilize Corner Fences
Generally, fences are used as barriers, a border to protect your property. But this isn't the case with corner fences.
Here are five different ways that you can use to use corner fences in your yard:
Enclose an outdoor living room. A corner privacy fence will protect your outdoor living room. Therefore, you'll have the privacy you need if you want to spend more time outdoor. Choose a fence made from vinyl instead of wood because this material is resistant to contracting, expanding, rotting, warping, and other damage from exposure to moisture.
Hide eyesores. If you have unattractive items stored in your yard, like propane tanks, pool equipment, utility boxes, garbage cans, and such, consider using a corner fence to hide those undesirable eyesores.
Create an outdoor nook. You can break it up by building a relaxing space if you have an expanding concrete patio. Change one of the corners by using a decorative fence to create an accent, including elements to make this area inviting and visually pleasing. This small oasis can be completed with a water feature, comfortable chairs, a small table, fairy lights, and vining plants.
Create boundaries. If you have a certain area on your property that seems to be indistinguishable from the rest of your landscaping, you can use a corner fence to separate it. For instance, you can design an area where the kids can play on your property out of a corner fence if you don't want to construct a whole fence. This way, the visitors know where the kids' area starts and ends.
Mark property line. Sometimes, corner fences can also be used as a real fence to mark your property line. Corner fences are a neighbor-friendly and subtle way to establish boundaries. Plus, they can also serve as a beautiful backdrop for flowers or plants. Corner fences can work as a full barrier fence, minus the tall design and the tight slats that can obstruct the view of your home. This is the most popular way to incorporate corner fences.