There are many benefits of using stamped concrete for our driveway, pool deck, or patio.
Stamped concrete is highly versatile; it can perfectly mimic other materials like wood or stone.
Just as there are many stamping patterns, various colors are available for stamped concrete.
Basically, the colors are natural-looking ones. However, colored stamped concrete can make the difference in delivering a realistic look to your stamped concrete's overall feel.
Here are some of the most popular colors of stamped concrete:
Adobe buff
Stone Gray
Cappuccino
Light Gray
Terracotta
Sun Buff
Smokey Beige
Cream Beige
For pavements outdoor, basically, you can stick with subtle earth tone shades. Some of the most popular options are:
Red stamped concrete – think mahogany or terracotta.
Brown stamped concrete – this ranges from deep walnut to light tans.
Gray stamped concrete – it can mimic light stones or dark charcoal.
To attain "antiquing" effects or subtle tonal variations, you should apply one or more accent colors or use tinted release agents or acid stains.
For a bolder look and more vivid color appearance, you can layer water-based stains or dyes, which are available in a wide range of vibrant color tones, like cobalt blue or red.
Basically, designing a pretty stamped concrete pool deck, driveway, or patio is more like baking a cake; you need a specific element combination to produce the end result.
Check out the pictures below to see how contractors combine many elements to create unique colors, finishes, and textures for their stamped concrete project:
1. Combination of Stone Gray Color Hardener and Medium Gray Antique Release Stamped Concrete
This is actually the very basic color of stamped concrete. Its gray color really fits the traditional design perfectly.
Since stamped concrete can be used to create the look of a particular element, this stamped concrete was carefully selected to mimic natural stone. It has also lain like stone.
If you can't afford natural stone, light grey-colored stamped concrete can be a good alternative.
In order to achieve this color, the contractor used a medium gray antique release to mix with the gray stone hardener. The result is light gray stamped concrete like this.
Later, the contractor also edged it with a brick paver ribbon. The brick paver is supposed to be a driveway extension to widen it, so the vehicle can pass this way safely and comfortably.
The concrete was colored to match the house's exterior. This is the simplest way to choose the right color for your stamped concrete. Matching it with the house's siding, trim, and wall will create a consistent look.
2. Combination of Light and Dark Grey Stamped Concrete to Create a Rustic Look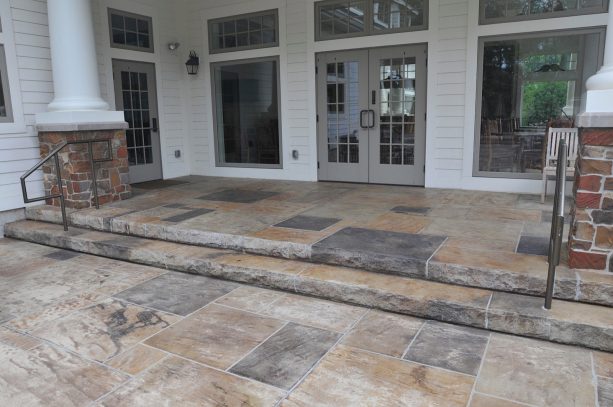 This is another gray-colored stamped concrete that features two tones, light and dark.
Combining light and dark shades of gray like this will deliver a rustic look even though there is no wood in it, the essential part of a rustic design.
This rustic stamped concrete has been treated with a combination of LITOCHROME Color Hardener, LITOCHROME Antique Release, and LITOCHROME Chermstain Classic. All those mixtures make the stamped concrete look a lot like slate.
The gray color matches the front door and the windows' trim, even though basically they have different shades of gray.
To add more character here, the designer also combined the faux slate paver with natural brick posts.
You can make them look different from each other or similar because stamped concrete is versatile, and you can replicate almost everything with this material. This picture shows a bold difference between the paver and the posts.
3. Stamped Concrete with Creme Beige Color and Stone Posts Combination in a Front Yard
This majestic and elegant house exterior has several materials, creating a building that has its own character.
The siding itself has two different tones and patterns of wood. If you are wondering, the wood siding here is hand-hewn Douglas Fir, while the dark trim is Western red cedar wood. Now, let's take a look at its front yard.
This yard was paved with stamped concrete in stone gray color. The concrete here is Brick Form Brand Skins, with a texture of rough stone and saw cut joints.
In order to achieve this lovely muted gray color, the contractor applied a "nutmeg" hardener on the surface, combined it with a "creme beige" release, and finished it off by sealing the concrete with Satin Diamond Clear Sealer.
The great thing is, when combined with the stone posts, lower wall, and bench, this concrete serves as a backdrop, a canvas that makes the stone element stand out.
Choosing different colors and materials for house exterior and a front yard like this may be a bit overwhelming for some, yet, for those who like statement design like this, it is surely an inspiration.
4. Combination of Dark Gray, Clay Red, and Modified Mortar Stamped Concrete
According to the contractor, it was a lot of fun to create this patio.
First, they poured a concrete wall and filled the patio area with tons of gravel. After that, a cap in a dark gray was poured and stamped with seashell impressions.
The patio and step areas were filled with Clay Red colored stamped concrete in Roman Slate pattern. The concrete was cut into 5' squares decoratively.
Last, they replicated stacked stone by overlaying the wall with a stamped modified mortar.
Overall, this backyard patio looks unique and whimsical. The dark gray borders the clay red perfectly, even though both are an unmatched combination. Yet, the contrasting color turns out to be beautiful.
5. Dark and Light Brown Color Combination for a Stamped Concrete Patio
If you don't really like the color of natural stones and prefer granite or marble instead, you can use this color for your stamped concrete.
This brown concrete has two color combinations, light and dark. The light tone is used for the main part, while the darker is for the border. Both create an elegant look to this small backyard patio.
Unlike the previous picture, the contractor decided it would be best to contrast the house's siding.
The siding is in a deep red color, while the concrete is colored in a light tan and dark tone. The furniture piece was selected to match the concrete.
So, the entire patio area looks different and seems as if it were separated from the main house.
6. Slate Skin Stamped Concrete Sand Buff Base and Walnut Release Color
This eclectic pool also features colored stamped concrete that looks like marble.
Even though it looks browner in this picture, this stamped concrete is categorized into a red color, a terra cotta shade.
There are two areas of stamped concrete.
The first one has a rectangular shape concrete of different sizes, while the other one is more like a huge slab. Both areas are separated with a space filled with pebbles.
The terra cotta color was chosen to match the surrounding since this patio is located in Dallas, Texas, which is a dry area with visible ground with fewer greeneries.
7. Beige Color Combination Stamped Concrete in a Traditional Patio
This is quite a contrasting option to the previous picture, less bold and subtler.
This stamped concrete has several shades of beige, combined together into one perfect floor.
It seems that the concrete is colored in Adobe buff color, mixed with some Cream Beige and Cappuccino. There are some lighter and slightly darker tones, but overall they perfectly match the stucco wall around.
The combination of beige-colored stamped concrete and stucco wall obviously shows a Mediterranean design.
In order to create a contrast in this pale look, the windows are selected in dark colors.
8. Combination of Charcoal Gray Color Stamped Concrete with a Light Colored Stone
For a traditional patio, you can always rely on dark colors.
This gray stamped concrete has a dark charcoal tone, and it replicates natural stone perfectly. Even the uneven texture makes it look a lot like stone.
To create a contrast, the contractor installed a border to separate the stamped concrete area and the smooth-surfaced stone area.
You can see that there is a real stone, the lighter gray one. The faux stone and the real stone were juxtaposed to give more character to this patio.
Rough and smooth, dark and light, faux and real. These two materials have their own characters and styles. But, when they are combined together, they give a simple, stylish, and classic appearance.
9. Glossy Black Stamped Concrete and Natural Brick Border Color Combination
Dark colors don't always relate to traditional style.
This contemporary patio shows dark-colored stamped concrete, but it is more modern than the previous picture.
If you want to create a contemporary look like this, make sure the materials you use are totally different and bold, so when they contrast each other, they do make a drastic transition from one area to another.
In this case, you see that the main area of the patio was paved with black glossy stamped concrete. The concrete was cut into various sizes in a rectangular shape to mimic a slate of stone.
In order to achieve a polished look, surely the contractor applied some treatments on it.
Unfortunately, there is no detailed information about that. However, if you want to have a glossy look, you can seal your stamped concrete with a glossy sealer for a shiny surface. You can also add acrylic wax as an additional protective coat.
The border is brick, similar to the fire pit in the middle of the patio.
The natural bricks frame the stamped concrete area nicely, and it seems that the contractor wanted to make the bricks pop up, so they installed a brick fire pit in the center area.
Both concrete and brick are basically not so very different. Yet, the treatment and finish of these two make them look unalike and contrast each other.
10. Light Colors Stamped Concrete Combination in a Mediterranean Patio
Beige-colored stamped concrete never fails to give you a lovely Mediterranean look.
The poolside looks are lovely with a combination of light colors on its floor.
Actually, it is not recommended to use stamped concrete on the poolside because it is slippery, especially when wet.
However, there are several products and techniques you can use to make the stamped concrete surface less slippery.
One of the basic techniques is mixing a nonslip additive into the solvent- or water-based acrylic sealer before rolling it on.
Even though basically this stamped concrete is in beige color, it has more than one tone. There is a lighter tone and darker tone combined together. This way, the whole floor looks like a mosaic, and it prettily replicates marble.
11. Cappuccino and Terracotta Color Combination Stamped Concrete Patio with Fire Ring
If you have a small patio and you want to make it pop despite its size, it is recommended to use bold-colored stamped concrete for its floor. This one proves it right.
The small patio looks impressive with the combination of cappuccino and terracotta-colored stamped concrete.
The concrete was lain to create a perfectly circular shape, surrounding the fire ring in the center. It is obvious that the contractor selected this stamped concrete to mimic bricks.
The main area was paved with a lighter shade of brown, cappuccino. It is framed and bordered nicely with a slightly darker shade, terracotta.
Both shades create a subtle change. This combination is perfect for you who don't want a drastic transition or a bold look. A subtle transition like this really fits the traditional or rustic design.
12. Combination of Several Shades of Brown Stamped Concrete Color in a Traditional Style Pool
This is another stamped concrete for a poolside. Yet, unlike the previous one that mimics marble, this poolside features a stamped concrete floor that replicates a fieldstone.
When it comes to the colors, there are several shades of brown here, from a grayish one to a slightly darker one. They were all set together to create a subtle transition in the entire floor. Hence, the traditional style pool.
It is obvious why the contractor and designer prefer to use stamped concrete that replicates stone. It is because they want to match the spa that seems to be made of natural stone.
Both "stones", the faux and the real one, have a different texture. Yet, they both do complement each other in their own way.
13. Combination of Sandstone Color and Platinum Gray Stamped Concrete
The Poolside features sandstone-colored stamped concrete in a diamond pattern that gives a luxurious and elegant look to the whole area.
Installing light color concrete like this is recommended if you want to pave a patio without cover. During the hot summer days, this area won't burn your naked feet.
To add a modern vibe to this contemporary poolside, the contractor used platinum gray concrete for the benches and fire pit. The gray color is also used as a border, as well as the small stairs around the pool.
Sandstone and gray color, when used alone, don't mix well. However, the gray here is lighter, so it can fit the pale tone of sandstone.
Moreover, the designer also combined these two colors with the wood element.
The sheen and polished wood are used as a small deck and a long bench in the perimeter of the pool. It perfectly accentuates the sandstone stamped concrete, because they blend seamlessly and contrast the gray concrete, because they have a totally different character.
14. Combination of Tans, Grays, and Browns in a Stamped Concrete Backyard
Using dark and light tones for stamped concrete and laying each slab perfectly to create a mosaic like this is recommended if you a huge fan of the whimsical look. The stamped concrete paver replicates the paver flawlessly.
You might never think that stamped concrete could look like pavers. This is an alternative if you don't like really like paver but want to achieve the appearance it gives.
The tans, grays, and browns color are also mixed with what seems to be white grout.
These mixed colors of stamped concrete look lovely and surely become the most eye-catching element in this patio because it is installed alone without any other additional element, except the weathered wood fence in the far end.
Even though the colors used for the stamped concrete are boldly different, they still complement each other. So, the transition is soft and subtle. That is why this style is perfect for a traditional patio like this.
15. Gray Color Stamped Concrete and White Grout Combination to Mimic Natural Stone
According to the designer, this patio had been stamped and acid stained with some different colors. That's what it takes to achieve the appearance of imported stone like this.
You can see the white grout accentuates the whole gray-colored stamped concrete, connecting the patterns seamlessly. That grout was hand-tooled; no wonder it looks polished and flawless.
The faux imported stone somehow blends with the white wall of the house's exterior. Yet, it still gives a different character to the patio, making it contemporary to the rather modern exterior.
Replicating imported stone with stamped concrete like this is perfect for you who can't afford real stone but want to get the look.
We can't deny the charm of natural stone in the house's exterior.
If you use real stones, your patio will look traditional or rustic instead of contemporary. However, since this is a stamped concrete floor, it lacks the real texture of stone. So it is more contemporary, especially when combined with minimalist decor around.
Ideas of Colored Stamped Concrete
From the pictures above, we have seen a lot of pretty combination stamped concrete color combinations. Now, here are some design ideas you can use for your colored stamped concrete:
White on white: White color scheme delivers a distinctive look, creating a comfortable surface to walk on even during the hot summer days. White stamped concrete can be created by adding titanium dioxide to the mix or using white Portland cement.
Varied color accents: Natural stones usually have multiple colors. In order to mimic the look of natural stone, stamped concrete contractors usually hand-color their work to mimic marbling and create variegation. Custom mixed colors should be applied selectively to create the look of natural slate.
Blending it with the home's color scheme. This is the most important consideration when choosing a color for your stamped concrete. It should blend seamlessly with the existing color scheme of your home. You can get inspiration to color your stamped concrete from the home's trim.
So, what do you think about colored stamped concrete? Share your thoughts with us!