Even though grass in a front yard landscaping is the most common element that, for some, is a must-have plant, not everyone likes the look of grass in their front yards.
It's basically not only for an aesthetic reason but also for a practical one.
We all know that a lawn surrounding your house can improve the home value and help filer the water and air that passes through it. Yet, those benefits come with a price.
Grass needs cut regularly. This can be a major problem if you don't have time to trim it.
Un-mown grass is a place for ticks and other insects that carry diseases. Plus, the lawn should also be fed on a regular basis to look good. Without properly balanced fertilizers that have special micro-nutrients, your lawn will lose its shape and vitality.
If you prefer not to deal with the fuss, it's recommended to have a low-maintenance landscape.
A grassless front yard is the best look if you want to keep everything simple but don't sacrifice beauty. In fact, there are many ideas you can apply for a grassless front yard.
Being grassless doesn't mean you have to cut all the plants in your front yard. Create drought-tolerant landscaping with plants that don't need water regularly or plants that can be grown through mulch or stone.
Better yet, if you want a plant-free front yard, you can opt for stone landscaping that's filled with rocks and boulders, like the one you usually see in an Asian garden.
Want to get more inspiration? Here are the curated simple yet attractive grassless front yard that doesn't require you to water on a daily basis:
1. Colorful Perennials and Shrubs with Paver Path and Stone Walkway in a Grassless Front Yard
Say goodbye to grass!
If you can decorate your front yard landscape like this, you surely don't need grass as your ground cover.
The landscaper installed a paver path that leads directly to the front door in the center. It's made of Brussels Block in 2 colors with half stone size, similar to the small round seating area at the left of this picture.
On both sides of the paver path, the ground is covered in mulch, a shredded hardwood mulch that has a fine texture. It also delivers a warm and natural look that's flawless for any kind of garden, especially in a grassless front yard like this.
Instead of grass, colorful perennials and shrubs are planted in the mulch, providing a colorful accent to the whole landscaping.
Connecting both areas, the stone walkway is installed. The walkway is separated by the paver path, but it continues again right up to the round seating area.
This front yard proves that planting many colorful plants will be a great alternative to grass because you'll have a garden that looks stand out among the neighborhood.
2. Rock and Boulder Path in the Middle of the Soil-plant Bed in a Grassless Front Yard
Rock and boulders have been known as attractive materials for grassless landscaping.
If you don't want to deal with grass, it's better to turn your head to the rock garden.
In a rock garden, that doesn't mean you can add plants. You can still plant your greeneries to accentuate your garden, but mostly the plants are drought-tolerant and low maintenance to match the rock characteristics.
It seems that the path in the middle of this mulch landscaping is made of gravel, a crushed rock, with a rock slab as the steps. Boulders are also used as a border to separate the gravel steps and the plant bed.
The bare ground seems to be filled with soil. The landscape is a bit sloped, and the landscaper used boulders to retain the soil. No need for a retaining wall because the slope is not steep. The plants are various, and they complement each other.
See how the bare ground contrasts the gravel steps in the center. It's obvious that the steps and the walkway are meant to be the center point of this grassless front yard.
3. Bluestone Flooring in an Extended Patio in a Grassless Front Yard
Instead of a garden, the homeowners decided to expand the patio to create a large outdoor living space.
According to the designer, this porch used to have screens. And the owners eliminated them and opened up this porch.
This porch is made of bluestone, and it is extended to most of the front yard area. It stops right at the low wall that's made of Stone Mountain Granite.
In the back of the low wall, there's a crushed stone path sandwiched by blossoms, bushes, and perennials. The stone path leads right to the house, taking a curve way, so it doesn't interfere with the bluestone porch.
If you want to have a grassless front yard that's free of other plants, it's recommended to pave it. Use a durable material that offers aesthetics, like bluestone or flagstone.
The plants can still be added around the perimeter of this area, so you don't have to take care of too many of them.
Don't forget to add some seating spaces in your bluestone paved grassless front yard. It can be a nice spot to enjoy the view. This area is meant to be an extended front porch.
4. Grassless Front Yard with Cameron Flagstone and Pebbles in Stone Landscaping
This grassless front yard is also paved with stone. But it looks more natural than the previous picture, because the beige look is versatile, and it can blend seamlessly with the blossoms and evergreens around.
There are daylilies and Scaveola in the landscape brim, making the whole area look more colorful.
The main area of this front yard is filled with Cameron flagstone installed with Orco khaki mortar as a grouting material. The flagstone was set on a poured concrete base with a rebar. This is a professional's job. Hire a pro if you want to achieve a similar look.
The flagstone is juxtaposed with a stone driveway. The driveway is made of Sonora shiners pebbles that were seeded into integral color concrete with 6" thickness.
Even though basically they have a different pattern and look, the flagstone and the driveway share a similar color. This is a great way to incorporate stone paving in your grassless front yard.
For the plants, you can utilize spaces like on the cap of the columns or in the corners of the driveway. The colorful blossoms will add a splash of color and add an organic look to your front yard, even though it lacks grass.
5. Stone Landscaping in a Grassless Front Yard with Gravel and Boulders
Stone landscaping doesn't have to be spacious. If you have a small front yard and you want it to be grassless, you can create a simple Japanese-styled stone landscaping.
According to the designer, this small front yard used to be an old lawn. But then the homeowners decided to remove the grass and turned it into a serene Japanese garden.
Just like other Asian gravel landscaping, this front yard is completed with rocks and boulders.
The white-colored gravel in the center seems to be made of crushed rocks, set in a circular design. The border separates the gravel and the mulch around.
If you juxtapose mulch and rock, it's recommended to use a border like this to make sure the stone won't stray to the mulch area.
The large boulders are placed in the middle of the gravel landscaping to contrast the surrounding. See how the gray boulders look odd against the white crushed rocks.
In the middle of these two gravel landscapes, there's a stone front walk with brick edging to accentuate it.
The stone front walk looks simple against the prominent gravel areas. Plants are added to the mulch to add some greeneries.
6. Japanese Style Grassless Front Yard Landscaping with Stone and Concrete Steps and Boulder Borders
This grassless front yard also has a Japanese style. It's designed to decorate the front entrance.
Look at the stone steps leading to the front door. How great this all to increase the curb appeal.
This yard is a bit sloped, so the landscaper designed a multilevel landscape. The garden at the right seems a bit higher than the one at the left. They're both balanced with the stone steps in the middle.
It seems that the steps are made of bluestone with concrete. The bluestone is meant to be the landing, while the concrete is the steps.
Highlighted by the path light, these front stairs look majestic and prominent. Imagine how radiant this space is at night.
The boulders are not only used as a border, but they're also useful to create a brim. Each brim is supposed to be a planter bed for some bushes and perennials.
If you think the rocks and boulders combination is way too mainstream, you can use this combo instead for your Japanese garden.
This works best if your front yard is also sloped. Instead of creating a terraced garden, you can see just even the surface with front stairs that look in contrast to the surrounding.
7. Drought Tolerant Grassless Front Yard Landscaping with Mulch Ground Cover
Creating a drought-tolerant landscape is also important for a grassless front yard.
This way, you don't have to worry about watering the plants on a daily basis. Plus, drought-tolerant plants can also grow among stones and mulch. This is a perfect example of a small drought-tolerant and full sun landscaping.
Instead of grass, the ground is covered with mulch, which is combined with pebbles and stones in various shapes and sizes.
In the center of this landscape, there's a brim bordered by stone slabs and boulders. That area is used as a planter bed for some bushes and other greeneries, accentuated by boulders.
That's supposed to be the focal point, the spot that attracts much attention. No wonder it's beautifully surrounded by smaller plants and stone landscaping to make it look pop.
The stone landscaping and the mulch area sit side by side without any physical border. The absence of a border makes the entire front yard look more cohesive and flowing.
If you want to mimic this look, combining mulch and stones without a border, make sure you choose the type of stones with rough textures and big sizes, so they won't accidentally fall into the mulch area.
Also, important to keep in mind that a drought-tolerant landscape is only suitable for hotter areas. FYI, this garden is located in Sacramento.
8. Large Mediterranean Landscaping in a Grassless Front Yard with Curved Paver Front Walk
The most common decoration in a grassless front yard is perennials, shrubs, and bushes. They are planted in a brim, an area bordered by boulders and stones and supposed to be a planter bed.
In the center of the front yard, there's a front walk made of paver or concrete. Even though this is actually the basic look of a grassless landscape, you can have fun designing the whole area by experimenting with the shape and design of the front walk and the options of the plants.
The architectural plant at the lower-left corner of this picture is Phormium, a variety called "Mauri Queen".
There are also small bushes planted in the perimeter of the front walk, accentuating the paver that's completed with the seemingly stone edging.
It seems that the ground cover of this landscape is mulch, one of the most common things as an alternative to grass.
There are small trees planted in the middle of the mulch, standing tall surrounded by the perennials. Boulders are used to complement the bushes around.
Basically, this is a simple grassless front yard, but the landscaper managed to make it look attractive, especially with the curved paver front walk.
9. Attractive Color Combination from the Gravels in a Grassless Front Yard Landscaping
Gravel landscaping doesn't have to be set in a formal and usual setting. You can create something fun and creative out of the gravel. Contrasting gravel is an option, and it would be far better if you could design the pattern uniquely.
This grassless Asian-style landscape reminds you a bit of yin and yang.
There are three color combinations of the gravel here instead of just black and white. It seems that the black one is made of river rocks, so is the white one, while the brown area is seemingly made of crushed rock. Each of these colors is separated by a black border that looks pop against each color.
The border is meant to be prominent; it should be noticeable even against the black river rocks. This is a plant-free area.
On the other hand, the plants are planted in the perimeter of the gravel landscaping. It appears that those are drought-tolerant plants. They are beautifully accentuated by boulders. Each planting area is made out of brim covered with mulch.
10. Concrete Paver Landscaping with Decomposed Granite in a Grassless Front Yard
According to a landscaper, this front yard used to be 5000 square feet full of water-thirsty lawn. But the homeowners decided that it took a lot of effort, so they created a new canvas to work with.
The homeowners wished to have low maintenance grassless front yard without sacrificing beauty. There is no grass here. Instead, the landscaper added a small amount of artificial turf to contrast the surrounding.
See how the emerald green of the artificial turf contrasts the bright blue of the century plant cactus.
The front yard is filled with decomposed granite and concrete paver. The concrete paver is cut in a perfectly square shape, and it's used as an extra-large walkway, completed with LED light to illuminate the path at night.
On both sides of the walkway, you can see a large decomposed granite area in curved lines, bordered with a seemingly metal edge.
Surrounding the decomposed granite, there's gravel with the same color as the granite area. Despite the border, they both create a seamless and consistent look. The different texture adds more character to this cohesive appearance.
Tropical plants are added to accentuate the beige-colored canvas.
11. Desert-like Grassless Front Yard with Dry River Bed Through the Center
For a grassless front yard look, the most reasonable option is a desert-like landscape.
Creating your front yard like a desert will enable you to have a low-maintenance garden. Artificial turf can compensate for the absence of real plants.
If you do want to add some living things in your grassless front yard, you can add cactuses, olive trees, or other drought-tolerant plants. Not only because they're low maintenance, but also they will complete and match the desert-like look.
The landscaper managed to build a dry river bed in this area through the center. It appears that the dry river bed is made of crushed rocks in black color to contrast the sand lookalike around.
Palo Verde and Olive trees were planted to accentuate the coral aloe and Mexican sage.
This front yard is not only visually pleasing but also smells good, thanks to the sage. What a delight to the senses.
There's a paver path in an L-shaped that seems to connect the driveway and the front door.
The landscaper installed a border to make sure the sand lookalike won't fall into the paver area. Some smaller boulders are also added around each plant to add an accent.
12. Simple and Low Maintenance Grassless Front Yard with Paver Path Surrounded by Mulch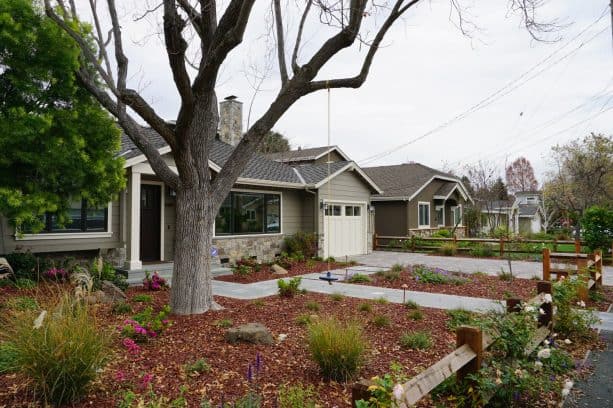 Simple and humble, that's the best way to describe this mid-sized craftsman-style grassless front yard.
This yard is filled with mulch landscaping that's combined with a concrete walkway and front walk.
In fact, mulch can be an excellent ground cover if you don't want to let your ground bare, but at the same time, you don't want to go the extra mile to take care of the lawn regularly.
Mulch can be an excellent canvas for any element you want to add to your landscape. You can plant some bushes or colorful perennials on the mulch.
Even though the small plants in this front yard seems minimal and low maintenance, the homeowners seem to think that the absence of tree would be a sin. So, there's a huge tree standing on this front lawn, dwarfing the other plants.
If you want to get this look, a mulch landscaping with minimal plants, it's recommended to add a towering tree or two like this.
The trees are meant to be the center point of this front yard since there is no decoration or water feature to complete the whole look. So, create a living thing to be your center point.
13. Combination of Mulch and Rock as a Ground Cover in a Grassless Front Yard
This kind of grassless front yard will be full of blooms during the spring and summer. It's the kind of look that most people want to get for their front yards, especially with the lack of grass.
The ground cover is a combination of mulch and rock. On the left and right sides of this picture, the ground is filled with small rocks, while there's mulch landscaping in the center.
The unique part is that there is no border between the rock and mulch landscaping.
Most people always use a border to separate both areas to make sure each material won't slip to the next area. However, it seems that the landscaper wanted to create a seamless look with as much natural appearance as possible.
Basically, this is a stone garden. The stone slab walkway is added in the middle throughout the landscape to connect the front door to the driveway. Blossoms perfectly accentuate the entire ground.
Even with the absence of grass, this front yard doesn't lack the greeneries to liven up the stone garden. There's one mid-sized tree planted in the center that looks grand compared to the other small plants.
Similar to the previous picture, the landscaper also used a living thing as a focal point, which is an excellent way to attract attention.
14. Sloped Grassless Front Yard Garden Filled with Mulch, River Pebbles, and Boulders
Even with a sloped front yard, you don't need to use grass to cover your ground if you don't want to.
A grassless front yard will make your front yard look bare, but you can accentuate it with other natural elements to enhance the visual aesthetic.
This sloped garden is planted with California native plants, succulents, cacti, and water-wise trees. All of them are highlighted by boulders, mulch, and river pebbles.
This is an excellent inspiration for contemporary-styled drought-tolerant mulch landscaping. Since this is meant to be a tropical garden, this one is suitable only in a hotter climate area.
In order to accommodate the sloped landscape, the front staircase was built. This staircase is meant to be the thing that attracts the most attention, so be careful when you design it.
In this picture, it's obvious that the homeowners prefer it to be simple and minimalist. The stairs are made of concrete, complete with LED lights in each riser.
The concrete staircase blends seamlessly with the mulch, pebbles, and boulders. The mulch is used to cover the upper ground, while the river pebbles cover the mid to lower part.
The landscaper wanted to make it look as natural as possible. So there's no border to separate the pebbles and the mulch. They just intertwine in the middle part of the slope.
Simple and low maintenance, but at the same time still striking in its own way.
15. Things to Consider in a Grassless Front Yard
Before remodeling your front yard area, there are some things you need to know to create a grassless front yard:
Alternative Materials for Grass: Actually, there are many options, but the most popular and the great ones include drought-tolerant flowers and plants, artificial turf, trees, native plants and flowers, pavers, pebbles, and mulch. Each of them has its own pros and cons and, of course, has its own style. So, opt for one material that fits the entire style of your landscape.
The Simplest Landscape: If you're on a budget and want to remodel your landscape as a part of your DIY project, you can pick the simplest look. All you have to do is just lay the decomposed granite, set the mulch, place big boulders around, and build a small rock river area. It's better to create an overall plan and draw it out on paper before doing the landscaping.
Drip System: In a grassless front yard, don't forget about the watering method. A drip system is the most common drainage system in a grassless area. Simply install a small tube running along the front yard. Bury it under mulch. Make sure the tube has small holes that poke through the plants are. This is the best way to water plants in a certain area without wasting water.
The Best Plants for a Grassless Front Yard: No need to get rid of all plants in a grassless front yard. It's OK if you want to add as much greenery as possible to compensate for the absence of grass. The best plants are herbs and any edible flowers. Use planters to plant them. Don't forget to add a drip system for self-watering.