Adding windows to your metal building is an important thing to consider when you are planning your house project.
Windows are not only able to bring in natural lights, but they can also heat your interior space, improving its ventilation and making it more energy-efficient. And the most remarkable thing is windows in a metal building can increase the visual appeal.
There are many types of windows that you can choose for your metal building. However, the most popular ones are:
Single-hung: This is the classic type and is considered the most common window design. This window doesn't open outward, so this can be your best bet if you have a small and narrow space. There are two vertical panels, but only the upper part can be opened. It is easy to install, affordable, and easy to match with any exterior design.
Double-hung: This is basically quite similar to single-hung windows. Yet, double-hung can be opened both in the upper and lower part. Similar to single hung windows, this type of window is also affordable, easy to maintain, and energy-efficient.
Horizontal slide: This window has two-panel slides where one (or both) panels are slid right and left to let air ventilation into the room.
Slimline: You can choose this if you are into a minimalist design. This window fits perfectly in any style of metal building. Slimline windows feature a slight frame, so they can bring the most natural light.
Awning: This window tilts outwards, preventing snow and rain from entering the room. However, this window can't be used where there are barriers, like plants, at the space outside. This window can only be installed in a high area, especially on the upper level.
If you want to take a look at the more detailed designs, here are 13 attractive windows for metal buildings that can be your inspiration:
1. Wood-trimmed Single Windows in a Metal Building with an Industrial Exterior
This one-story metal building features an industrial style with a shed metal roof and bronze-colored siding.
This building has two large wood-trimmed single windows on one side of the metal wall for the windows. As you can see here, it turns out that wood-framed windows look perfectly nice upon a metal siding.
It seems that those are single windows with clear glass panels.
Since there is no visible mechanism of how to operate the windows from this angle, it is safe to say that this is a picture window, a window that can't be operated. Thus, they are not really useful for air ventilation, but they are incredibly perfect for letting natural light fill the room inside.
Yes, metal and wood are two contrasting elements with their own style. However, if you want to achieve an industrial style like this, you must choose weathered wood.
Make sure you choose a medium tone wood and finish it with a weathered and worn-out look.
Weathered wood and bronze-colored metal will complement each other, creating a perfect industrial look to your exterior.
2. Metal Building with Rustic Style Completed with a Modern Two-panel Window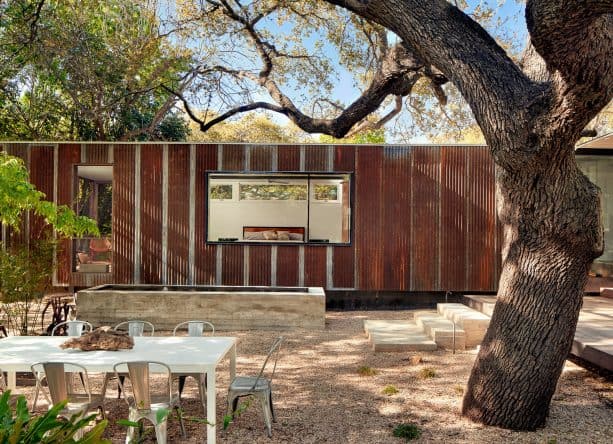 We can clearly see the two different contrasts from this rustic style exterior.
The metal siding features a weathered look with brown and silver tones. The siding delivers a lovely rustic look. On the other hand, the two-panel window delivers an entirely different look. It pulls off a modern vibe.
This is the best combination you should go for if you want to create two different styles on your exterior.
The two-panel window has a slimline frame, which enables it to provide the room inside with perfect brightness from the natural light. The thin black frame highlights its trendy style, matching the single door nicely.
It seems that the window slides horizontally, the kind of window that you need if you want a clutter-free and polished look in limited wall space.
3. Horizontal Slide Window in an Urban Metal Building
This urban-style metal building has only one story finished in gray color. The window is a horizontal slider window with a black frame that matches the trim around the exterior.
A combination of gray and black is indeed an ideal choice for a modern look, especially in an ultra-modern building with an urban style like this.
The window opens to one side, an efficient choice for a limited space.
It seems that there is a sliding shutter to cover the glass panels. This way, the homeowners don't need to add any window treatment indoors to get privacy. The sliding black shutter will also block out the light when it's needed to.
Overall, this horizontal window delivers a minimalist and trendy look. It seems that the frame is also made of aluminum to match the metal siding perfectly.
4. Vertical Slide Windows in a Slim Metal Building
This metal building is called the skinny house project, an ideal architecture if you have limited space.
This two-story building features a metal exterior with a shed roof. There are several vertical slide windows in the lower and upper levels of this house when it comes to the windows.
Basically, slide windows like this are commonly designed in a horizontal style. However, since the wall space is limited due to the slim design, the designer thought it would be better to adjust the window style. Instead of horizontal, they were made vertical with three panes.
It seems that these windows are slid upward and downward to be opened and closed. The third pane below seems to be picture windows, a sash that can't be operated.
Thanks to the clear glass, the entire windows are useful to brighten up the room inside.
5. Metal Building with Steel Siding and Roofing Completed with Slimline Windows
This building is an excellent example of a metal building with a mountain style.
Most rustic or mountain styles usually feature wood elements. However, this one is different. The wood element is only for the structure and the window and door trim, while the entire siding is made of metal.
There are several types of windows, sidelight, single windows, and horizontal slide windows. However, all of them are designed in a slimline structure.
You can see here that the single and horizontal slide windows feature a slight frame. The frames are thin and minimalist, except the frames for the main door, sidelight, and the huge windows on the upper level. Their wood frames are quite visible, perhaps to highlight the mountain style.
Overall, this metal building has a majority of slimline windows.
This is the type of window that won't draw much attention to, but they are highly functional, especially for bringing natural light in.
6. Red Trimmed Windows in a Two-story Metal Exterior Building
This two-story metal building has a trendy contemporary exterior. It features lovely gray color with a shed roof.
The great thing is the designer managed to incorporate bright and bold colors in this neutral exterior.
The windows and the transom have a bright and fiery red frame that looks extra nice when paired with gray metal siding.
The line of the windows follows the roof's design. Thus, it creates a consistent and uniform look.
It seems that the windows used here are double-hung windows, where both panes, upper and lower, can be operated to provide air circulation.
The clear glass, along with the huge design, enables the room inside to get the most natural light during the day.
7. Minimalist Single-Hung Window for a Trendy Metal Building
For a modern look that has a trendy vibe, it is better to have a one-story building with white metal siding.
White will brighten up your home exterior and enhance the modern look as a neutral color.
As you might have known, the key to modern designs is simple and minimalistic. That is why the designer incorporated a minimalist single hung window in the upper level of the building.
The window has no frame whatsoever. It seems that the opening has been sized first during the metal siding installation.
The huge window is opened outward. If you have limited space or a garden in the front yard, it is better to use this kind of window at the upper level. So, when it is fully opened, it won't bother its front side.
8. Horizontal and Vertical Slide Windows in a White Metal Building
There are two types of windows in this white two-story metal building, horizontal and vertical windows. Both of them are installed in the upper level, because in the lower lever, there are two sliding doors with clear glass panels that can be functioned as a window.
The windows don't have any frame or trim to create a modern vibe. So, the entire look of this building from this angle is clean and polished, with less clutter, perfect for a trendy and modern look.
Windows like this are the best choice if you have limited wall space. When fully opened, they don't take the space from the surrounding, staying in their tracks.
They can also be your best bet if you want a clean and polished look to achieve a modern style.
9. Stylish Aluminum Windows for a Modern Red-colored Metal Building
You might have seen metal buildings with brown or white color. However, it is quite uncommon to paint the metal house with deep red color like this.
The deep red siding will never fail to give you an elegant look, a total head-turner around the neighborhood.
This two-story modern metal building features two horizontal slide windows; one is two-pane, while the other is three-pane. All of them have a slimline frame that seems to be made of aluminum.
Using aluminum windows in a metal siding building will complement each other. They don't create contrast, but that's what you need if you want to pull off a modern look.
The windows have a clear glass panel. They open to left and right to provide a full opening that will let air circulation.
10. Triple-pane Tilts and Turn Windows in a Sustainable Metal Building
This sustainable metal building is known as one of the most efficient houses in the country.
This building is called The Summit House. That features high-tech design and construction to deliver high-performance housing. It was designed and built to meet sustainable house standards. Thus, the framing and ventilation are critical elements in this building to maintain minimal energy requirements.
The huge windows you see in the upper level of this sustainable metal building are Zola triple-pane Thermo uPVC windows that should be tilted and turned to open them up.
These windows contribute much to the home's energy efficiency. Moreover, they are not just functional, but they also enhance the beauty of the building.
These windows have a sized opening. Thus, they have a sill instead of trim or frame. The length of the widows perfectly fits the garage door's opening below, creating a consistent and polished look.
11. Brown Metal Building with Awning and Picture Windows
The light brown color looks nice to this metal building. It delivers a contemporary look to this small house.
Due to the small space, the designer used small-sized windows. There are two types of windows here, awning and picture windows.
The awning windows are set in a horizontal design. They form a small and narrow rectangle shape, consisting of three awning windows.
Awning windows are suitable to install in the upper level. If you only have a one-story building, the awning windows should be installed in the high spots.
In this building, both the awning windows are installed in the upper part of the metal wall. In the lower part, however, there is a square-shaped picture window to enhance the brightness inside the house.
12. Metal Building with Weathering Steel Siding and Sized Panels for Windows
This metal building features weathering steel, also known as Corten steel. If you are wondering, the metal siding is not finished with any treatment.
There are two different windows sizes, but it seems that both are horizontal windows. The panels are sized, so there isn't any frame or trim around the windows. However, the designer used an angle at the corners.
For a large metal building like this, it is recommended to have many glass panel windows.
A sufficient amount of windows in a large metal building will balance and match the huge size of the building. Make sure the windows are also huge enough to provide a perfect brightness during the day.
Horizontal windows also enhance the industrial look. The downside is, having large horizontal windows will take many wall spaces. Therefore, it is recommended to use these windows for a large building only.
13. Two-story Red Metal Building with a Double-Hung Window
This is another metal building with red color.
The red exterior will deliver an elegant look to any metal building. This way, your metal building will deliver not only an industrial or modern look but also a timeless and sophisticated appearance.
On this front side of the building, there is a double-hung window that features a minimalist design.
Basically, the concept of this building is to create an industrial farmhouse with a strong bond to the outdoors.
The window is a perfect element to connect indoor and outdoor areas. The clear glass panels enable an ideal entrance for natural light.
And since this is a double-hung window, in which both panels can be operated perfectly, this is also the type of window you should go for if you want to maximize air circulation.
A slimline frame in this window is barely noticeable because it is also finished in a similarly deep color. The ultra-thin frame makes this window look trendy too.
When combined with deep red metal siding, which provides a timeless look, this window will surely create a subtle contrast.
Types of Window Frames
We have seen several types of window frames from the pictures above.
Commonly, metal buildings are built with sized panels, so the windows don't have any trim or frame. Yet, some are completed with window structures that are meant to put them all together.
Here are the most popular window frames for your metal building:
Wood: Wood frame will create a contrast look with a metal siding. It has a classic and aesthetic appearance. Wood frame is easy to install, fix, and replace. It is also durable if you maintain it well. Pretty and beautiful to look at.
Aluminum: This wood frame has been used in modern as well as classic architecture. It is low maintenance and does outperform wood in noise abatement. The aluminum frame doesn't split, rust, fade, or shrink. It is also weather-proof, perfect for an exterior design.
Vinyl: You may not see this frame in the pictures above, but using vinyl as a window frame in a metal building is quite common too. It is low on energy cost and low maintenance too. The great thing is that vinyl is a versatile material easily designed into many window styles.
So, what do you think about installing windows in metal buildings?
Which type of window and frame that you like the most?
Share your thoughts in the comments below.