The front yard patio will serve as a nice place to enjoy quality time with family while enjoying the view around and a focal point enhancing the exterior design.
If you want to create a front yard patio, make sure you build an inviting outdoor space.
One of the ways to have a warm and inviting area is by choosing the suitable material for your patio.
Here are the most common materials that can give a lovely and inviting look to your front yard patio:
Concrete patio: Concrete can be poured in any shape. It is also adaptable to any style, low maintenance, and highly durable at the same time. There are two decorative options: colored concrete and stamped concrete.
Flagstone patio: It will give your patio a natural look. It has rich color with natural variation. Moreover, flagstone is also durable. It can be laid dry for a permeable surface. Grass, moss, or a hardy ground cover can be grown between flagstones.
Paver patio: They give a beautiful and custom-paving solution that is ready to use and install quickly as soon as the project is finished. Pavers let a lot of design creativity unleash. It can be used on a large or small patio. Patio pavers are made of stone, brick, or concrete. They have a large variety of colors and shapes. Yet, the real benefit of pavers is that they can be laid in beautiful patterns.
Brick patio: Brick has color integrity, which means that it never fades. It is also authentic with a high-quality look. It is durable and can last for many years. If it needs any reparation, dry-laid bricks are easy to repair. They have many patterns and colors options, hence, customizable.
Tile patio: The most commonly used tiles for a patio is those that are made of unglazed clay. The better fired the clay, the more dense or harder the result. Red clay is the most common type. And other similar characters may be made of black, gray, or white clay.
Now, if you want to start building your front yard patio, here are some pictures that you can get inspiration from:
1. Mediterranean Style Front Yard Patio with Tile in Mid-size
This mid-sized patio features a tile floor with multiple colors. It seems that the homeowners mixed some different types of unglazed clay tiles here to create more character for the patio.
There is no cover on this patio. It has two chairs and one bench that seems to be a set.
To complete the Mediterranean style, the homeowners also added some potted plants in the patio around the seating space. If the rain falls, people on the patio can easily move to a pergola across the area.
Separated with neatly-mown grass, there is a pergola on the opposite side of the patio.
The pergola has a cover to protect the homeowners from the weather. It is also completed with a seating space that seems to be more comfortable than the ones on the patio.
It is clear here that the pergola is meant for a gathering area in a longer period of time for it provides more comfort.
2. Country Style Front Yard Patio Made of Concrete Paver
Similar to the previous picture, this front yard patio has no cover.
This idea is perfect for those who live in a sunny area because the overall design looks great paired with a sufficient amount of natural light.
This patio is completed with a concrete paver with seems to be an artificial turf installed between each concrete slab.
The artificial turf helps create a more natural look. Moreover, it is paired with wooden chairs and a bench.
As a natural element, wood and turf both deliver a perfect organic look, which is an essential element in a country style.
The bench is added with a padded cover to deliver a comfortable seating experience. There are also some decorative colored and patterned throw pillows. Along with the colorful padded cover, these pillows give a pop of color to the entire patio.
3. Front Yard Patio in a Lovely Beach Style with a Decorative Fountain
This beach-style patio is completed with a bluestone floor that gives a timeless look.
It is obvious that the centerpiece in this area is the water feature in the middle.
The water feature is basically a polished urn with a fountain element on top of it. It is surrounded by four comfortable chairs made of wood, creating a more balanced design and structure to the patio.
The water feature is located in a small area in the middle of the bluestone paver filled with pebbles. The pebbles give a decorative contrast to the bluestone surround.
Basically, the dominating color in this patio is white. It blends seamlessly with the exterior paint color. Thus, it gives a perfect beach-style look.
4. Transitional Style Front Yard Patio Made of Stone with a Fire Pit
This is a transitional front yard with many timeless elements added here.
There is a walkway with flowers densely planted on both sides, separating the walkway area from the patio. The walkway leads to the french door, the additional front door in the side of the front house.
The patio, on the other hand, is located right in front of the main door.
The patio is made of stone, pebbles that look in contrast to the smooth-surfaced walkway. This patio has no cover, but it is completed with a fire pit, a perfect spot to enjoy some barbecue time during the summer nights.
There are four metal-structured chairs completed with additional pads to provide a more comfortable seating experience.
The stone patio is framed with shrubs that were planted back to back the flowers on both sides of the walkway.
5. Front Yard Patio in a Coastal Style with Triple Fountains Ideas
This patio is located in front of the house but on the right side.
We can see here that the patio is not that large. It only fits the right side of the house. There is no cover on this patio, which means that this is not a perfect choice for you who live in a colder area.
However, for those who live in a sunny place, this patio will serve you right.
The seating may seem simple. It only features one wooden table along with two sets of padded chairs on both sides. However, in the back of this seating, there is a unique decorative water feature.
Instead of one, there are triple fountains here. It is not like a usual fountain. It looks like tap water that runs to the decorative water container below.
Along with the soft white color and wood element in this patio, the water feature also delivers a coastal style to the whole look.
6. Simple and Minimalist Craftsman Front Yard Patio Design
This is a perfect craftsman patio in the front yard that looks simple and minimalist.
Unlike the previous pictures, there is no water feature here. However, that doesn't make it any less stylish.
This patio features a stone paver with a smooth and polished surface in a square shape.
There are three chairs placed surrounding the fire pit here. It seems that the chair is Nautical Curveback Adirondack Chair in Slate Gray. Those chairs are the key element that creates a craftsman look here.
The fire pit in the middle looks pretty close to a Beautiful Fire Pit with Stand and Spark Screen from Imtinaz.
Behind the chairs, there is a black metal railing that borders this patio. The metal railing also separates the patio from the gardening area around.
7. Stone Front Yard Patio in a Trendy Farmhouse Style with a Container Garden
The combination of gravel and bluestone paver in this patio creates a trendy look. It gives a warm design that is perfect for a sunny area during the summer.
This patio is bordered by retaining walls on one side and a black metal fence on another side.
There is a set of seating areas complete with a small table in this large area. However, it is clear that this patio is basically not meant to be a gathering place due to the lack of seating space here. Instead, it is used as a container gardening place.
There is two containers garden here. This is a stylish and unique way of gardening these days.
This way, the homeowners are still able to show their annual flowers (or other plants) in the middle of the stone paver in the patio because the soil is placed in the container instead of on the ground.
8. Fresh and Bright Front Yard Patio Design With No Cover
What a fresh and bright patio. This is a beach-style front yard that has no cover. It seems that this patio is paved with concrete.
In the middle of the patio, right where the table is set, there is a turf bordering the table. It looks pretty paired with the concrete paver.
It is completed with a seating space, where there is a padded sectional bench. The bench and the table are painted in a similar white color.
There is a pop of color in two chairs placed in front of the bench. The bright blue chairs are combined with patterned throw pillows that complement each other.
It seems that this patio is used as a perfect spot for a small gathering. This is a comfortable area to enjoy the view outside for a long period of time.
9. Mediterranean Styled Front Yard Patio With a Comfortable Sofa
This is another comfortable outdoor seating that is an extension of indoor living.
This patio is covered with a roof extension that partially covers the area.
The stone paver gives a nice Mediterranean look to the entire yard. Plus, it is combined with a stucco wall of the house exterior, which is a crucial element to a Mediterranean style.
The seating space is comfortable, and it can accommodate up to ten people at once.
There is an outdoor sectional sofa that is paired with a chaise lounge chair, and a rustic wooden table in a square shape placed in the middle, surrounded by the seats.
The sofa and the chair are made of similar material in a dark tone, paired with a crisp white pad. The neutral color combination is mixed with green-striped throw pillows that give a splash of color to the entire seating area.
10. Small Patio in a Front Yard with a Traditional Style
Even though this is a small patio and only has limited space, this area still looks inviting.
The patio area is marked by a circular concrete paver that is set in the middle of the mown grass. It is also bordered by a stone retaining wall with a cap to retain the soil from the upper level of the landscape.
The patio is only set with a table surrounded by four tall back chairs. This seating set is in a traditional style made of weathered wood.
Overall, this small patio is simple and minimalist. Yet, the traditional design, combined with the soft-colored wall exterior and the stone wall, delivers a trendy and inviting look.
11. Bright and Elegant Brick Patio in a Front Yard Idea
This is another small patio in the front yard. This patio has a roof extension that partially covers the area.
Basically, this patio is also in a traditional style. The bricks and the white screen double doors give a perfect classic look.
With a brick paver, this patio is designed in a half-circular shape.
The bricks in the border and the paver have different patterns and colors. The bricks in the border seem similar to the bricks in the exterior wall. The bricks in the paver have a more muted color that appears to match with the siding.
In order to give a pop of color in this traditional style, the bright yellow set of a chair is added here. These are metal chairs with no pad completed with a small table.
These chairs can accommodate up to four people at once, which means that due to the lack of space, this patio may not be the space you need if you want a gathering spot. But, if you are planning to have a small and intimate space to enjoy the day, this is your best bet.
12. Patio in the Front Yard in a Rustic Style with the Stone Paver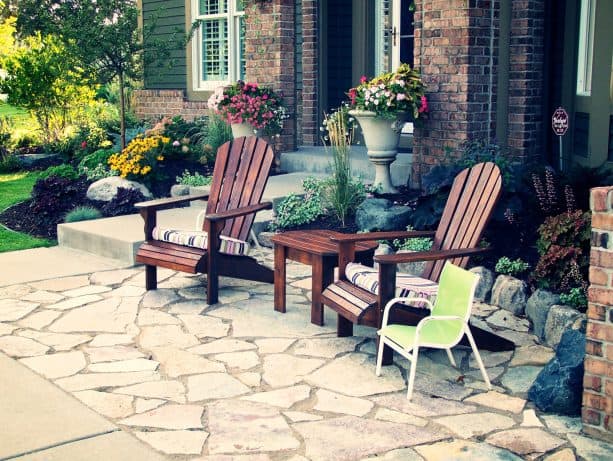 With such limited space, this homeowner managed to create a cozy and comfortable outdoor living space.
This small front yard patio features a rustic style completed with a stone paver. The stone paver marks the patio area. It is surrounded by a concrete walkway that leads to the front door.
It seems that the seating space in this patio is only for the family members, a small family.
The two curved tall back chairs are meant for the parents, while the small green chair is for their kids. The green chair is also useful as an accent color to complement the neutral rustic look. The small table in the middle of the tall back chairs is part of the set.
The combination of stone paver and wooden seating set like this will never fail to give a mountain style or rustic design. Moreover, it is also combined with another natural element, brick, in the exterior.
13. Country Style Tiny Front Yard Patio
Another tiny yet comfortable front yard patio.
If you have a small house, having a small front yard patio like this will help increase your curb appeal.
We can see here that the patio is dominated by white color, similar to the house's exterior. It creates a flawless and flowing look, so the patio could become an extended space for indoor living.
The patio is completed with a roof extension that partially covers the area. It gives enough shade during the hot days, even though basically this patio has no cover.
It seems that this patio is paved with stamped concrete, and it is surrounded by concrete, similar to the previous picture. The difference is, these are concrete steps that lead to the front door because it seems that this house is located on a slope.
The seating area in the patio is basically simple and small. There are one outdoor couch, a small table, and two chairs in a bright white color.
In order to give a fun element, the homeowners also added a soft yellow pad and threw pillows in the couch and chairs.
Overall, this patio delivers a country look with a set of rattan seating and a pot of plants on the table.
14. Large Classic Front Yard Patio with Flagstone Walkway
If you have a large house, it would also be great to have a similarly large front yard patio. This house proves it correct.
This traditional style is completed with a traditional patio. The patio area is paved with flagstone, while the entire front yard is planted with neat grass.
In fact, the patio is not only paved with flagstone only. The flagstone is mixed with a repurposed brick edge. This way, the patio appears to have more character.
Due to its spacious area, there are three different spots on this patio. There are two seating spaces. The first one is a long table completed with some upholstered chairs. This area is covered with an umbrella to give shade during hot summer days.
If the homeowners want to enjoy the view outside more fully, there is another seating space with no cover.
This seating space features a table, a sofa, two armchairs, and a stool. Each seating space is separated by three decorative vases, while there are other two bordering the coverless seating area.
Next to both seating spaces, there are two areas planted with flowers. The focal point of this patio is the flower box on the ground with a water feature in the center. There is another flower box on the ground in the back, with a thicker and denser flower.
Overall, the entire area of this patio will serve the homeowners as a living space extension with a view.
15. Tips to Create an Eye-Catching Front Yard Patio
After determining the design of your front yard patio, now it is time for a more-detailed task: creating an element that can accentuate the whole look of your front yard:
Set the right path: The path from the driveway to the front door is usually set around the patio. A curved path to the front door will be nice, yet, a meandering path may be otherwise. If you want your guests to have a circuitous route, make sure to plant densely along both sides of the path.
Add some privacy: No need to install an opaque screen or build a wall around your patio. Instead, consider using a buffer of shrubs, including various plants at multiple heights. They can deliver the same purpose with a fence or a solid hedge but with a far more welcoming look.
Consider the light: When you plant your trees, flowers, or shrubs here, consider the type of plants with the amount of natural light you get. If your house faces north, your front yard will never get the right amount of light. If it faces west or east, it may get the natural light for part of the day and no sun for the remainder.
Add a flowering tree: This type of tree will give an excellent curb appeal. It is wonderfully welcoming for several weeks during spring when it's in bloom. Usually, trees like this are small, so they won't block your house.
Make it simple: Don't overcrowd your front yard with too many plants or objects. Have a clear structure to your patio design with one obvious centerpiece. Keep it simple.