Frankly saying, when people choose concrete for the material of their front porches, it's rarely because of the visual.
Concrete is chosen due to its durability, so it's more for a practical reason rather than a decorative one.
It would even be an eyesore for some to see a plain gray concrete front porch.
The front porch, just like any other exterior and landscape element, represents the house.
So if the front side is uninviting and unattractive, it can devalue your home. That's one of the reasons why it's important to improve the look of your front porch.
Actually, there are many ways to decorate it.
The concrete front porch, without decoration, is indeed plain and boring. But that's your chance to use it as a canvas. You should be creative to experiment with the look.
Here are some curated ideas of how to turn your plain concrete front porch into something more attractive and inviting:
1. Applying MicroDeck on Top of The Concrete Slab to Create a Clean Front Porch Look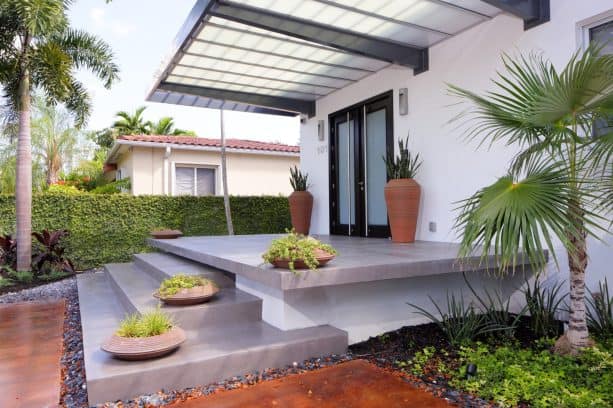 If you like modern style with its simple and minimalist look, go for this idea.
The homeowners requested a clean look for their front porch. And it couldn't be achieved by a simple concrete. The look of the usual concrete porch is commonly rough.
Therefore the designer applied a thin coat of MicroDeck from Top Ciment on top of the existing concrete slab.
MicroDeck is a mixture of two components, water base resin and cement coating, that can be installed on top of almost any surface. It's less than 1/8" thick, so you won't see any difference on the concrete floor, except only it gets smoother.
See how the front steps are also coated with MicroDeck to match the porch. Even from the steps, the clean and polished look can already have been seen.
To enhance the cleanliness, it's recommended to paint the exterior wall in white and pick the front door in a neutral tone finish.
Minimize the decoration, but if you do want to add some items to liven this area up, put some decorative pots strategically around the porch and the entrance.
2. Stone Pillars to Accentuate the Concrete Front Porch Idea
Actually, what makes this craftsman's porch stunning is the prominent pillars. Those two are the things that the guests see the first time when they come to this house.
You don't need to worry about the concrete floor if you have such a majestic pillar on your front porch because they will surely be outshined by the pillars.
The plain and minimalist concrete porch is bordered by the stone pillars, which are 2'4" wide by 3' high. If you're wondering, the columns are 18" wide at the base, and it gets bottlenecked with 12" wide at the top. The height is around 6' tall.
If you want to design columns like these, proportions should be taken into consideration, but unfortunately, they're difficult to perfect. Hence, you do need professional help.
Yet once you get the right proportion, stone pillars will accentuate your concrete porch.
There is no need to build the pillars in full stone if you're a bit tight on the budget. Pair it with a neutral shade, like white, to tie everything together.
Since the stone has already been an attention-stealing, if you add some furniture pieces, make sure they are in a neutral color.
3. Painting the Concrete Floor and Adding a Pop of Color to the Front Porch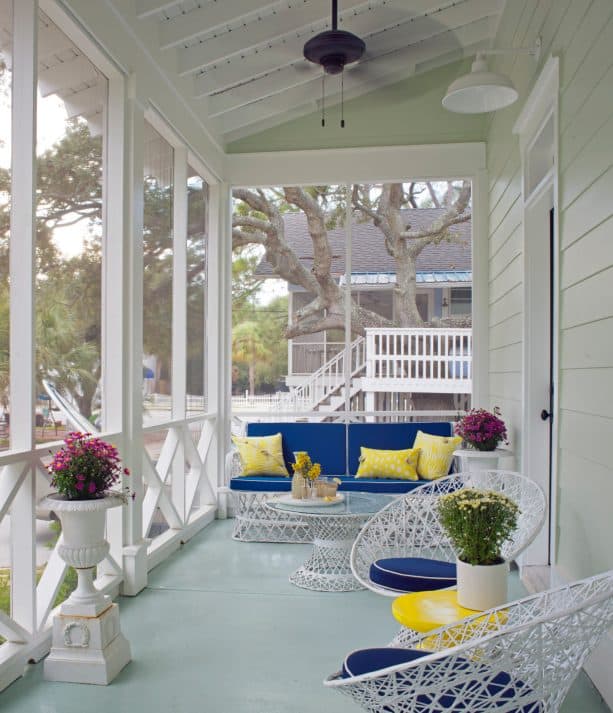 You can paint your concrete floor if you think plain gray is too boring.
This coastal front porch has the right color combination that represents a beach style.
As a canvas, the floor should match the siding. The concrete floor is painted using Benjamin Moore Porch & Floor Enamel. This is one of the recommended paint manufacturers for a concrete floor.
If you're wondering, the exterior paint color is Sherwin Williams – Dewy 6469, while the trim is Sherwin Williams – Extra White 7006.
The soft green color on the floor and the siding are combined with white to create a backdrop for the bright-colored accent.
The furniture pieces are vintage fiberglass, which are also in white. The accent comes from the cushions and the throw pillows.
The bold blue and yellow add a splash of color to the soft green and white front porch. Adding bold colors will always be able to brighten up the concrete floor.
Painting the concrete floor can make it pop, but adding some bold colors to it can create a statement.
To top it off, you can add some potted blossoms in different colors and place them around the porch, like in front of the white pillar, on the table, or beside the front door.
4. Adding Rugs to Decorate the Concrete Front Porch
If you prefer to keep the concrete floor natural, you can add some rugs to accentuate it.
The rug is one of the elements that should be carefully picked. It would be great to place a patterned rug on your concrete porch, but make sure it won't clash with the other patterned item.
This front porch is considerably large, so one rug is not enough. It's OK if you want to place two rugs side by side, but one of them should be in a solid color, so the other can be the statement.
See how this concrete porch is accentuated by a solid dark gray rug and geometrical pattern rug in a brighter color. The juxtaposed rugs will complement and contrast the concrete floor at the same time.
See how the patterned rug matches the bright orange Adirondack chairs.
The cohesion is what you'll get if you're able to mix and match each element properly. One bright color should be solid, and it can be paired with a patterned item to create a balance.
Placed upon a usual concrete porch, they will brighten up the entire area, making it look livelier.
5. Installing a Pergola and Hanging a Swing on the Concrete Front Porch
Not a big fan of bold color? Then you can focus on the furniture to decorate your concrete porch.
This concrete porch looks too plain and basic. Luckily, the designer managed to combine it with green siding to make the area look more fun and fresher.
Even though the pergola is added to cover the front porch area, there's no chair or table set. Instead, the homeowners hung a rattan swing in the pergola.
Such a swing will surely add a whimsical and playful look to your porch. It delivers a unique look to your curb.
Adding a huge throw pillow in an accent color that matches the entire exterior will be a plus point. See how the soft and bold shades of green in this pillow complement the siding.
After all, this is a minimalist concrete porch with only one color as an accent.
With no seating space, this area looks even barer. The swing comes to the rescue. Even with the absence of chairs and tables, potted plants, and vibrant colors, swing has already made a concrete porch looks lovely.
A pergola is a must because it's needed to hang the swing.
Attach the pergola to the siding and paint it in a similar shade to the trim. This way, you'll create an excellent balance to the overall look of the porch.
6. Creating a Contrast between the Furniture and the Color Scheme of the Concrete Front Porch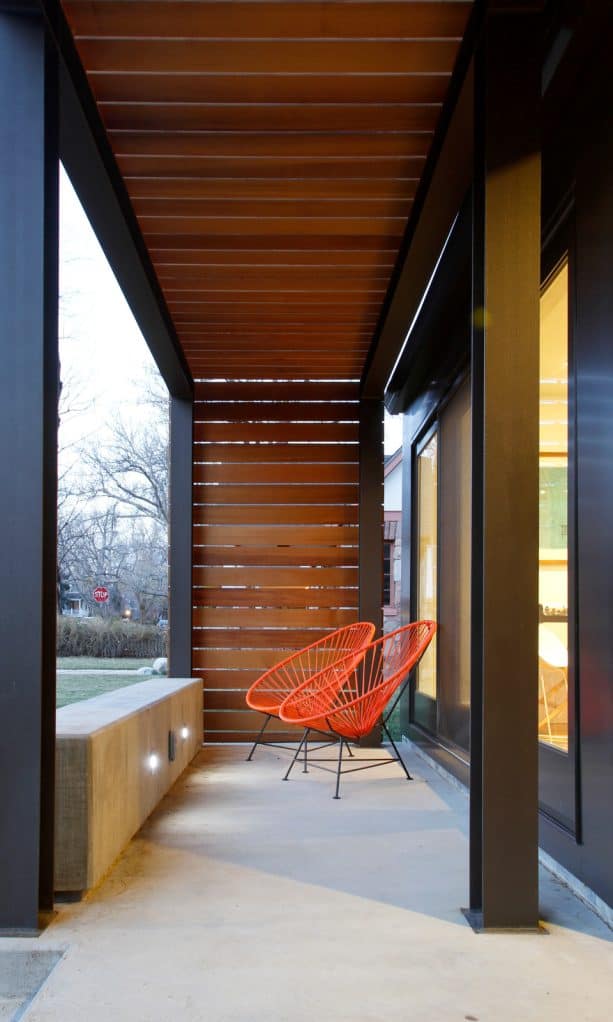 In a contemporary style, usually, the color scheme contrasts with each other, with the basic tone as the backdrop.
Minimalism is the key, so even though the color contrasts each other, they should be in a neutral shade, like black and white or brown and black.
This concrete porch is the same. Concrete delivers a plain gray color, which is one of the neutral shades. It is combined with wood slatted wall and ceiling in a medium tone and black painted trim.
The combination of black, brown, and gray offers you a stylish and trendy look, suitable for a contemporary style.
However, the designer thought it would be better if there was something to accentuate the whole look. Thus, the bright orange chairs are added.
See how the bright orange contrasts the neutral-colored backdrop, and it's super good. Orange will look pop against the concrete floor, but it also contrasts the wood and the seemingly metal structure.
It's not only that, but this porch also has a contrasting material. A natural element like wood is paired with concrete and metal. They deliver a well-balanced appearance in such a simple concrete porch.
7. Setting a Lot of Seating Spaces in a Concrete Front Porch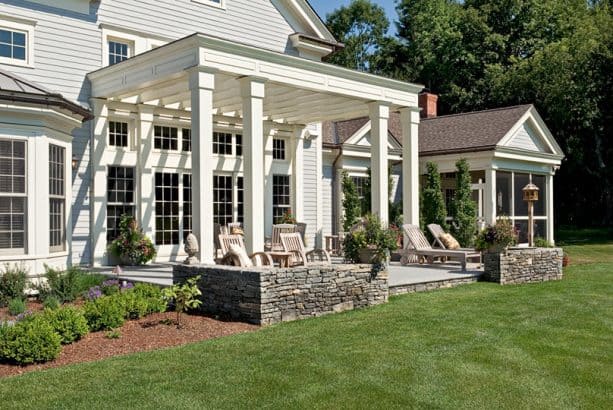 If you love a traditional style and you have a large house, it would be great to design a simple porch in white color.
White is not only associated with coastal or beach style, but it can also fit traditional style because white is a timeless color that is never out of style.
This concrete floor is unpainted and untreated. It remains bare with its natural gray color. Yet, it's compensated by a lot of seating spaces. Setting a lot of chairs on a concrete porch will cover the plain and bare look of the floor.
In a traditional style, no need to add bright-colored chairs or tables. Even wooden or rattan chairs will do. Despite the material of the chairs, they will absolutely fill the concrete porch and make it look more comfortable.
It would be even better if you installed a pergola. Make sure the pergola is a solid one, completed with a roof. This way, those seating spaces will be completely covered even when it rains or snow.
The pergola, along with the posts, should be painted to match the house. No pop of color, no accent, and no statement to make the look as conventional as possible.
8. Incorporating a Consistent Freshening Tone in a Concrete Front Porch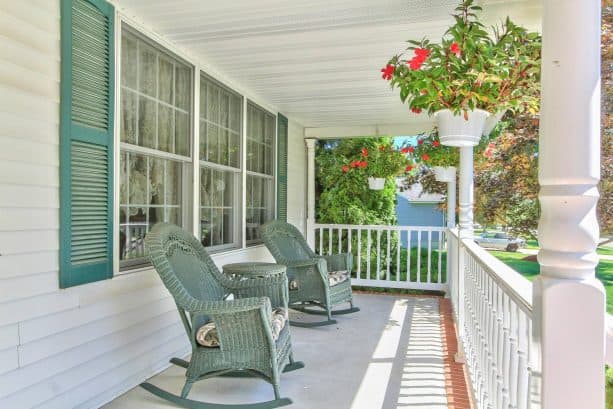 It's true that incorporating a bold and statement color in a concrete front porch is fun. You can experiment with the look and choose which one would fit your preferred style.
Yet, if you want to achieve a simpler look with a bright color, it's recommended to use a freshening tone, like the ones you usually see in earth tones color palette.
Green is the top color if you want to incorporate a fresh and natural look to your concrete porch.
See how the plain concrete porch looks livelier with the green tone. There's only one bold color, but with several shades. This is an excellent way to keep consistency.
Instead of Adirondack or other tall-back chairs, the homeowners put two rattan rocking chairs with the table as seating. A unique choice like this is also helpful to decorate your concrete floor.
The muted green rocking chairs match the window but complement the shutters, which are painted in a brighter green.
The green color in this porch blends seamlessly with the garden landscape around, but at the same time, it contrasts the white siding and railing.
9. Staining the Concrete to Mimic the Tile as a Minimalist Front Porch
The simplest thing to decorate a usual concrete porch (if you prefer not to use stamped concrete) is by staining it. Scoring and staining concrete will create a perfect imitation of large format tiles.
See how the concrete in this porch is stained and scored. It's colored with acid stained to deliver such warm and soft color.
However, staining and scoring concrete take a lot of effort, and it does help the need of professionals. But once everything's done, it's worth the effort.
You can stain the concrete in any color (mostly in neutral shades) to match any style you chose before.
In this contemporary porch, the soft brown color matches the brick exterior wall. The homeowners prefer to stick with a natural and earthy tone to keep everything low-key.
There's only a simple wooden bench instead of a set of chairs. Some big potted plants are also added, but clearly not to steal the look. Every element added here is supposed to be humble; thus, they don't draw much attention.
If you stain and score your concrete porch, let the stained concrete speak for itself.
10. The Idea of Using Stamped Concrete in the Front Porch to Match the Stone Element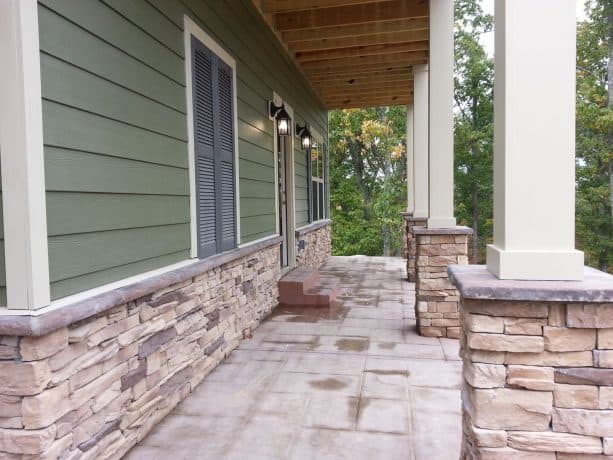 Stamped concrete is another alternative to stained concrete. With stamped concrete, you don't have to do anything to the surface of this material. Everything is readily used.
As we all know, stamped concrete is a versatile material. It can mimic any other flooring material, like tiles, slate, bricks, and even stones. That's why it's a popular choice for people who want to instantly elevate the look of their porches.
On this front porch, the stamped concrete doesn't look too impressive. It still looks like usual concrete but with a tiling pattern. The result is, this porch looks like it has been floored with tile concrete, which is a bit odd but turns out super fine.
The reason why the designer chose this kind of stamped concrete maybe because they wanted to match the stone element.
For some, it would be a waste to use stamped concrete that still looks like usual concrete, because stamped concrete is supposed to use in a more fun way.
However, if you have a stone element in your front porch like this, it's a statement piece that should be paired with a humbler surface as a backdrop.
Therefore, the concrete floor should not outshine the stone wall and columns.
11. Building a Built-in Garden Set into a Concrete Front Porch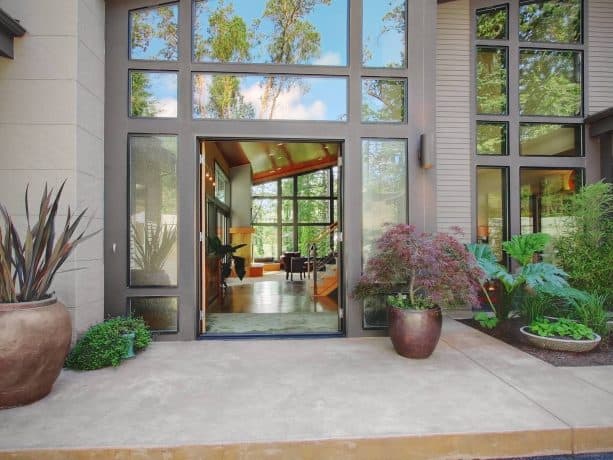 Want to create something more adorable with a little more effort?
Create a built-in garden that's set into your concrete front porch.
What's better than a living decoration on a surface as flat and dull as concrete?
This is the literal way to give more life to the concrete porch.
The built-in garden is like a brim in a landscaping garden, but there's no edging. It's just a soiled area where the concrete floor just stops.
You can combine this built-in garden with perennials and small trees placed in large and impressive decorative pots. This can totally make a statement. The concrete floor serves as a neutral background.
In order to minimize damage to the built-in garden, it's better not to add any seating space. This way, guests and visitors are only allowed to see but not touch, or worse, pick anything from your built-in garden.
Moreover, this concrete porch has already been grand and stunning without the addition of a furniture set.
To achieve a more luxurious look, install a majestic glass front door completed with sidelights and a large transom. After all, glass is an element that never fails to give you the sophistication you need.
Paired with such large plants, this concrete porch looks luxe, elegant, and natural at the same time.
12. Combining a Concrete Front Porch with a Brick Exterior Wall
Combining bricks and concrete seems a bit counterproductive because both are not supposed to draw much attention. However, they do create a contrast. See how the brick's natural color is complemented by the concrete porch.
There are front stairs that are also made of concrete, so the stairs and the porch are both uniform, creating a consistent look.
It's important if you incorporate several textures of different materials all at once. Because the front side of the porch is seemingly made of stamped concrete that mimics natural stone.
The faux stone, concrete, and brick combination will be too much if you don't know how to place them right. Thus, creating a consistent look is essential, especially for the main area, so the accent elements won't overwhelm the whole area.
The black railing ties the brick wall, the concrete porch, and the faux stone together.
As a finishing touch, the designer painted the shutters and front door in a deep and rich green color. The green color managed to accentuate the brick wall and refresh the look of the concrete porch beautifully.
13. Etching and Staining Concrete Front Porch with Bold Colors
Want to step up the game?
Then staining the concrete porch to mimic a tile or stone is not enough. You need to etch and stain the concrete to create an artwork, a huge artwork right on your front porch. This is undoubtedly the best way to attract attention.
If you think it would be nice to do your concrete porch like this, it's important to know that this is not a project for a noob. You need a professional, an artist, to do this for you.
Basically, you can choose any color combination you want. But if you're going to create a lively natural artwork, this color scheme is perfect. If you're wondering, this is the work of Jared Blake of Artisticrete.
With such bright and colorful artwork on your concrete porch, you don't need additional decorative items to accessorize it. You don't even need a seating space.
This kind of concrete porch is meant to leave bare and untouched like this. Let the whole surface of the floor gives a statement.
If you want to decorate it a bit, you can install stone columns on the porch to create a contrast.
Such bright artwork will look even more artsier if you combine it with a natural element like stone and with a basic earth tone.
14. Adding Front Stairs Connecting to the Concrete Porch with Potted Plants in Each Step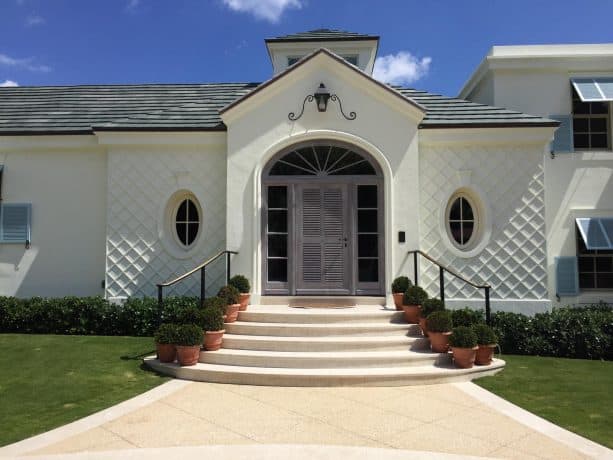 Simple and minimalist, that's the best way to describe this concrete porch.
This is a contemporary porch with minimal decoration. It doesn't even feature any seating space.
If you want to stay simple like this, choose concrete in a beige or white color. Beige or white is the color that exudes simplicity and elegance at the same time.
White in your entrance will also bring a luxurious look because it delivers a clean and polished design, several characters you need to achieve a luxe appearance.
The beige-colored concrete porch complements the white exterior wall, especially this house has a decorative exterior wall that's meant to beautify the entrance.
There are front stairs to reach the porch and the front door. These stairs are also made of beige-colored concrete, similar to the porch.
The connected stairs and the porch turns the ordinary into something extraordinary. It's because front stairs are always able to pull off a royal and elegant look, especially if they're designed in a half-circular design.
The potted plants are added in each step to decorate the look. Since the stairs get narrower from the bottom to the top, the potted plants adjust the size of the step.
This is an excellent idea if you want to decorate your concrete porch and stairs in a simple way.
15. Painting the Door in a Bright Color to Liven up the Concrete Front Porch
This mid-century concrete porch looks more open than the previous porches you've seen before. This way, this porch looks bigger and cleaner with less clutter.
There's not even a seating space to fill the space. It seems that homeowners intend to keep this area simple, neat, and clean, which is a good thing for a modern or mid-century style.
The concrete porch may look bare and plain. But it's made more fun by the bright and bold front door, which is painted in orange.
If you want to make a statement through your front door, it's good if you have a concrete porch like this.
A concrete porch won't demand much attention, so people can instantly look at your bold front door. They won't get overwhelmed by too many bright and accent colors on your front porch.
In order to enhance the mid-century look, the designer also installed a slatted cedar wall around the front door that continues overhead to protect and define this entrance.
Slatted walls, especially the one that's made of cedar in a polished look, will never fail to pull off a modern and stylish look.
If you pair it with a bright-colored front door, they will deliver a refined look. Thus, it's important to provide a plain-looking canvas, like a concrete porch, to make such decorations pop.
Moreover, this basic concrete also matches the walkway leading to the front yard's landscape. The consistent look will improve your curb's appeal.
16. Additional Tips to Decorate The Concrete Front Porch
You've seen those lovely ideas to add a decorative facelift to your concrete front porch. But before you begin to do anything, here are some additional tips to consider:
Use stamped concrete. Even though it would be more fun to stain and etch the plain concrete floor, it's better to use stamped concrete if you don't want to deal with the fuss. Stamped concrete can mimic any material, from stone to tile. Choose the certain style you prefer and match it with the stamped concrete.
Consider the color. As a canvas, you can add bold and bright colors to your front porch to liven it up. However, be careful with colors. If you have chosen one bold color, it's better to not add another bold color. Too many bright and vibrant colors will make your front porch look tacky and too flashy. Two is enough. As an alternative, you can pick one color and incorporate several shades of them for the decorations.
Use a consistent look. Incorporating many shades is fun, but if you want to stick with one color, make sure you create cohesion and a consistent look. Choose one color you want to incorporate and combine it with white. White is also a canvas that you can pair with the concrete front porch. This way, you have a more fantastic canvas to work with. Paint the shutters, the railing, the front door, or the front steps with that certain color. And it should be beautifully paired with white.
The patterned rug. If you already have painted your front door, shutters, or exterior walls in a bright tone, you don't need to make another statement through the rug. For a bright and bold concrete front porch, use a solid-colored rug. On the contrary, if you keep your front porch simple and minimalist, you can add a patterned rug in a bright color to liven everything up.
The greeneries. Most porches are covered and shielded, so they won't get a sufficient amount of natural light. If you add some potted plants to your porch, make sure you choose plants that can grow even without a huge amount of sunlight.